The Balnaves Contemporary Series
The red thread of history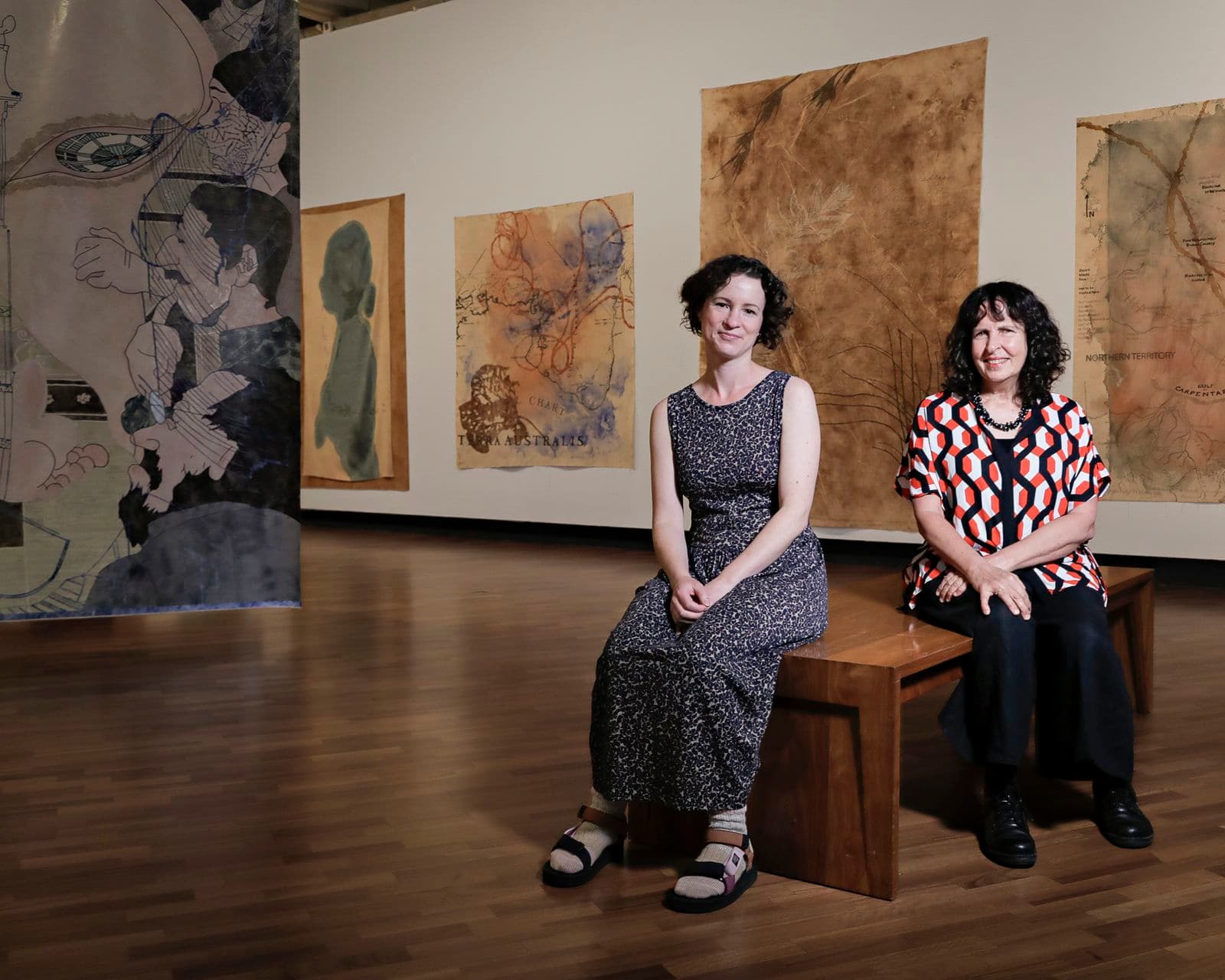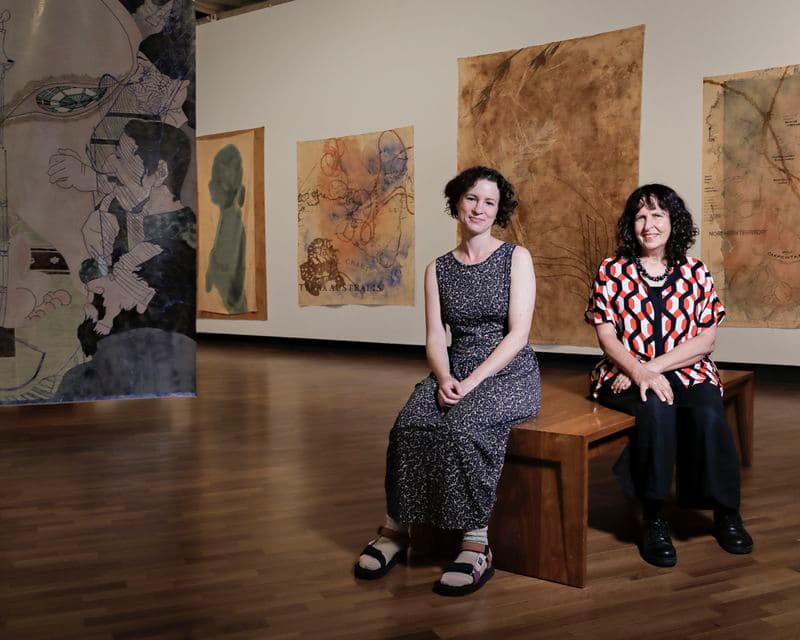 Two artists, two generations, two perspectives: JUDY WATSON, Waanyi people, and HELEN JOHNSON have forged a dialogue on the roles of women in contemporary and colonial Australia, presented as part of The Balnaves Contemporary Series at the National Gallery.
Judy Watson is a Waanyi artist from north-west Queensland who lives and works on the Jagera/Yuggera and Turrbal Country of Meanjin/Brisbane. Helen Johnson is an artist and a second generation immigrant of Anglo descent based in Naarm/ Melbourne, the Country of the Wurundjeri Woiwurrung peoples.
Here, they discuss the work, which was complicated by lockdowns and location – Judy was in Meanjin/Brisbane and Helen in Naarm/Melbourne – with TINA BAUM, Larrakia, Wardaman and Karajarri Curator of Aboriginal and Torres Strait Islander Art at the National Gallery.
TINA BAUM: This exhibition, the red thread of history, loose ends, is a dialogue between the two of you through your art. For this exhibition you've both, from different perspectives – Judy as a Waanyi artist based in Meanjin/Brisbane, and Helen as a second-generation white settler living and working in Naarm/Melbourne – forged a material and conceptual dialogue about contemporary and colonial Australia. What do you think of your pairing and how do your works relate conceptually?
HELEN JOHNSON: In our first extensive conversation about the project I remember Judy saying: 'It's a shared history and nobody gets away with it.' That became a kind of touchstone for me. Judy and I have such different subject positions, but with the commonality of womanhood. I was thinking about the work that can be done from these perspectives and what happens when they meet, in terms of processing colonial realities. I feel like colonial Australia and contemporary Australia are one and the same thing. This is part of the continuity that runs through this exhibition and is alluded to in the title – the red thread of history.
JUDY WATSON: There are parallels in the way that we look at history and try to deal with it and work with it as artists, and to bring it into our current perspectives as women and mothers, living in Australia … with the burden of what happened on this continent in terms of colonisation … there are also parallels in our artistic practice and ways of making meaning through materiality. And there's a certain tenderness within the work. It's a historicising of fact and research, but there's a tender stamp of femininity too, which is very powerful. Subtle, but powerful.
TINA: Did your engagement with each other change how each of your works developed for this show?
HELEN: It definitely affected my palette. I have a tendency to use quite bombastic colours, which didn't seem appropriate for this body of work. I was, however, partly thinking about the colour red and the role that it plays in Judy's work, and it comes into my work. The intensity of that colour and its symbolism has stayed with me and influenced my decision-making when I'm mixing paint. These works are huge, but I wanted them to be able to be moved through, like corridors – with their scale I didn't want them to obstruct, but to reference theatre backdrops. The colonial logic they engage likes to present itself as an immersive reality – but like stage sets can just as surely be lowered down and rolled up.
JUDY: Helen's work and how it will be in the space has been in the back of my mind … and how the works will spark ideas and conversations. It's almost like when we are not there, the works will be chatting to each other.
It's a sort of osmosis or poetry that moves between artists. I'm sure writers and musicians are the same. It's a shared language in a way, even though we might come from different positions.
HELEN: Because we both make works that are free-hanging in space, there's a level on which they function pictorially, but there's another level on which they function bodily. It's like a social space is set up between them, because depending where you are in the room, you get all these different connections and perspectives.
TINA: Truth-telling is one of your shared artistic concerns. How have you approached this in your work for this show?
HELEN: I put a great deal of thought into navigating what's appropriate for me to reference in my work as a non- Indigenous person. I feel firmly that it's not for me to tell Indigenous stories. And that becomes a complex thing to navigate when you're addressing colonialism in your work … where's the line between respect and erasure if you're not including Indigenous content?
When the National Gallery of Australia first approached me about this commission, one of the first things I said was that the work should be understood as one voice in a conversation, and that it would be most appropriately displayed alongside Indigenous voices, rather than just being this white woman kind of grandstanding about colonial processes. It needs to be collaborative.
JUDY: I was interested in using maps of countries in our area and how women – my matrilineal heritage, my Aboriginal heritage – sit within that. Helen and I also discussed colonial Australian politician Henry Parkes, and how his quote at the 1890 Federal Convention about the 'crimson thread of kinship', relates to the anthropologist Ernst Wreschner's description of ochre as 'a red thread' that runs through 'more than 500,000 years of human history'.
Men like Henry Parkes … see the world and their place within it and the idea of nationhood and a new country … as only including those races that they deem important.
HELEN: Part of our first conversation was about the Henry Parkes quote. I hadn't realised that Parkes is a suburb in Canberra, so using the quote felt appropriate. I sort of had Parkes in the back of my mind … and while making my work for this show I started pulling out this imagery of young white women that was used as a symbol for newly federated Australia.
In around 1900 there were a lot of cartoons accompanying articles about what shape federation would take, and newly federated Australia was always represented as a young white woman with Parkes as a sort of patriarch showing the way. When you read the first sessions of parliament you can see that the whole thing was about white supremacy. It still is. It's the foundation.
JUDY: It is, for sure … there's been a lot of play in this exhibition with perceptions of cultural integrity and … with assumptions about what makes this country great. It'll be interesting to see the conversations that erupt or are exchanged because of the works.
HELEN: I don't see art as a didactic project. It's a way to start conversations. Difficult ideas are easier to put in the toohard basket, but if there's an aesthetic experience that it's bound up in, people can start thinking about it in a different way.
TINA: Your works for this exhibition speak to the experience of colonisation in Australia. Can you elaborate on the subjects embedded in the works?
HELEN: I've been working with quite a lot of archival material … these images or cartoons of the young women of federated Australia. And going back into the Hansard record of the first sitting of the first parliament of federated Australia, and reading those transcripts and taking fragments from them and bringing them into the paintings. I researched the people who spoke those often shocking words and found their images and brought them back to life-scale people.
This is one of the ways those uglier and unpalatable histories are kept at arm's length, because they're buried and they're archived. I've also been trying to focus on the connections between these colonial documents and things that I see in contemporary society – in the media, in my day-to-day life – where it feels like they're one and the same thing. They're parts of the same thread.
JUDY: The mortar in colonial buildings around Sydney and other places – that's a product of Aboriginal middens, which were taken by convicts out on rafts, brought back, burnt and then … hewn together to build these structures. Aboriginal culture is within all those buildings … the DNA of Aboriginal people from the oyster-gathering and eating. Their saliva, as well as the oysters, is what is gluing history and colonisation together. It needs to be recognised that it's not just one white history you're looking at when you're seeing so-called old buildings in Australia.
TINA: Judy, you've always said that your work has been inspired by your mother and grandmother, as well as your daughter Rani and other family members. What else besides family inspires you?
JUDY: I'm inspired by the history of both sides of my family. My dad's side and my mum's side … also Country. Every time I go somewhere I want to know the layers of what lies beneath. Just recently I was reading about a place that I had visited and seeing it from the perspective of a non- Aboriginal local historian who … once again, put out this myth that Aboriginal people just gave their land away. I feel like there is so much to refute; there's always going to be something to counter. And the way I do it is through art.
TINA: Helen, what inspires or influences your work?
HELEN: I don't necessarily think art can save the world, but I think it can prompt people to see things differently or encounter things from a different perspective. For many years I've been making works that think about the space between broader constructs of national identity and the ways that histories get cobbled together and solidified to suit that project. And how those things sit in relation to people's lived experiences and how people navigate that sometimes contradictory space.
Over the years I've found painting a more and more useful space to push those ideas around in … I guess this also resonates with German painting movements of the 1980s and 1990s – Martin Kippenberger, Albert Oehlen, Charline von Heyl and people like that who were grappling with questions around German identity after the fall of the Berlin Wall. And when the reckoning about World War II was starting to become a public debate, those artists embraced humour, insinuation and the sense of the messiness and impossibility that painting can hold.
It felt like those approaches could have an application here … when I went to art school in the late 1990s, you were more or less told that you couldn't paint figuratively … and it took me a while to get to a point of being like, 'If they're telling me I can't do that thing, that's probably a reason to do it'.
JUDY: It's funny, because that's what they said in the late 1970s and early 1980s. And it was mostly male art teachers telling me that. Uncle Sam Watson from the Brisbane area had a great quote: 'The gatekeepers need to open their gates.' Because artists – and not just visual artists, but performers, musicians, whatever – are the bards and the seers, and they need to be let through because they're going to carry our stories for us … I hope that future generations have the strength and support from previous generations of artists and cultural practitioners to know that that's the way – to take those stories and beat down those doors.
This is an edited transcript of a conversation held on 27 November 2021 between the artists and Tina Baum, Curator, Aboriginal and Torres Strait Islander Art at the National Gallery. Tina Baum is from the Larrakia, Wardaman and Karajarri people of the Northern Territory and Western Australia.
Judy Watson and Helen Johnson: the red thread of history, loose ends are the combined fourth and fifth instalments of The Balnaves Contemporary Series. The exhibition is currently on tour.