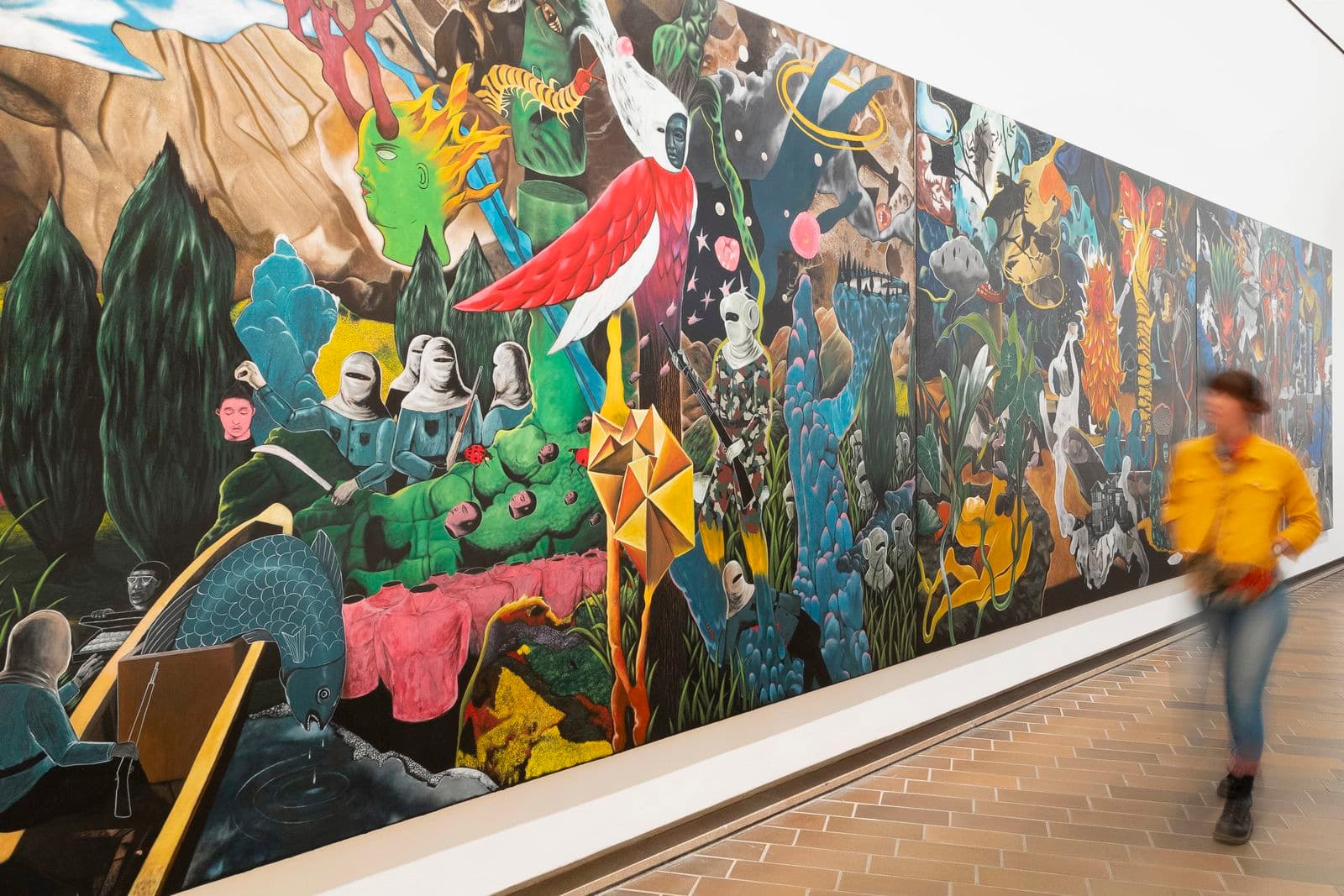 Key information
The National Gallery is committed to providing a safe, inclusive and welcoming experience for all visitors and staff. Please help us create a safe environment and protect the national collection by complying with these Conditions of Entry. Refusal to comply may result in removal of a person from the National Gallery site.
Conditions of entry
It is a requirement that you:
Conduct yourself responsibly and be respectful to others. The National Gallery will not tolerate any abuse directed towards National Gallery staff, volunteers, contractors or other visitors, and will not tolerate behaviour that is discriminatory, offensive or abusive.
Cloak all bags, backpacks, hard-framed baby carriers or other items larger than a 30cm cube as soon as possible after entry and comply with any requests to cloak additional items. (For medical items, please speak to a member of staff upon entering the National Gallery.)
Carry smaller bags under your arm, down by your side or in front of your body.
Stay at least 1m away from works of art at all times.
Wear footwear at all times to protect you against injury.
Ensure that children and young people under your care comply with the Conditions of Entry; and take steps to manage viewing of content that may be unsuitable for young audiences using the viewer advice signage provided for relevant exhibitions and/or works. Children under 12 must be accompanied by an adult at all times.
Comply with any rules and policies established by the National Gallery.
Comply with any reasonable request, including signage, by the National Gallery in relation to your entry or continued presence on National Gallery premises.
In most places in the National Gallery, you may take photos or make videos or films of the works of art in our collection if:
It's for personal use only;
You don't use tripods, selfie sticks, flash or lighting equipment without prior permission of the National Gallery;
There's no sign prohibiting photography or other indication that it is restricted;
Children under the age of 18 are not recorded;
It does not interfere with or cause concern for other visitors; and
It does not include any other person without that person's consent.
It is a requirement that you do not:
Touch or interfere with works of art in any way. Even clean hands can damage the art.
Eat, drink or chew gum in any of the gallery spaces. Bottled water can be consumed in foyer areas only. Breastfeeding is welcomed throughout the National Gallery and a Parents Room is also available on Level 1 for those with children.
Smoke or vape on National Gallery premises including the Sculpture Garden.
Bring or consume your own alcohol, enter under the influence of alcohol or drugs, or consume or carry illegal drugs.
Carry toddlers or larger children on the back or shoulders (Infants may be carried in a soft baby carrier on the front or back).
Run inside the National Gallery, for the safety of visitors and protection of artworks.
Bring animals onto National Gallery premises, except for trained Guide Dogs and other registered assistance animals.
In the reasonable opinion of the National Gallery, interfere with, disrupt or offend other people on the premises or act in any way that is unsafe to yourself or others.
Leave bags or belongings unattended, unless in the lockers provided.
Take any implement into the galleries that the National Gallery reasonably considers could be used to damage or conceal National Gallery material or works of art.
The National Gallery reserves the right to:
Remove or apprehend any person from National Gallery premises.
Serve food and beverages in gallery spaces for the purpose of National Gallery hosted events. The National Gallery reserves the right to determine which gallery spaces may be used for events at its sole discretion.
Inspect any bag, luggage or object upon entry to and before leaving the National Gallery premises.
Use closed-circuit television security cameras throughout the premises.
Remove any items left in the self-service lockers after the National Gallery has closed each day. These items will be transferred to the National Gallery's lost and found area, and will be dealt with in accordance with the National Gallery's policies.
Change these Conditions of Entry without notice.
The National Gallery provides free Wi-Fi and may use Wi-Fi-based technologies that may collect information from Wi-Fi enabled devices. We use this information to provide, monitor and improve our Wi-Fi services and to better understand visitor behaviour and traffic patterns throughout the National Gallery so we can improve the safety, security, and overall experience of our visitors. This information is collected automatically, however the information will be anonymous and will not include, or be linked to, any personal information about you unless you give us permission for this to occur. To opt out, simply turn off Wi-Fi on your device.
The National Gallery may also collect and use other information about you such as ticket information or CCTV footage. The National Galley will use this information in accordance with our privacy policy or as permitted by law. We may also film or photograph you if you attend any public programs or exhibitions. The Gallery will only use this footage with your consent or as otherwise permitted by law. Our Privacy Policy contains information about how the National Gallery handles your personal information, including how you can access and correct your information or contact us (including to make a privacy complaint).
You enter the National Gallery or the Sculpture Garden at your own risk. To the extent permitted by law, you release and discharge the National Gallery from all claims and demands and any loss or damage whatsoever and whenever caused to the National Gallery or its employees, servants, contractors, agents or otherwise, arising from your attendance at these premises.
You are advised that caution should be exercised when traversing hard surfaces in wet or icy conditions.
These conditions of entry were approved by the National Gallery Council in accordance with the National Gallery Act 1975 (Cth) on 14thApril, 2023.
Paid Exhibitions & Events
Tickets are only valid for the date and time indicated on the ticket
Please retain your ticket for inspection should this be necessary during your visit
For concession and member tickets, proof of concession or membership must also be presented on request
Tickets are not refundable or transferable if you change your mind
Late arrival for exhibitions and programs may result in non-admittance
An online booking fee may apply. This fee is notified prior to purchase
The National Gallery reserves the right to cancel a ticket and refund the amount paid
The National Gallery reserves the right to vary ticket prices, seating arrangements and capacity, add, withdraw, or reschedule programs and presenters without notice
Tickets may not, without the prior written consent of the National Gallery, be resold or offered for resale at a premium (including via online auction or other unauthorised resale sites) or used for advertising, promotion or other commercial purposes (including competitions and trade promotions) or to enhance the demand for other goods or services. If a ticket is sold or used in breach of this condition, the ticket may be cancelled without a refund and the ticketholder may be refused admission. The National Gallery will take all reasonable steps to notify the ticket holder of the National Gallery's intention to cancel the ticket or render it invalid within reasonable time before cancelling it or rendering it invalid
The National Gallery will request and record personal information necessary for the provision of the service. The collection, use and management of personal information is regulated by the Privacy Act 1988. Please refer to the National Gallery's Privacy Policy for more information.
Taking Photos in the Gallery
Please refer to the Conditions of Entry for taking photos in the Gallery. Please check with Gallery staff or our uniformed security officers if in doubt.
Frequently asked questions about taking photos at the National Gallery can be found here.
You need to make a written request if you intend to photograph or film for publication or commercial purposes. For contact details, see Filming and photography in the National Gallery.