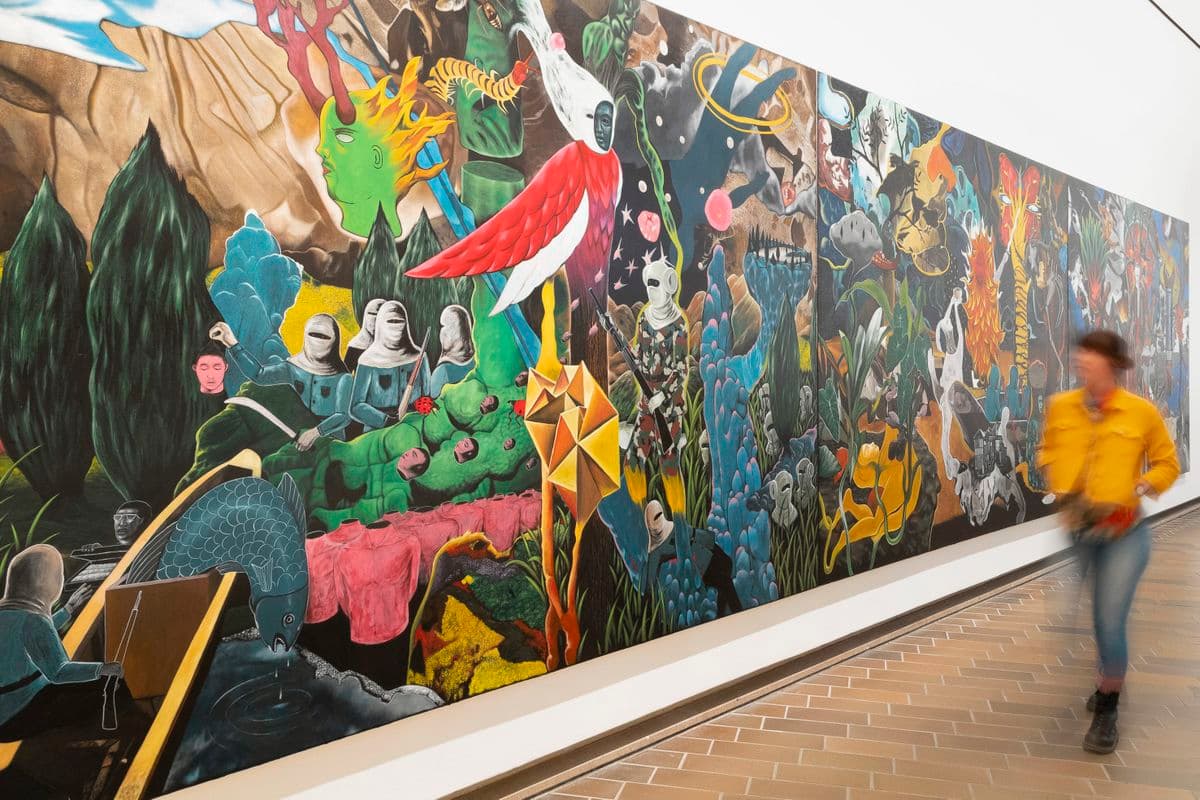 For the convenience of our visitors and the safety of the art, we require and appreciate your compliance with these conditions.
Update: 27 Oct 2022
The National Gallery has been monitoring art vandalism events at institutions here and overseas and has put mitigation strategies in place in response to these events.
These temporary measures include some changes to our visit guidelines:
No backpacks permitted in gallery spaces; if brought into the Gallery they must be cloaked in the self-serve lockers on the Ground Level
Water bottles must be transparent and the contents visible; opaque bottles are not permitted. Water can only be consumed in foyer spaces.
We appreciate your understanding during this time.
Admission policies
While within the Gallery's building and grounds, you must not engage in dangerous, abusive or inappropriate behaviour, illegal acts or infringe the rights of any other person. If you fail to comply, you may be asked to leave or you may be removed from the premises.
All persons entering the Gallery and the Sculpture Garden do so at their own risk. The Gallery and Sculpture Garden are continuously monitored by surveillance cameras.
The Gallery uses Wi-fi-based technologies that may collect information from Wi-fi enabled devices. We use this technology to better understand visitor behaviour and traffic patterns throughout the Gallery so we can improve the safety, security, and overall experience of our visitors. This information is collected automatically, however the information will be anonymous and will not include, or be linked to, any personal information about you unless you give us permission for this to occur. To opt out, simply turn off Wi-Fi on your device.
To help us protect our displays and exhibitions from damage, we ask visitors to observe the following conditions of entry to the Galler
Items where any one side is longer than 30cm, such as bags, backpacks, umbrellas, baby backpack carriers, tripods and monopods are not permitted in the gallery spaces and must be cloaked. Free self-service cloaking is available in the Art Store
For safety reasons children are not permitted to be carried on the back or shoulders
Food and drink are not permitted in any exhibition area
Bottled water is able to be consumed in the foyer areas only—ask staff for details and assistance
All of the National Gallery's buildings and immediate surrounds are smoke-free
Touching works of art is not permitted
Trained, registered and visibly identifiable guide, hearing and other assistance dogs are welcome to visit the Gallery when accompanied by their handler
Visit guidelines
As you plan your visit, please note the following:
Please treat our team with kindness and respect, they are here to help and keep you and the art safe
Free self-service cloaking is available in the Art Store on the Ground Floor. Bags or objects over 30 x 30cm are not permitted in the gallery spaces and must be cloaked.
Entry to the Gallery is only via the main entrance. Visitors are encouraged to exit the Gallery via Level 1 by taking the escalator which leads to the concourse on Parkes Place
Save time by booking your free general entry ticket online. We encourage you to book your ticket before you visit.
All payment Gallery-wide, including parking, is contactless only (no cash)
The Street Café is open daily (except Christmas day) serving coffee, drinks, lunch, sweet treats and snacks
The Collection Study Room and Tim Fairfax Learning Studio are currently closed
James Turrell's Skyspace Within without is open
Visitors with access requirements are able to hire mobility equipment, including wheelchairs and scooters, for free from the Concierge desk (subject to availability)
Paid Exhibition and Event Terms & Conditions
Tickets are only valid for the date and time indicated on the ticket
Please retain your ticket for inspection should this be necessary during your visit
For concession and member tickets, proof of concession or membership must also be presented on request
Tickets are not refundable or transferable if you change your mind
Late arrival for exhibitions and programs may result in non-admittance
An online booking fee may apply. This fee is notified prior to purchase
The National Gallery reserves the right to cancel a ticket and refund the amount paid
The National Gallery reserves the right to vary ticket prices, seating arrangements and capacity, add, withdraw, or reschedule programs and presenters without notice
Tickets may not, without the prior written consent of the National Gallery, be resold or offered for resale at a premium (including via online auction or other unauthorised resale sites) or used for advertising, promotion or other commercial purposes (including competitions and trade promotions) or to enhance the demand for other goods or services. If a ticket is sold or used in breach of this condition, the ticket may be cancelled without a refund and the ticketholder may be refused admission. The National Gallery will take all reasonable steps to notify the ticket holder of the National Gallery's intention to cancel the ticket or render it invalid within reasonable time before cancelling it or rendering it invalid
The National Gallery will request and record personal information necessary for the provision of the service. The collection, use and management of personal information is regulated by the Privacy Act 1988. Please refer to the National Gallery's Privacy Policy for more information.
COVID-19 Safety measures
To ensure the health and well-being of our visitors and staff we have put in place additional safety measures:
Limited capacity in galleries: please follow signage recommendations
Visitor Experience staff and Gallery security are always available to assist visitors and monitor the flow of people through the Gallery
Sanitiser stations throughout the Gallery
Additional cleaning of the Gallery including high-traffic areas and high-touch items
Mobility equipment sanitised after each use
Protect the community
Help us protect the community by adopting the following safety measures when visiting the Gallery:
Comply with social distancing guidelines of 1.5 metres
Wash your hands frequently with soap and water, or use an alcohol-based hand rub
When coughing and sneezing cover mouth and nose with flexed elbow or tissue
Comply with lift capacity restrictions
If you do not feel well, have been in contact with a confirmed or suspected case, or visited an identified COVID-19 hotspot, please do not visit the Gallery.
We thank you for your assistance in keeping our community safe.
To make changes to your booking, please contact Information on +61 2 6240 6411 or ticketing@nga.gov.au.
Taking photos in the Gallery
In most places in the National Gallery, you're welcome to take photos or make videos or films of the works of art in our collection if:
It's for personal use only
You don't use a flash, selfie-stick, tripod or monopod
There's no sign prohibiting photography
Children under the age of 18 are not recorded
It does not interfere with or cause concern for other visitors
It does not include any identifiable person without that person's consent
Please check with Gallery staff or our uniformed security officers if in doubt.
Frequently asked questions about taking photos at the National Gallery can be found here
You need to make a written request if you intend to photograph or film for publication or commercial purposes. For contact details, see Filming and photography in the National Gallery