Bridget Riley: Wall painting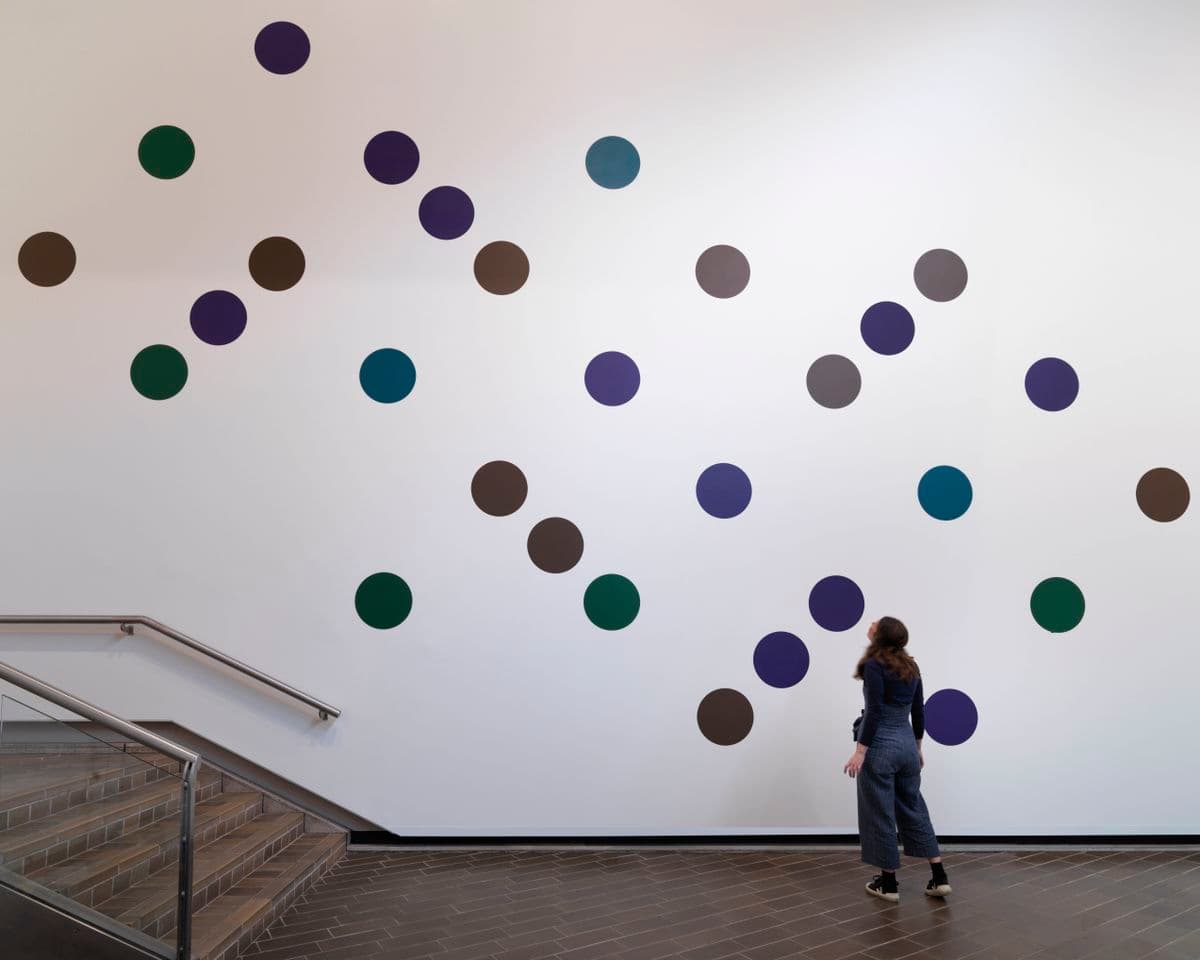 ABOUT
'Dancing to the music of time sets up a mysterious envelope for the colours within. As the eye moves over the surface, following different directions, it is surprised by flashes of light. Bright discs with just a hint of complementary colour.'
A major new wall painting by Bridget Riley has been commissioned to celebrate the National Gallery's 40th anniversary.
Dramatic, arresting and playful, Dancing to the music of time 2022 responds to the architecture of the building. Approached from the ramps, or viewed from the upper gallery, the six-by-nine metre work is seen in tantalising fragments. Closer inspection reveals an unexpected monumentality and a curious intimacy.
This is Riley's first 'dark' wall painting, a vast expanse of discs in purple, orange, green and turquoise eclipsed by a mysterious darkness, so deeply dark that it seems to draw the light out of all these familiar colours, turning the brightness of orange, for example, into a shade of brown. However, this suppression of light does not last. As our eyes scan, searching for relief, we are rewarded by flashes of colour and a bright rim of light appears around each disc.
A rhythm of energetic diagonals, horizontals and occasional verticals lead the viewer through a veritable maze of options. Looking here and seeing there. Circles turn into ovals and back again, a reading aided by perspective.
One of the world's leading artists, Riley first came to prominence in the 1960s. Her work has changed the history of abstract art, and continues to challenge and exhilarate audiences today.
For more than six decades the British painter has pursued an aesthetic of perceptual abstraction, raising an awareness of what can be seen and discovering means by which such sensations can be realised. Riley's works make us smile and may arouse deeper responses: feelings of anxiety and composure, of order, disorder and the reassurance of order restored.