The Kenneth E. Tyler Collection
Between the sheets of 'Gray instrumentation II'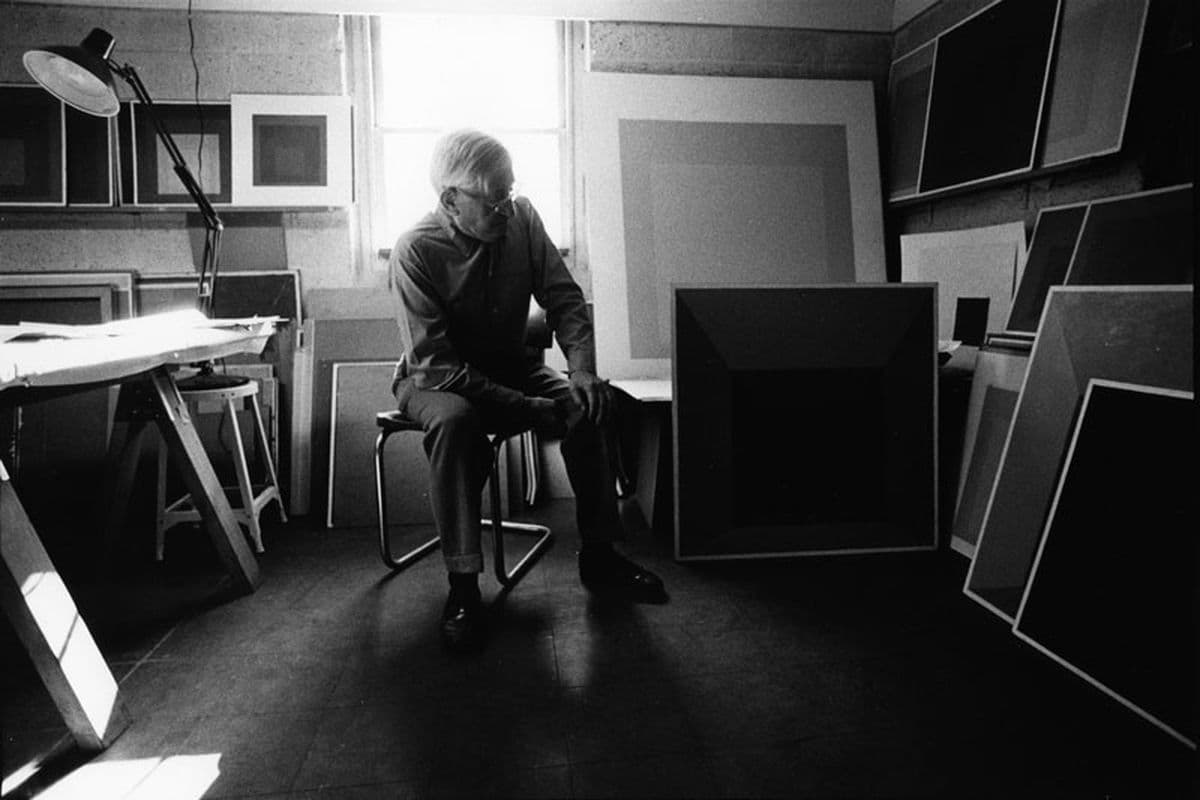 The Kenneth Tyler Collection team look back at Albers's relentless investigation of shades grey and share the poetry that interleaved the portfolio.
Colours and their interactions were an obsession for Josef Albers throughout his career. After seeing black and white photographs of some of his iconic Homage to the square paintings he became interested in the innumerable varieties of grey and how they interact in different combinations.1 From 1974 to 1975, Albers collaborated with Kenneth Tyler to create two portfolios of screenprints, which he titled Gray instrumentation I and II. The interactions between different shades of grey are the basis for these series, which use the motif of the Homage to the square paintings.
For their earlier collaboration on the White line squares lithograph series of 1966, the artist, who resided in Connecticut, and printmaker who was working at Gemini GEL, Los Angeles, completed the project largely by corresponding across the country, mailing ink samples and trial proofs marked up with comments to each other. Now that Tyler had established his new workshop in Bedford, New York, his proximity to Albers allowed their collaboration to be more direct. So much so that in investigating different instances of grey, Albers, who through decades of experimentation and refinement was attuned to the finest subtleties of colour, would bring Tyler countless samples from a variety of sources such as leaves and twigs from the garden as well as scraps of paper and paint samples from his studio, requesting that the colours be replicated, exactly, in ink.
After trial proofs were made for the different inks, Albers cut and collaged the freshly printed blocks of colour, experimenting with the many possible combinations. Tyler and his team would then print these new configurations of grey as proofs for the artist's further study. This careful, laborious process of revision would be repeated until the desired colour interaction was achieved. In order to achieve the uniformity in colour, shape and texture that the artist required, Tyler devised an inventive system of registration, using photographic techniques and embedding registration pins into the printing bed. This exacting method was used to ensure that the purity of each area of colour was maintained with no overlapping of colours or overprinting. To ensure precise results for the edition, Tyler and the workshop staff made and remade stencils and screens numerous times and hundreds of colour trial proofs were made (and subsequently destroyed).2 Though Albers himself did not participate directly in the printing process, nor the mixing of inks he was very much in control of the final product, remarking 'it's all done by my friend Ken, but I watch him like Hell.' 3
For both portfolios Albers wrote a number of poetic verses which were interleaved between the pages of screenprinted squares. In the contemplative, and sometimes humorous, musings of Gray instrumentation II, Albers reflected on art and the different ways of seeing art, considering the roles of vision, perception and experience, the idea of inner-sight and the different ways that art is beheld. Noting that the artist, who was 80 years old at the time, died only months after the portfolio was published these writings resonate as particularly poignant reflections on his lifelong relationship with art and his continued interest in ways of seeing.
1. Brenda Danilowitz, The prints of Josef Albers: A catalogue raisonné 1915-1976, Hudson Hills Press, New York in association with the Josef and Anni Albers Foundation, 2010, p 32.
2. Kenneth Tyler, Tyler Graphics catalogue raisonné, 1974–1985, Abbeville Press, New York, 1987, pp 78–105, p 46.
3. Josef Albers in conversation, about June of 1966, quoted in Pat Gilmour, Ken Tyler – master printer and the American print renaissance, National Gallery of Australia, Canberra, 1986, p 39.