Curator's Top 6
Rauschenberg & Johns: significant others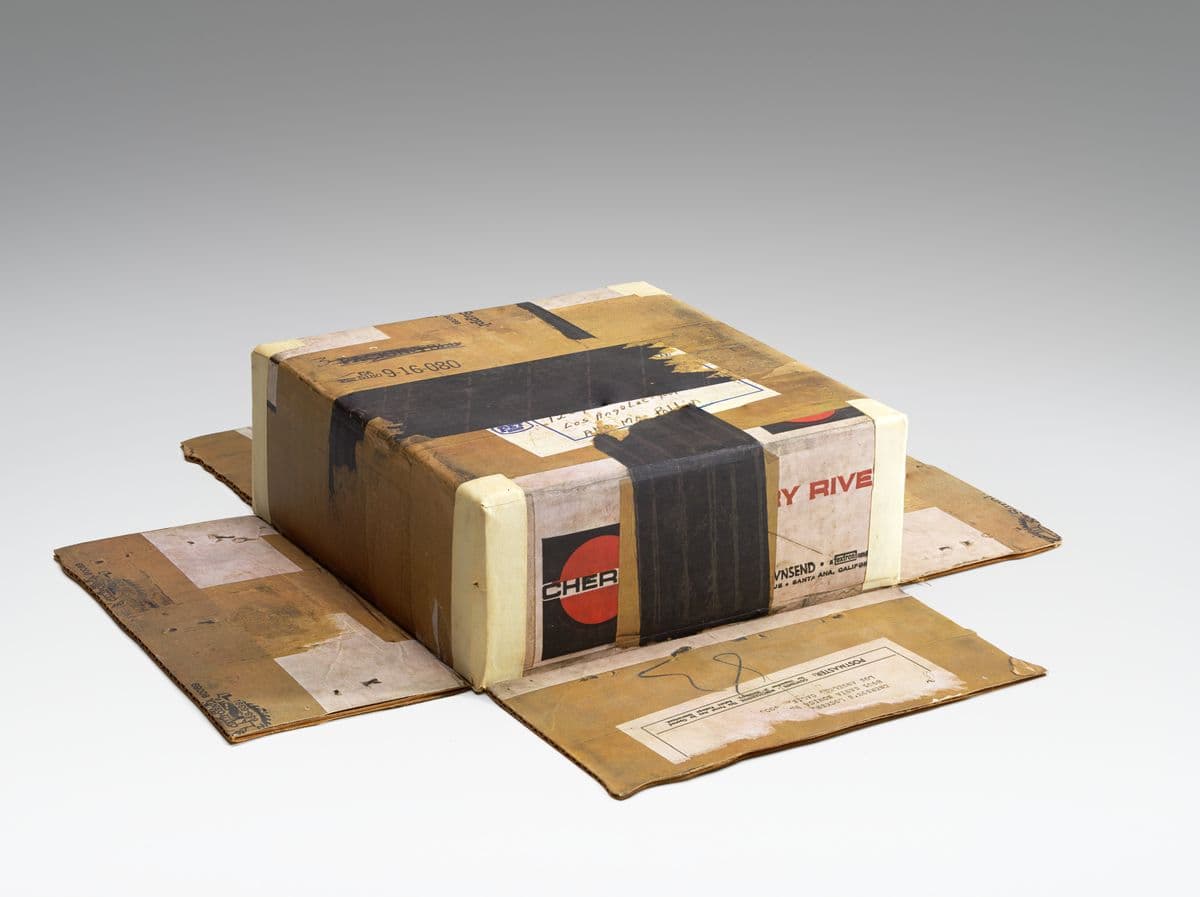 1. Robert Rauschenberg, Booster
Robert Rauschenberg's Booster is a self-portrait composed of six X-rays surrounded by photographs, newspaper transfers and drawings. Printed in 1967 at Gemini Graphic Editions Limited with the master printer Kenneth Tyler, it was the largest hand-pulled lithograph at the time.
Rauschenberg made this 'self-portrait of inner man' at a time of personal crisis when 'everything was falling apart'. The work incorporates images of car crashes, traffic jams and stress-testing devices, reflecting his feelings towards his life in New York City. With no 'time or patience for psychoanalysis' Rauschenberg sought guidance from an astrologer, which is alluded to by a chart of planetary transits in 1967 screenprinted over Rauschenberg's X-ray.
2. Robert Rauschenberg, Pull
In 1952 Robert Rauschenberg discovered he could transfer images from newspapers and magazines by dousing a page in solvents, laying it flat against a new piece of paper and pressing down on the back with an empty ballpoint pen. He expanded on this technique for Hoarfrost editions in 1974. Instead of using a traditional print matrix, such as a lithography stone, Rauschenberg created a thick bed of printed material and sprayed it with solvents. The solvents softened the inks so that when it went through a printing press the images transferred onto a new surface. Inspired by the cheesecloth used to clean lithography stones, which were hung up to dry in the studio, Rauschenberg selected to print on a fine silk, originally used to make lingerie.
3. Robert Rauschenberg, Cardbird box II
Robert Rauschenberg believed that there was 'no such thing as "better" material' for making art. In late 1970 he began to make work by reconfiguring abandoned cardboard boxes. Taking this idea to master printer Kenneth Tyler's studio, he created cardboard box prototypes that were faithfully recreated using lithography and screenprint. Small details on the original boxes, such as tape, staples and torn edges were imitated as accurately as possible with each reproduction in the edition.
4. Jasper Johns, Figure 7
Jasper Johns investigated in his work 'a thing… becoming something other than what it is'. His Color numeral series reference the human body. He told the writer Roberta Bernstein that each numeral is titled as a 'figure', suggesting the human form, as he wanted to have a series of figure paintings like the artist Willem de Kooning, but coded. The lithograph Figure 7 from the Color numeral series is significant in reintroducing figurative imagery into Johns's work with an iron-on decal of Leonardo da Vinci's Mona Lisa is embedded in the work. Adjacent to this is the artist's own hand-print in white ink. This 'print' within a print points to the relationship between our system of counting and the human body: the ten digits of our number system are derived from the ten digits of our hands, which link our body to this system of knowledge, further reinforcing the correlation between numerals and the body.
5. Jasper Johns, The critic smiles
I had the idea that in society the approval of the critic was a kind of cleansing police action. When the critic smiles it's a lopsided smile with hidden meanings. And of course, a smile involves baring the teeth. The critic is keeping a certain order, which is why it is like a police function.
6. Jasper Johns, Periscope
It has been suggested that both Rauschenberg and Johns would repeatedly depict a diving man as a code for their relationship while they were together from 1953 to 1961. In the years following their breakup, Johns continued to examine this image of a diver, but in a more sombre tone. This lithograph is based on his 1963 painting Periscope (Hart Crane), which refers to the suicide of the poet Hart Crane, who leapt into the ocean from a ship after his rejection by a male crew member. His outstretched arm was thought to be seen reaching through the waves before he disappeared. With this, Johns shifts the shared code that he and Rauschenberg explored to examine the emotional fall-out of their breakup.