Right of return: New Zealand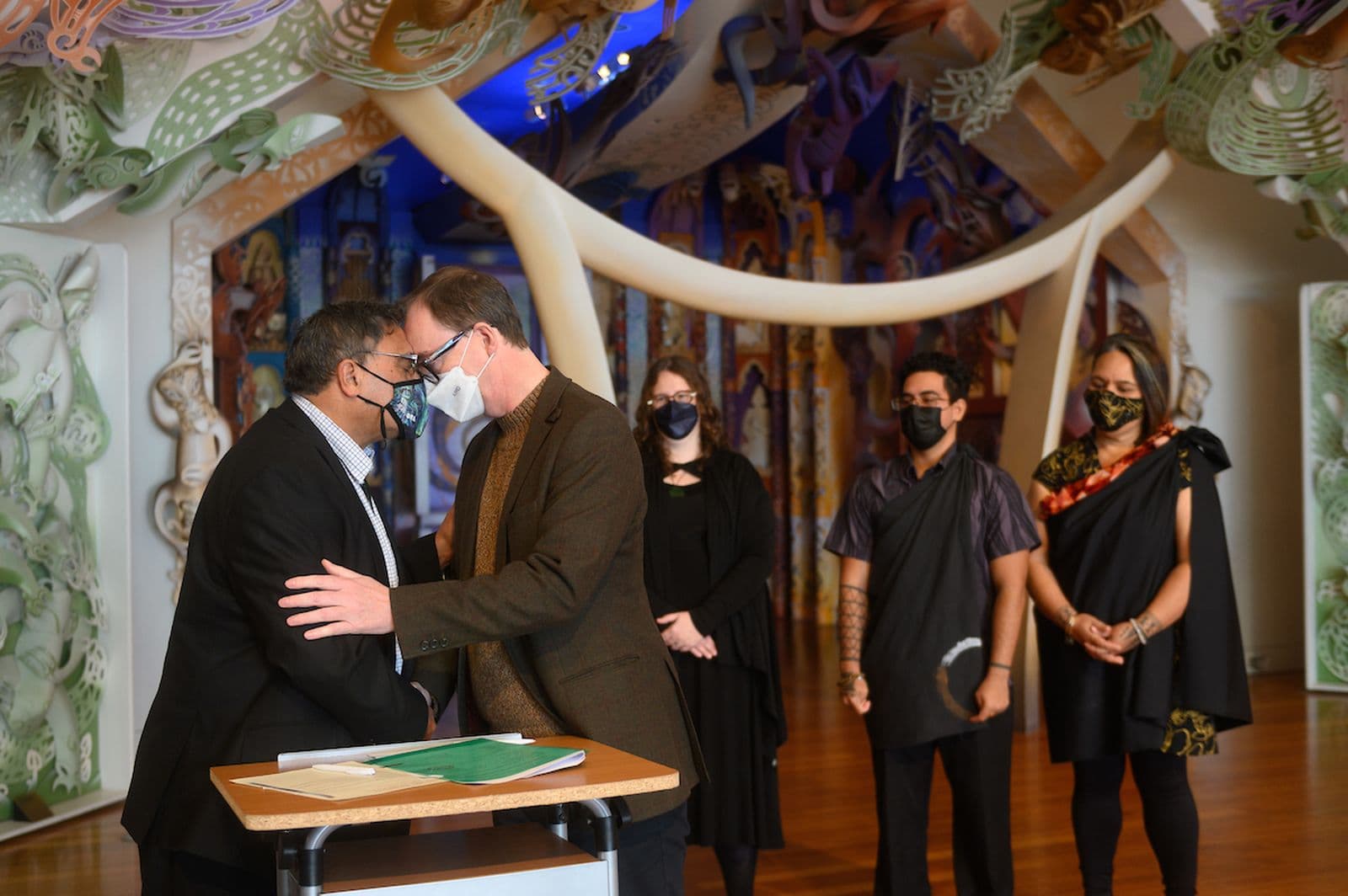 WHAT'S BEING RETURNED?
Previously titled Hei‑tiki and attributed to James Frank Robieson, Aotearoa and United Kingdom (1880–1966).
WHAT'S THE ISSUE?
In 2019, Hei‑tiki was identified as inauthentic and created from Māori remains. The deaccessioned Tupuna (ancestor) was collected by the Surrealist Max Ernst (1891–1976). Acquired by the Gallery in 1985 from Ernst's widow, the artist Dorothea Tanning, the small carved bone pendant was one of 96 objects from Ernst's collection that included objects from Africa, Canada, Costa Rica, Indonesia, Papua New Guinea, Peru, USA, Vietnam and West Papua.
WHAT HAPPENED?
Crispin Howarth, National Gallery Curator for Pacific Arts, worked with the Karanga Repatriation Unit to ensure the Tupuna was returned to Te Papa Tongarewa, National Museum of New Zealand, according to best practice in cultural protocol. In May 2022, Howarth travelled with the Tupuna to safely return it to Aotearoa/New Zealand. The repatriation began with a Powhiri ceremony, a welcoming, held at dawn early on a Sunday morning. The Tupuna was placed on woven mats and then covered with traditional flax and feather cloaks. Māori attendees paid their respects to the ancestors through Karakia and Korero (prayers and speeches). Once the mornings events ended, the Tupuna was placed in a Wahi tapu (special keeping place) and the spiritually charged events of the morning were lifted through sharing a meal. Following this, Koha (gift giving) marked the beginning of new relationships between our two institutions.
WHAT WAS SAID?
In a joint letter from Dr Arapata Hakiwai (Kaihaut) and Courtney Johnston (Chief Executive) the Gallery's activities in repatriation and relationship building wrote: 'We wish to acknowledge the proactive position taken by your institution in returning the Hei-tiki made of kōiwi tangata (Māori skeletal remains), we wish to acknowledge Crispin's care and leadership along with your institution, that houses many important taonga (cultural treasures) that are associated with Māori and our nation. We look forward to working with your institution in the future to develop initiatives that provide opportunities for the exchange of indigenous Māori and Pasifika knowledge, art forums, museum collection practices and ways of reconnecting taonga with their communities of origin through loans and partnerships in exhibitions.' As Te Herekiekie Herewini (Head of Repatriation) noted: 'It was significant in many ways beyond the return of the tupuna.'
This story was first published in The Annual 2022.