In Conversation: Muesli the Band
C-J and Sophie from the National Gallery's Youth Council had a killer chat with the crew of Muesli, a Kamberri local five-piece who blend their own mix of indie pop with a soulful, funky crunch. Muesli headline the 2023 National Youth Week event next month.
Muesli are Lily, Martin, Kieran, Harry and Luca. Muesli bring the beats and the vibes, serving up some seriously lively melodies. C-J and Sophie talk to them about all things music, what it's like being young musicians, and their upcoming performance at the National Gallery's Art IRL: National Youth Week event Friday 14 April.
SOPHIE: So good to meet you guys! So, the first question we want to ask you is what music do you listen to and which of those artists have influenced your own music?
LILY: We were just talking about this! We actually all take inspiration from a wide range of acts and artists. Luca and I take inspiration from some more alternative, indie, pop rock sort of artists. There's a group called Your Neighbours that we really like. They make a whole range of music as well. Sometimes it's leaning towards the electronic side, sometimes it's leaning towards the indie rock side. But they are a really fun, upbeat sound as well.
MARTIN: I like Samm Henshaw and Boy Pablo. Not necessarily that our music sounds like this, but I definitely take inspiration from them.
KIERAN : I listen to a lot of Peach Pit and Anderson .Paack and I feel like my drumming really takes a lot of inspiration from those.
HARRY: I am very much a funk guy, so I love Vulfpeck. Joe Dart is my hero. I try to be him in all of our songs. And then I also love Cake and their arrangements, particularly how they use auxiliary percussion. Love Cake!
LILY: Another band I'm really inspired by is Lake Street Dive. They are also a jazz, funk sort of band, but mostly because of their lead singer, Rachel Price. She's definitely who I'm trying to be in terms of the vocal world. And as a singer, she's got a really rich tone and a really powerful voice. So I definitely aspire to sound like her or make my sound as healthy as hers.
C-J: So, would you guys say that your music has any core themes or message to it?
LUCA: I do a lot of the writing of the lyrics and the music. Lily does too, but predominantly me right now. And I'd say lyrically, I don't think there's a message, but as a band, musically, we try and sound very happy and we want people to dance, obviously, and just want to spread positive vibes. I find that also, with the dynamics of our music, we always want to surprise our listeners. We don't want them to know what's coming next. If we have a new song, we might take it slow and then hit something and then go really fast. We like to keep it interesting – keep it surprising for the audience to listen to.
HARRY: I think we definitely pride ourselves on how much fun we try to have with our writing and our arrangements, and then that translates into our performances quite nicely, I think.
SOPHIE : What led you to starting the band?
KIERAN: Me, Lily and Luca were all in our school funk band, which was led by Harry, and one time Luca brought in an original song that we all played, and then Harry was like, 'yeah, that's really good'. We just went from there and our old pianist left the group, so we got Martin, and we formed from being friends at school, really, and just making music together for fun.
LILY: When Luca brought in that original piece, we jammed on it with the entire band. This was like maybe a 12 or 13-piece funk band with kids of all ages and things like that, which was very cute. And then we liked the direction of the sound and what we had brought together with Harry's instruction and Luca's original product. Luca and I went home that day, and we thought, 'we need to take this outside of school'. We came back the next day and asked Harrison, Kieran and Nelson, our old pianist at the time, to start this band, and Harry had the exact same idea in his head. We both went away that day thinking, 'okay, maybe we should do this'. We were all very much on the same page about it. That was pretty cool.
HARRY: I met Martin because I decided to start another funk band. I was bringing in charts to the school funk bands, and then year sevens were playing them so it wasn't very good. So, I made another band and, through Friends of Friends, Martin happened to join the band and Martin's a phenomenal sax player. So I asked, 'hey, you play keys as well?' So, he joined the band and we haven't looked back since.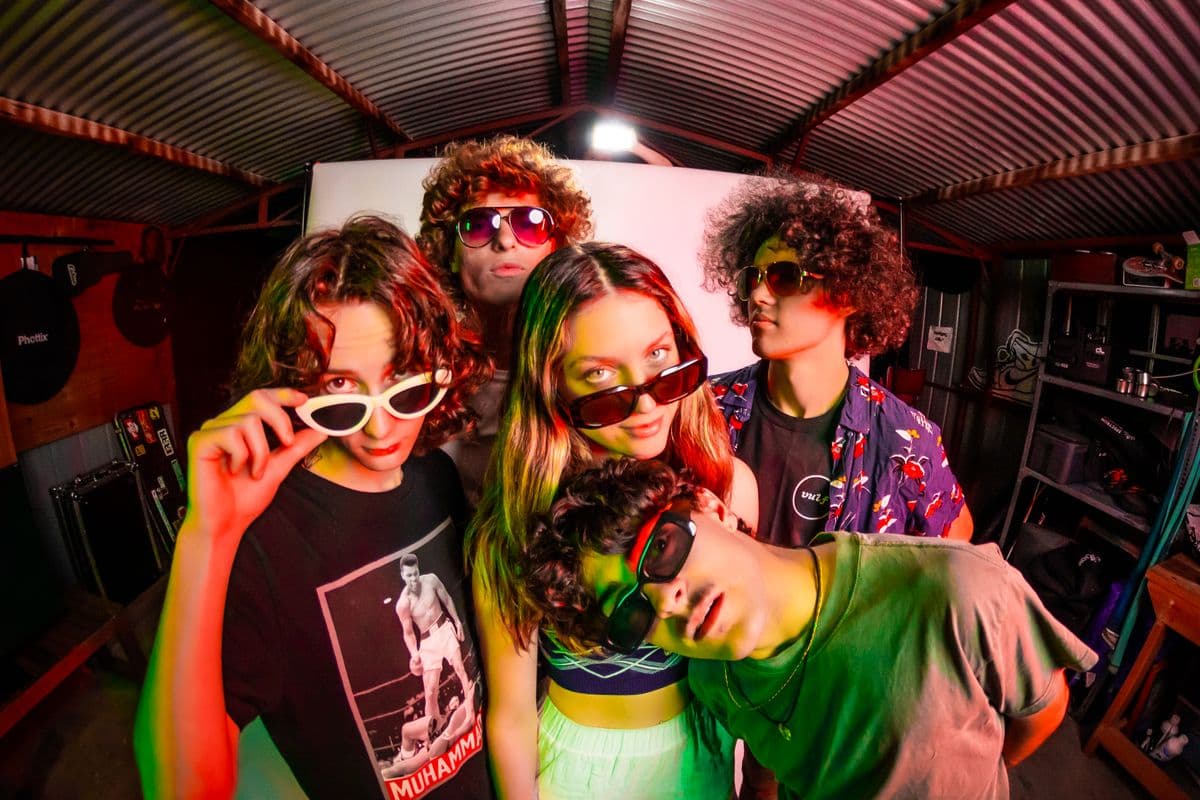 C-J: What's it like to perform with other young bands and musicians? Like in the line-up for the National Gallery's National Youth Week gig for Art IRL?
HARRY: Canberra in particular is lovely! We play a lot of gigs with ANU students and that community. There's probably four musicians who are in six different bands and it's just so nice to keep on seeing familiar faces and familiar products just around Canberra and always being able to run into them and work with them. Everyone's friends. Everyone's super supportive.
MARTIN: I think one of the main things that struck me when we started playing gigs was just how supportive everyone is in Canberra. There's nothing competitive about it at all. Everyone's just playing at each other's gigs, and supporting each other's gigs, promoting each other's songs. We had Archie to support our first single launch and one of the first things they said on stage was, 'Everyone get out your phones now, turn the sound on silent and just start streaming Muesli's new songs on repeat just while we do our set!' And they just did that out of the support and kindness that's all around.
LILY: Our experience with slightly more regional bands has been very similar. We played a show with a Sydney band the other week. That band was quite lovely and uplifting as well. So, yeah, we're very lucky to be in this scene of up-and-coming artists.
C-J: What impact, if any, would you like to have on the music industry?
HARRY: I might talk about just me individually because I idolise Joe Dart, but he just recently released a course where he was giving lectures about how he plays bass and how he views the instrument. And that's really inspiring. So I guess for me personally, I want to get to a stage where, what I do on my instrument, other people look up to. And I think as a band, that would be a nice thing to do as well. If we could get to a stage where other people are looking at Muesli and go, 'hey, I want to be like these guys', 'I want to have as much fun as they do on stage', 'I want to create music like them'. That would be wonderful.
MARTIN: I think we really like gigging, but most of the way that music is consumed these days isn't really live. There's a lot of Spotify and Apple music and listening to it other ways. And I think doing our part to keep the live music scene active it's what I want to do with the band. Having fun at gigs.
LUCA: I want mainstream music to broaden. I would like to show that you don't have to follow the same guidelines in terms of your music to make it big. I think if we were to create an impact on the music industry, I'd really want it to show that it doesn't matter what kind of music you play, as long as you play it well and it makes people happy and it makes people dance.
SOPHIE: That's very true! What advice do you have for other young bands and musicians who want to make it in the industry?
LUCA: I would say don't put all your eggs in one basket. If you think your product is good and you're confident, you will bring in crowds that like you. But don't think that just because one thing hasn't worked it's over. Don't think that because you don't get played on Triple J one time, that means that the band is over. There's lots of different directions you can go in and there's lots of ways to do different things.
Also, I think you should try and gig as much as possible. When we started this band, I was terrible at actually being on stage. But the thing that got me better was just gigging and just doing it repetitively and just sticking to it … constantly gigging. So I think, just keep going!
KIERAN: Putting yourself out there for other people to watch you is probably the most important thing you can be doing as a young up and coming artist or a band – advertising yourself and being like, 'hey, this is me. This is my music'.
MARTIN: I also think you should do it for the love of it, not because you want to be famous. Don't do that. Play music because you love it!
HARRY: Film yourself playing. Watch it back and analyse it. Especially when you're starting out. Film yourself. See what works, see what doesn't. If you rush a lot, maybe you should practice to a metronome or something.
LILY: And be open to the fact that you are also going to make mistakes and there are going to be dodgy parts of it as well. Persevering is a big thing!
C-J: While on that topic of gigging as much as possible, if you could play anywhere in the world, where would it be and why?
LUCA: Enmore theatre, even though it's not like the biggest. The gigs that I've been to there have been really intimate and really amazing.
LILY: I'm very optimistic about this, to be honest, but Radio City Music Hall, in New York. I've seen lots of my favourite acts play there, and it just looks so cool. It's such a big dream to play there one day and it's such an amazing space and to have had so many amazing musicians walk through there as well, I think that's a goal for me.
KIERAN: If I could play anywhere, I would want to play for an NPR Tiny Desk concert. It's such a dream of mine because they have so many incredible artists just coming through there and having such a fun time.
MARTIN: I'd like to do a COLOR SHOW.
HARRY: Mine is Madison Square Garden. Vulfpeck. live album at Madison Square Garden is sensational, and I want to do that.
C-J: Well, hopefully we can clip this up one day, and then when it happens, we can say we heard it here first.
(laughter)
SOPHIE: Following along from – how do you deal with your increasing fame and recognition?
LUCA: I think we've gotten to a point now where we start seeing some of our merch around and some people on the street will come up to us and be like, 'oh, Muesli, cool!' I don't think it's gotten to a point yet where it's something we have to deal with specifically. I think it's gotten to a point where we're like, 'oh, people actually know us now'.
LILY: The traction is exciting, for sure. While it's not something that is heavy for us yet or anything like that, but putting a toe in the water in many different spaces is super, super cool.
MARTIN: My friends have gone from mocking me for being in a band that's trying to make it, to getting angry at the fact that we're playing so many gigs and that I'm actually being semi successful. So that's good.
HARRY: One of the things that's nice about being in a band – with our merch – it's not me personally people are not wearing Harrison shirts, but Muesli shirts! It's a product that we are all a part of. It's a lot easier to separate yourself from that in terms of fame. It's a product that I'm a part of, it's this team that I'm a part of and that it is growing. That's sick. But it's not me.
LUCA: One thing that I think is important, is that it's not specifically to do with fame, but money. When you start getting paid for gigs and when you start actually racking up some money, I think it's really important to not be like, 'Oh, we got money. Let's spend it'. There's a lot of expenses that you don't think about. It's really good to have money in your band account so that you don't have to splurge out of your own pockets. So, I think just obviously with fame comes money. And not that we're millionaires, but I think just saving your money is important because it's valuable.
C-J: What do you want to be remembered for? Either personally or as a band.
LILY: I think that'd be pretty cool to be a band who's come from Canberra and be remembered for that as well.
LUCA: I want to be remembered for my lyrics and my music.
MARTIN: I'd like people to remember me as a good musician. But outside of that, I don't really mind if people forget me.
KIERAN: Playing drums and being a good drummer. Also, I like to be remembered as the guy who Lily always stands in front of at gigs.
HARRY: I think just being a good bassist. I would want to be somebody that other people study. Because I have my heroes that I've studied really well, and they've made me better. If I could be someone's hero and someone could study my plane, I'd like that.
LILY: I agree with Harry – to inspire people with what our talents are, that's really cool. To help younger musicians get up on stage and do their thing – that's really special to be able to inspire and be remembered for what we do for fun and what we love to do. And also, I'd be responsible for Kieran not being remembered because I stand in front of him the entire time on stage!
Muesli headline the National Gallery's 2023 National Youth Week opening event, 3pm Friday 14 April. This is an alcohol and drug free event exclusive for people aged 13 – 25. Tickets are free, but bookings are essential.