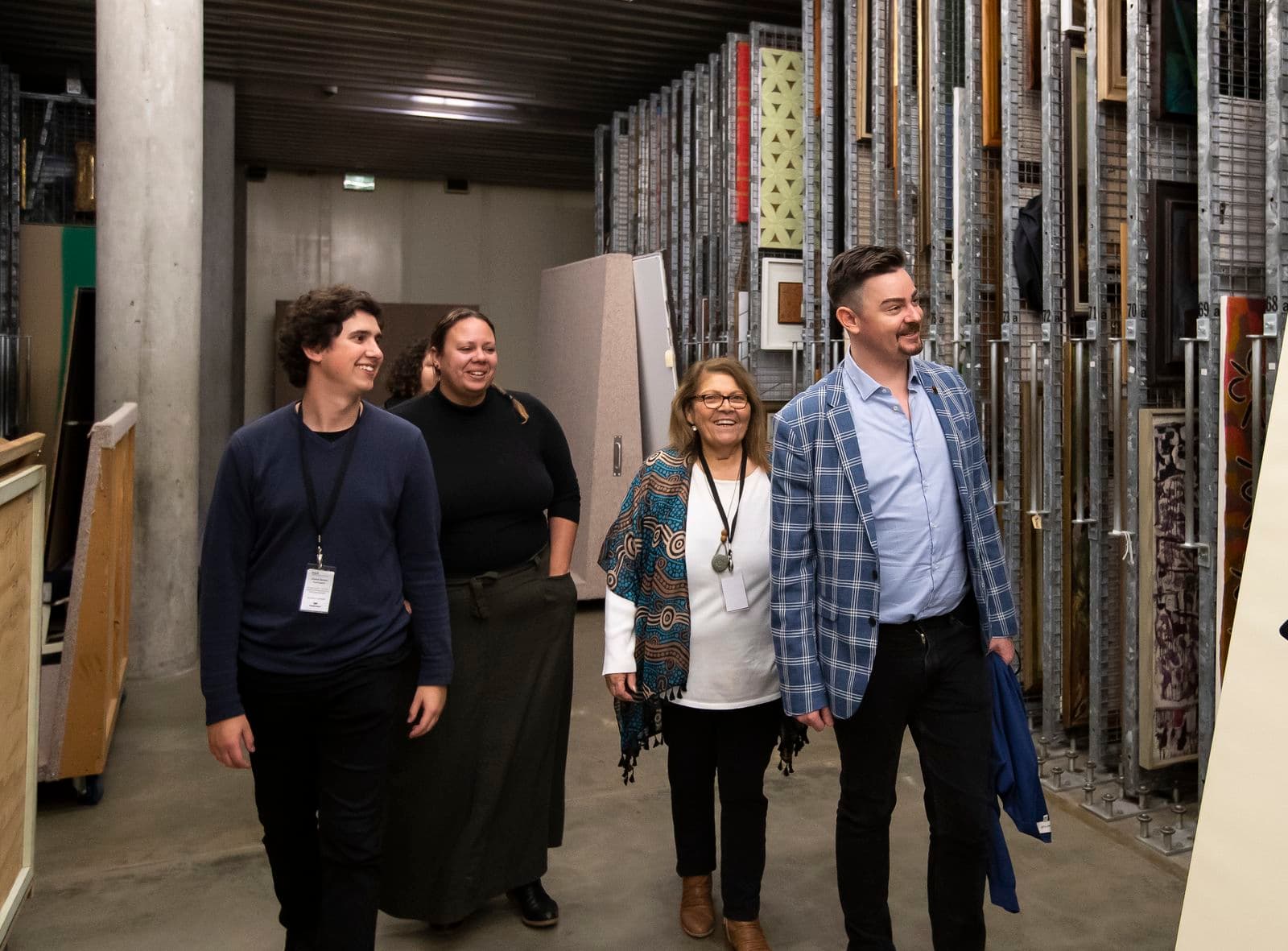 The National Gallery of Australia's Indigenous Arts Leadership Program, supported by Wesfarmers Arts, helps teach First Nations arts workers how to combine their custodial learnings with contemporary leadership. This year it was given a reboot, reports Ian R.T. Colless, Dharabuladh/Therabluat clan of the Gundungurra people.
For Juanita Kelly-Mundine, West Bundjalung people, the difference between Indigenous and non-Indigenous leadership lies in the ability to be a good listener.
"One of the things I love most about leadership within our communities is the appreciation for young people and a real emphasis on nurturing people coming up, whether it be in the arts or in any space within community," she says. "It's this incredible capacity for our Elders to teach us so much but also be exceptional listeners. Indigenous leadership is really, really good at elevating and amplifying the voices of young people."
Juanita was speaking at the 2021 National Gallery of Australia Indigenous Arts Leadership Program, supported by Wesfarmers Arts, where she joined fellow alumnus and Wiradjuri man Nathan Sentance as a Mentor for this year's program.
Since the program's inception in 2008, it has seen more than 100 graduates and continues to evolve and play a key role in the development of Indigenous professionals within the arts sector.
The program was suspended in 2020 due to the pandemic, however a make-up program was delivered across June and July this year. And it was a program with a difference: in response to feedback from alumni, this year's schedule was designed to provide a greater diversity of leadership experiences, with a particular focus on off-site and on-Country cultural development. The program was offered in two week-long residentials: the first off-site working with Wiradjuri Elders and community members in Wagga Wagga in June, and the second on Ngambri/Ngunnawal Country onsite in at the National Gallery in Kamberri/Canberra July.
For the first time the program included an Elder-in-residence, Wiradjuri/Ngunnawal Aunty Mary Atkinson. Aunty Mary provided guidance and advice to participants as well as a vital link to the local Wiradjuri community. Together with the presence of a male and female mentor, the inclusion of an Elder-in-residence built a space of cultural informed space for participants from diverse backgrounds and experiences.
The first residential in Wagga Wagga was opened with an official Wiradjuri Message Stick handover ceremony by Elder Aunty Isabel Reid, an advocate for the Stolen Generation who is the 2021 NSW Senior Australian of the Year. Other community-led cultural activities included a cultural tour with Uncle James Ingram to significant Wiradjuri sites, weaving workshops with Aunty Lorraine Tye and Aunty Joyce Hampton, Wiradjuri language and singing lessons with Aunty Elaine P. Lomas, and community 'cuppas' hosted by Aunty Cheryl Penrith with members of the Wiradjuri Community, including artist Lorraine Connelly-Northey.
According to Juanita, appreciating diversity is an important trait she has learnt from Elders.
"As Indigenous people we've gone through so many struggles and there's been so many challenges thrown our way, and our old people have had to work so hard in order to give us the opportunities that we have now," she said.
"They don't care what your interests are or what your sexuality is, or how you identify with your gender. They just want us to have every opportunity that they fought so hard for us to get. It is about everyone being able to express their indigeneity the way that they feel that they should. Culturally, we've always been those sorts of people since before colonisation – we've always nurtured our unique mob, no matter what that might be, whether it be a skill or an identity. I think our old people want nothing more than for us to thrive and to be happy and fulfilled in ourselves, in whatever way that looks."
Several workshops and presentations were held featuring alumni Wesley Shaw, Dharawal/Ngarigo peoples, Coby Edgar, Larrakia/Jingili/Filipino/English peoples, Tahjee Moar, Meriam/Barkindji/Malyangapa peoples, Aleshia Lonsdale, Wiradjuri people, and Aidan Hartshorn, Walgalu/Wiradjuri peoples, who is now the Wesfarmers Assistant Curator, Aboriginal and Torres Strait Islander Art, at the National Gallery and an integral member of the curatorial team of the Ceremony exhibition.
The second residential was delivered at the National Gallery using a hybrid online/onsite model. With lockdown of the Gadigal Country/Sydney area, Sydney-based participants attended the program virtually using livestream technology.
Following overwhelming support for the Elder-in-Residence model in Wagga Wagga, Aunty Mary Atkinson continued her leadership role by joining the participants in Kamberri/Canberra. Aunty Mary's cultural ties helped cultivate strong community engagement across both Residentials.
While in Kamberri/Canberra, participants also connected with Ngambri/Ngunnawal Traditional Custodian Paul Girrawah House for local on-Country learning, including a cultural orientation and history of the area on which the National Gallery stands, insights into his project for the Ceremony exhibition, and a Welcome to Country and smoking ceremony in the Sculpture Garden. Highlights of the second residential included presentations by Council member Terri Janke, Wuthathi/Meriam peoples, about Indigenous leadership in the arts; tours of National Gallery displays with First Nations staff including Kelli Cole, Warumungu/Luritja peoples, Curator, Special Projects, Aboriginal and Torres Strait Islander Art; insights into the upcoming Ceremony exhibition with curator Hetti Perkins, Arrernte/Kalkadoon peoples; decolonisation and racial literacy workshops led by curator, academic and Worimi woman Genevieve Grieves; a presentation on The Aboriginal Memorial and cultural leadership with curator and Bundjalung man Djon Mundine OAM; attending Bangarra Dance Theatre's SandSong: Stories from the Great Sandy Desert; and a series of professional development workshops by Gallery staff. The program culminated in a graduation ceremony held in the Gallery and virtually for Gadigal Country/Sydney participants.
For Nathan Sentance, a highlight of this year's program was being on Country in Residential One, because "it really centres and grounds you before you start".
"A lot of us are coming from organisations and we sometimes forget what's important, and I think you need that grounding before we can even begin," he said. "So it was incredibly valuable to be by the [Murrumbidgee] River before we even started having the really deep discussions.
"As Uncle James Ingram said: 'We're still here and we're not going anywhere.' I love that sentiment. I like being able to set our presence wherever we are. So, we're in the arts and culture sector, but making sure we're visible, we're represented, our histories are always being told, because we're not going anywhere. And some of us had to overcome incredible obstacles to be here. But we're not going anywhere and that makes me really proud to be part of this group, learning from one another.
"I'm always proud to be a Wiradjuri man, but I'm also proud to be an Aboriginal cultural and arts worker and I'm proud to be part of this program, because it does incredible things."
2022 Program Applications Now Open
If you are a First Nations person who is passionate about learning and developing a meaningful and fulfilling career in the arts, we encourage you to apply for the program in 2022.