Indigenous Arts Leadership Program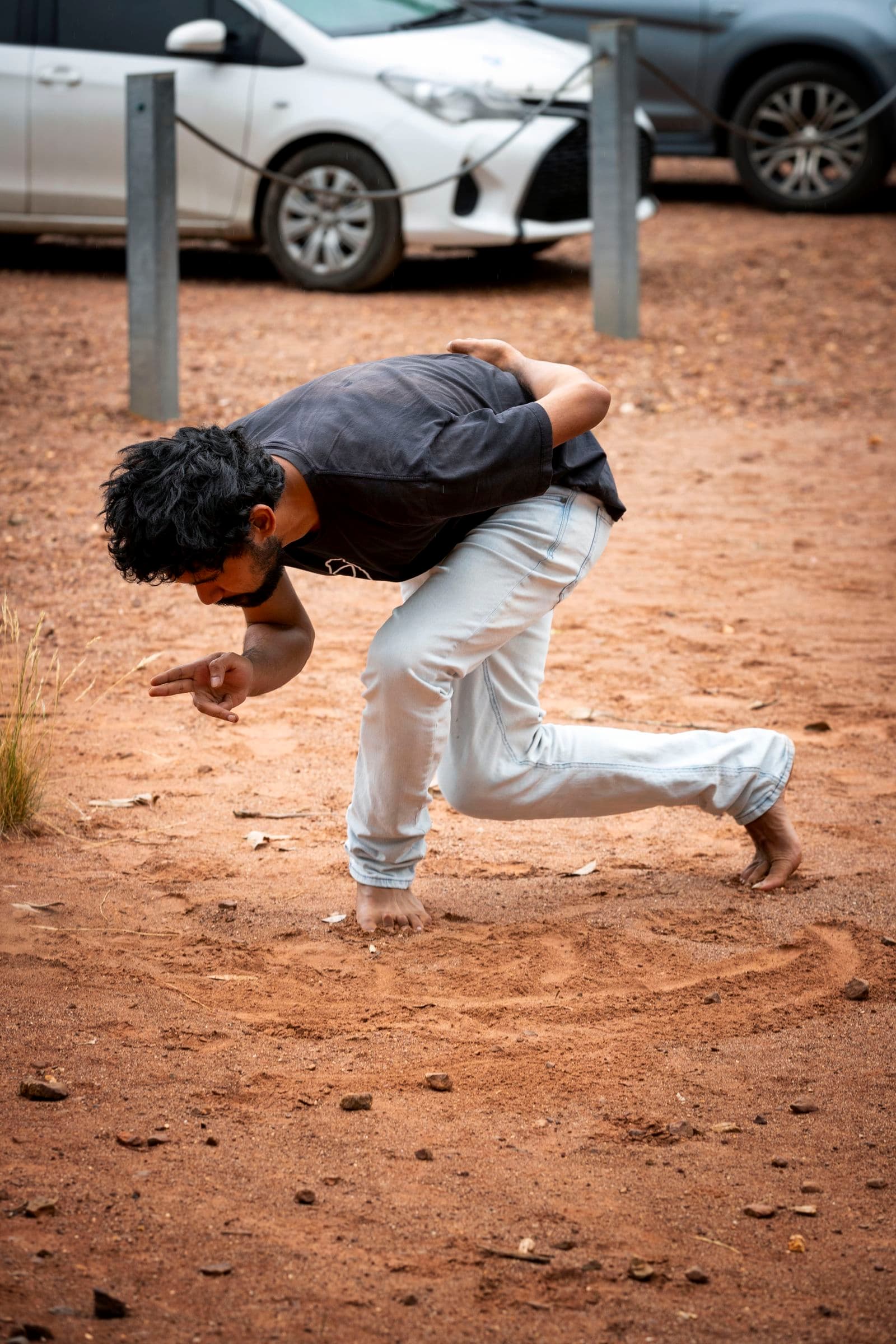 'Providing participants of the Indigenous Arts Leadership program with a range of opportunities to engage with leadership within the institution but also within community and on Country is really important.'
One of the National Gallery's most significant commitments to First Nations cultural and professional development is the annual Indigenous Arts Leadership Program supported by Wesfarmers Arts. Launched in 2008, more than 110 First Nations arts workers have now participated in this sector-leading professional development program, which is delivered on site and on Country.
In the Gallery's 40th year, the program took participants to Wiradjuri Country/Wagga Wagga, NSW to learn about leadership directly from Wiradjuri Elders and community members. Reflecting on the program, we hear from Wesfarmers Indigenous Arts Leadership Coordinator Ian RT Colless and 2022 Indigenous Arts Program Alumni Tyson Frigo.
'This program has become the Gallery's most significant commitment to supporting First Nations culture and art practitioners. It asks participants to consider what leadership means to them individually, and to bring that with them into the professional world' said Colless, Dharabuladh (Therabluat) clan of the Gundungurra people.
2021 was the first time the program ventured outside of Kamberri/Canberra. On this, Colless said 'Before beginning the 2021 program we listened to alumni, cultural practitioners and art workers which influenced us to develop an on Country component to the program. This was the first time the Gallery has taken the program off site and on Country.'
The 2021–2022 leadership program was delivered over two residentials. In 2022 the First Residential occurred on Wiradjuri Country/Wagga Wagga, NSW. It centred around leadership within community, profiling Program Alumni through talks and presentations, with participation in on Country learning with senior Wiradjuri Elders and community members.
Sharing his experience on Wiradjuri Country for Residential One, Wiradjuri and Yuin participant Frigo said 'It was an amazing opportunity to be out on Wiradjuri Country, to walk her rich red soils, welcomed in by fellow countrymen, embraced by Elders and to reconnect with my blood and bone.
Residential One being held in Wagga Wagga (place of many dance, many ceremony) was appropriate with what was encouraged in the Program. Participants from all over this country coming together to share, learn and lead our communities and institutions back to the core cultural protocols that underpin how we as First Nations survive and thrive in the belly of the beast. To go slowly, with respect and honour and understanding. To understand the weight of our responsibility. yet also acknowledging it is our right as Indigenous people working within the arts.
I've still learnt so much in such a short time. Whether that be via the exceptionally talented and deadly guest speakers and alumni or my fellow program participants. I learnt that despite our diverse backgrounds we all share similar if not the same struggles and challenges. Within institutional spaces, we as First Nation folk can often feel voiceless or ignored. Another tick-in-the-box. Listening and fostering the space and mindset to 'listen' in others or in workplaces can help counter this.
Acknowledgement is key. The context may change but the intention to uphold, support and respect should remain steadfast. As prevalent as this thread amongst our people is, in leaning on each other and our experiences we as a people can challenge these subtle ways in which institutions try to box us in.
There is no shame in taking up space on land never ceded. Demand change not beg for it. Use the voice they fought for and still do this day.
'My time on Residential One amongst fellow Blak arts workers, my Wiradjuri countrymen and Elders has allowed me to see the strength in my voice. In my listening. The strength in my spirit.'
Applications for the 2023 Indigenous Arts Leadership Program will open in early 2023. For more information, click here.
the National Gallery Indigenous Arts Leadership Program is Supported by Wesfarmers Arts.
This story has been published as part of the National Gallery's 40th Anniversary. For more visit 40 Years.