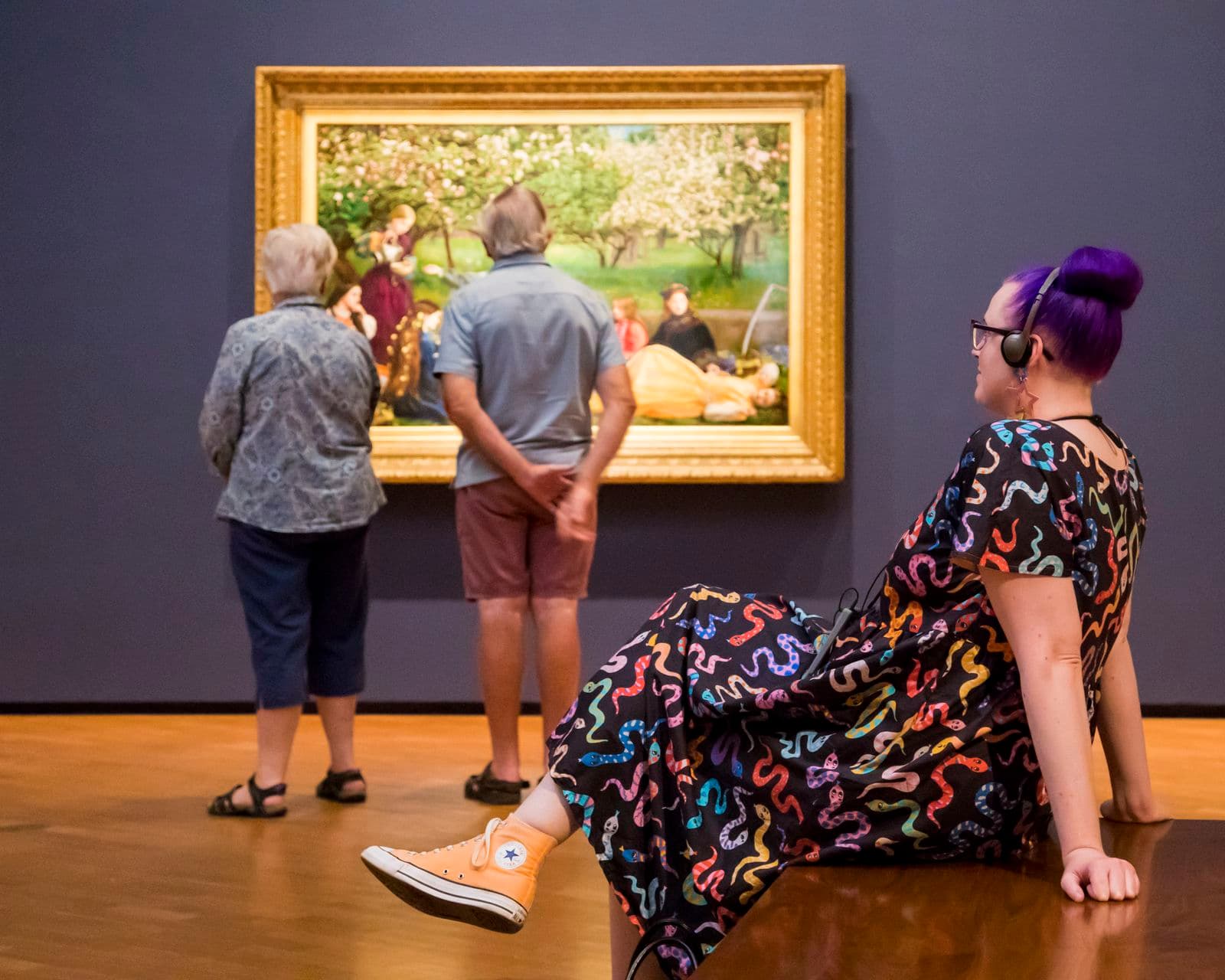 Take a deeper look at major exhibitions with easy-to-use audio tours on your own device, at the Gallery and from home. Bring your headphones and be your own guide!

Missed a stop? Catch up on tours from current and past exhibitions in the comfort of your own home.
Pictures at an exHERbition
Pictures at an exHERbition is a song cycle composed by Sally Whitwell inspired by the works of Australian women artists. In the spirit of the Gallery's Know My Name Initiative, Pictures at an exHERbition is a creative redress and a rebalancing of the history books through song.
Cressida Campbell
Cressida Campbell is among Australia's most significant contemporary artists working in painting and printmaking. Directly inspired by her surroundings, for over 40 years the Gadigal/Sydney-based artist has transformed commonplace experiences from her life into single edition prints and painted woodblocks.
Take a journey with Cressida Campbell through the exhibition and hear her personal stories about works in the exhibition, and her unique practice.
4th National Indigenous Art Triennial: Ceremony
As you move through the exhibition, the audio guide is here to accompany you. Listen to artists involved in Ceremony talking about their works as you move through the exhibition. Look out for the stop numbers on the wall labels or check the exhibition map to locations of works in the Gallery, in the Sculpture Garden and on the lake.
Alternatively access a tailored selection of learning resources designed to engage children of all ages in the exhibition's themes and works.
Jeffrey Smart
Experience highlights of Jeffrey Smart accompanied by specially commissioned abstract musical works, in collaboration with Liquid Architecture. Active since 2000, Liquid Architecture is a Naarm (Melbourne) based organisation supporting experimental, interdisciplinary and critical work addressing sound and listening in context. The ambiguity of Jeffrey Smart's artworks and his determination to offer little explanation resonate with the abstract and experimental music pieces commissioned for this audio tour. You are invited to explore and develop your own interpretations. The music pieces highlight new ways of seeing and experiencing the works on display.
Spend more time looking by listening to narrated versions of the extended text labels.
Learning Resource
Created to support investigating the art of Jeffrey Smart, this learning resource includes information about the works with prompts to Look, Think and Create. With different selections for primary and secondary students, the works span Smart's career and thematic interests.
This is a rich resource for studying Visual Arts and English as Smart had many literary influences. Creative prompts include writing exercises as well as artmaking. Connections to Humanities and Social Sciences can also be made through Smart's engagement with place and the built environment, as well as significant people across time.
Analysing, interpreting and making art, together with exercises in creative writing, enable students to develop their critical and creative thinking, and literacy skills.
Botticelli to Van Gogh: Masterpieces from the National Gallery, London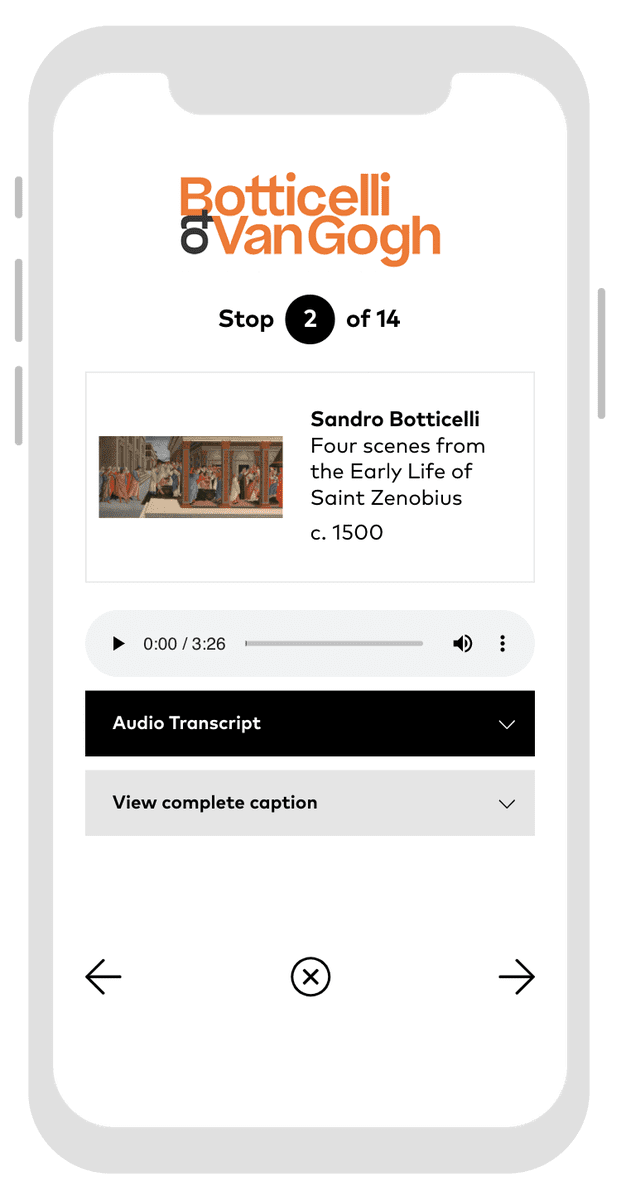 Take a free audio tour of exhibition highlights with Geraldine Doogue and enjoy a selection of music curated by ABC Classic.
Designed to enrich your understanding of Botticelli to Van Gogh: Masterpieces from the National Gallery, London, the audio tour features an in-depth look at a selection of works throughout the seven rooms of the exhibition.
Access the audio tour and listen at your leisure on any device with internet access.
Learning Resource
Alongside the audio tour is a learning resource tool featuring a selection of masterpieces that have defined Western art history. With creative and critical thinking exercises for each painting, you can develop and share your own selections or use one of the four theme-based selections curated by the Gallery's Education team.
When you create a selection of works especially for your classes your tailored selection will be sent to you via an email which gives you the option to share, edit, view as a slideshow and download images.
Our curated theme selections include 'Look, Think & Create' provocations and relate to the Australian Curriculum.
American Masters 1940–1980
Drawn exclusively from our outstanding collection of American art, American Masters celebrates that nation's artists from the 1940s to the 1980s. When the Gallery acquired Jackson Pollock's Blue poles in 1973, at the time the most expensive American painting ever sold, our emerging collection hit the global headlines. This exhibition tells the story of the formation of our incredible American collection and includes many major works not seen together for a long time.
Hyper Real
Hyper Real charts the evolution of Hyper Realism from its early beginnings to present day. It features nearly 50 works by 32 artists from 13 countries that range from life-like sculptures, to immersive digital installations and virtual reality experiences. This is an exhibition of bodies, all types of hyperreal bodies, from nudes rendered in extreme detail, to avatars created from digital code. Whatever the medium, the underlying concern of all of the works is the desire to engage with the human form, to explore it in minute detail, and to uncover what makes us human.