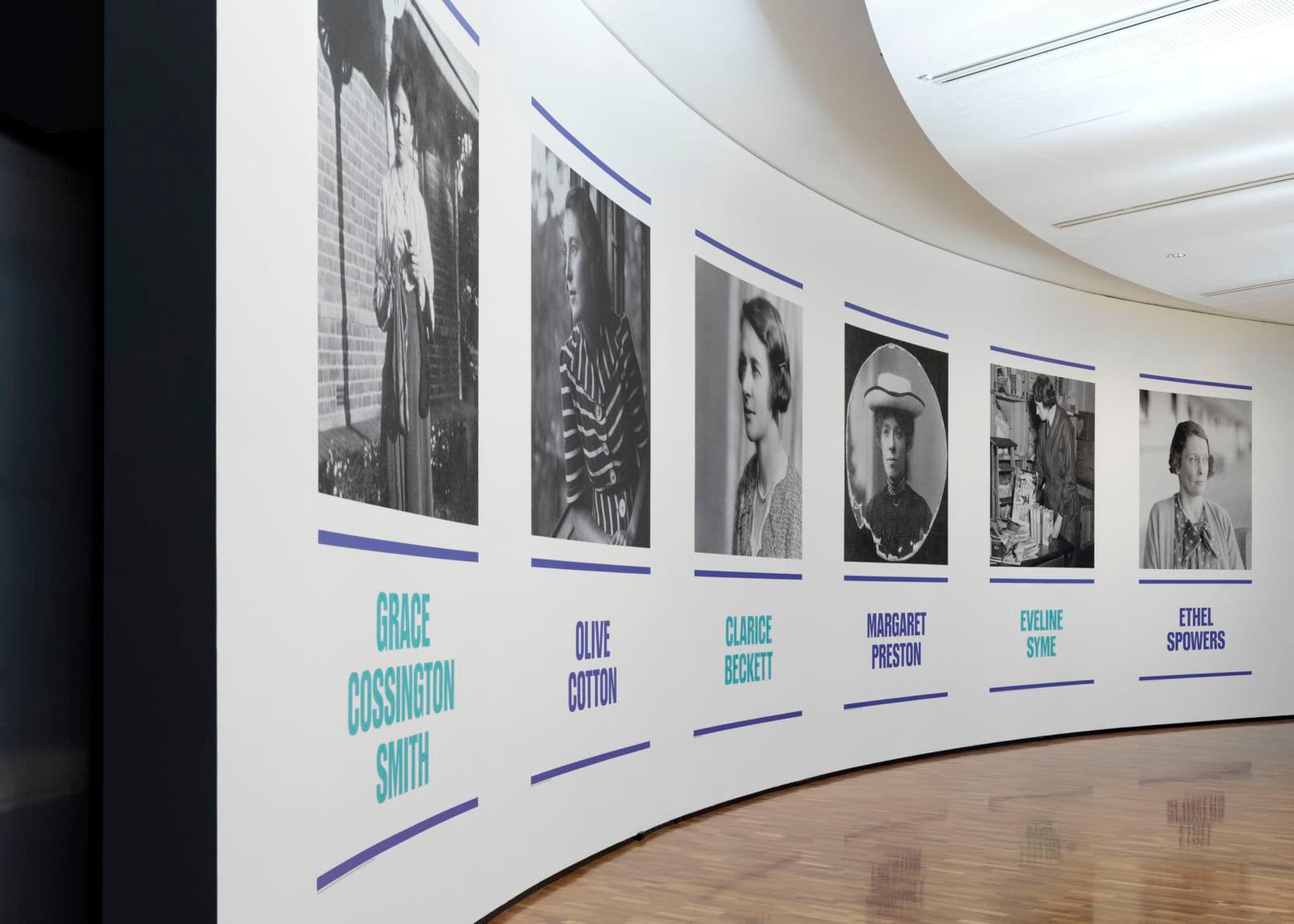 Explore Making it Modern room by room and learn more about the influential women at the heart of the exhibition. These texts are reproductions of the wall labels in the exhibition.
Need a bigger font size of the exhibition guide? Download our Large Print Booklet.
Ethel Spowers and Eveline Syme
This room celebrates the pioneering Modernism of Naarm/Melbourne artists Ethel Spowers (1890–1947) and Eveline Syme (1888–1961). The energy and optimism of their prints, drawings and paintings captures the changing world of the interwar years.
Daughters of rival media families, Spowers and Syme represent a newly independent generation of women artists able to pursue professional careers. Friends since childhood, they studied printmaking with avant-garde artist Claude Flight in London. Syme also studied geometric abstraction and colour harmony with cubist painter André Lhote in Paris. Convinced of the value of modern European art movements and techniques, they became influential advocates of colour linocut prints in Australia through social networks and artist societies in Naarm/Melbourne and Gadigal Nura/Sydney.
Within the conservative Australian art scene, Spowers and Syme were at the cutting edge of Australian Modernism during the 1930s. The rhythmic patterns and underlying geometry of their linocuts reflects the fast pace of the contemporary world through everyday observations of childhood themes, overseas travel and urban life. They are now recognised for their significance as progressive artists dedicated to producing art that was truly of its time.
The Art of the Modern Linocut
This room brings together key students who studied the colour linocut under progressive British artist Claude Flight at the Grosvenor School of Modern Art in London. Spowers and Syme are recognised among his principal followers and became influential exponents of Modernism in Australia.
During the early decades of the twentieth century, the Australian art world was isolated and deeply conservative. The main source of knowledge about modern movements in Europe arrived through local artists who studied abroad. From 1926, Flight's weekly afternoon classes on linocutting attracted students from England, Europe, Australia and New Zealand. His teachings drew on an exciting mix of avant-garde ideas: from the abstraction of British Vorticism and dynamism of Italian Futurism to the bold geometric energy of Art Deco and the Arts and Crafts Movement's emphasis on the handmade.
Flight viewed the linocut as a new democratic medium, accessible to all and free from tradition. His teachings emphasised that art must capture the speed and vitality of contemporary life. His art demonstrated a new way of seeing that analysed urban and rural activities, condensing them into dynamic compositions bursting with rhythm and energy.
Friendship, connection and opportunity
This room celebrates the numerous artist and social groups, clubs and societies connected with Spowers and Syme. These formed intersecting circles of friendship, connection and opportunity in Naarm/Melbourne and Gadigal Nura/Sydney.
Spowers and Syme were among the vanguard of Australian modernists united by their resistance to the classical training traditionally offered by academic establishments. This new generation of artists began to use colour, form and line in ways that were geometric, symbolic, subjective and emotional. They aimed to convert audiences to modern art through exhibiting works made in response to the force and grace of the contemporary world.
While Australian galleries and critics remained resistant to new ideas, like-minded artists began to form exhibiting groups. Spowers and Syme helped organise the first exhibition of linocuts in Australia in 1930 and co-founded the Contemporary Art Group of Melbourne in 1931 with George Bell. Widely recognised as progressive artists, they were invited to exhibit alongside peers in Sydney as part of Thea Proctor and George Lambert's Contemporary Group and at Dorrit Black's Contemporary Art Centre. During the 1930s, Spowers and Syme regularly exhibited alongside other friends within established groups such as the Arts & Crafts Society of Victoria, Melbourne Society of Women Painters and the Victorian Artists Society.
Margaret Preston
The bold colours and energetic designs of Margaret Rose Preston (née McPherson) (1875–1963) represented a new approach to Modernism in Australia during the 1920s and 1930s. Through her acuity for colour and form, she helped to reinvigorate the still life genre through striking arrangements of Australian plants.
While Preston's early works reflect Impressionist influence and academic training, it was during her overseas travels with then-partner Bessie Davidson that she was introduced to the Japanese woodblock technique. The striking compositions and flattened tones of ukiyo-e prints underpin her most distinctive paintings and prints produced during the interwar period.
From 1919, Preston lived with her husband in Borogegal and Cammeraigal Country/Mosman on Sydney's lower North Shore, which features in her woodcut prints of harbourside views. She began to experiment with floral compositions and produced some of her most iconic images of local bushland plants and wildlife during the Depression years when they moved to Dhurag and Guringai Country/Berowra on Dyarubbin/Hawkesbury River. Preston advocated for a distinctly national approach, inspired by the environment and the motifs and colours of First Nations art. Returning to Sydney's North Shore in 1939, Preston began to experiment with the painterly techniques of monotype and hand-stencilled prints to produce some of her most innovative images of Australia.
Clarice Beckett
Clarice Beckett (1887–1935) was among the most original artists of early twentieth century Australia. Deeply sensitive to the effects of colour, light and atmosphere, she painted the life and scenery of her coastal home in south-east Naarm/Melbourne with an eye for the commonplace and fleeting. Her work captured a world on the cusp of modernisation, evoking both the natural environment and simple pleasures of suburbia.
Despite spending her entire life in the state of Victoria, Beckett engaged with the wider creative world through her interests in the visual arts, literature, music, and belief systems including Spiritualism and Theosophy. While her painting was appreciated in her lifetime in some circles, its significance in the public consciousness diminished after her premature death in 1935. The quiet strength of her art, however, and its relationship to international forms of Modernism, began to be better appreciated from the 1970s following the efforts of gallerist Rosalind Hollinrake and feminist art historians including Janine Burke.
The National Gallery was the first Australian public gallery to purchase Beckett's work, with inaugural director James Mollison acquiring eight paintings from her 1971 posthumous exhibition. In recognition of this, Beckett's sister, Hilda Mangan, donated a group of paintings to the National Gallery in 1972. Following extensive conservation treatment, this collection of works is now displayed for the first time alongside a selection of the Gallery's first acquisitions.
Olive Cotton
Olive Cotton (1911–2003) is recognised as one of Australia's most significant photographers, especially notable for images that highlight the immersive qualities of photography. Cotton began taking photographs after receiving a Kodak Box Brownie, a small, affordable roll-film camera, from relatives when she was 11, and she learned how to take photographs alongside her childhood friend Max Dupain.
Throughout the 1930s, Cotton was part of a vibrant creative community in Gadigal Nura/Sydney that included Dupain, with whom she was married for a short time, and figures such as the designer Douglas Annand. After completing an arts degree at the University of Sydney in 1933, Cotton worked at Dupain's studio – initially as the studio assistant and then, from 1941 until 1945, as studio manager. She published and exhibited during this period, including internationally.
Cotton's work draws attention to the pictorial effects created as light moves across form, highlighting the ways that photography can capture and make sense of the fleeting experience of time and of being in the world. This focussed presentation includes work from Cotton's most active period – the 1930s and 1940s, as well as photographs made by her in the 1980s that show how her interest light continued throughout her life. These photographs are shown alongside a selection of work made by women who were contemporaries of Cotton and who shared her ground-breaking spirit.
Grace Cossington Smith
Grace Cossington Smith (1892–1984) was a key figure in early Modernism in Australia and her art is informed by her keen interest in European and British Post-Impressionism. In 1926 she joined the Sydney Contemporary Group with Thea Proctor, Grace Crowley, Ralph Balson, Roland Wakelin and other modernists, showing with them over many years. A brilliant colourist, she famously noted: 'My chief interest has always been colour, but it must be colour within colour, it has to shine, light must be in it.' Her sense of radiance was informed by her inner life, as well as by her reading of theosophical texts such as Beatrice Irwin's New science of colour (first published in 1916).
Cossington Smith's works of the 1920s and early 1930s show her engagement with modern life including the building of the Sydney Harbour Bridge, depicted in numerous dynamic drawings and paintings. Among her most affecting works are those reflecting her connection with the natural world and her luminous transformations of the interiors of her home. Her connection with family is evident in her many portraits including those in her sketchbooks which convey the importance of drawing to her artistic practice.
The group of works shown here includes Cossington Smith's contemporaries Bessie Davidson, Kathleen O'Connor and Vida Lahey, whose shared commitment to modernity is revealed through everyday experience and the transcendent possibilities of being in the world.