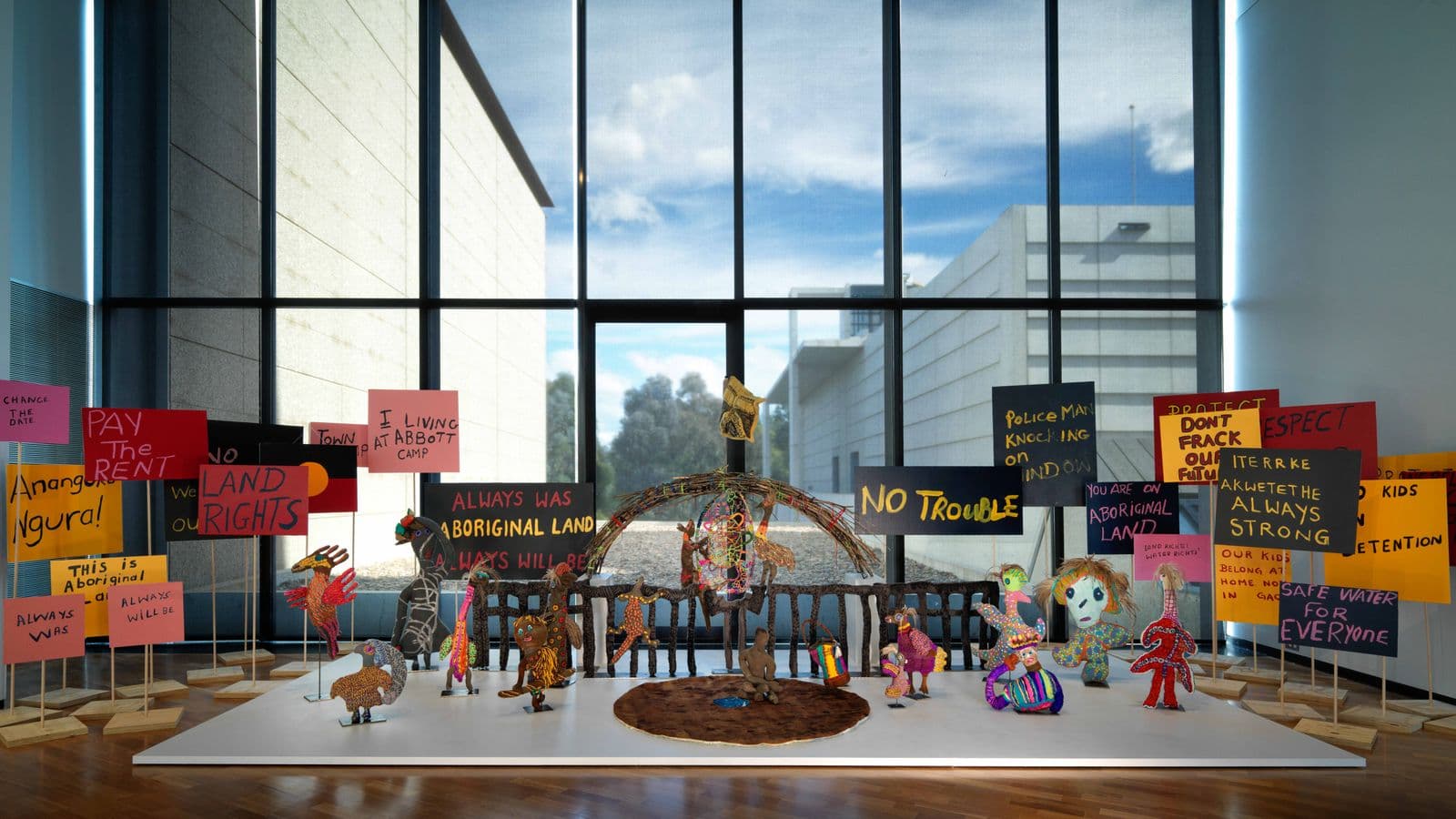 A group of artists from the Yarrenyty Arltere and Tangentyere art centres in the Northern Territory collaborated to create the soft sculpture Blak Parliament House, an Aboriginal take on Australia's political heartland. Here, artists MARLENE RUBUNTJA and NANETTE SHARPE explain their connection to their work and Mparntwe/Alice Springs.
Marlene Rubuntja (Western Arrarnta people)
My name is Marlene Rubuntja. Marlene is my whitefella's name. But my father called me Lalali, 'little one'.
I come to work every day to sew my soft sculptures. I love this Yarrenyty Arltere Town Camp with all my heart and I love this art centre the same. We can come here to make some money and to settle down. We can't just walk around in town begging for money. When I work, I can fill up my cupboards with food, I can buy pretty clothes and feel really good helping out my grandkids.
I love it when my grandkids come to the art room. My head might feel a bit stressed out if they run around, but if they watch me and all the other artists and sit next to me doing some art, I feel really happy. It's really good when they can see how strong all these artists are. They have a future to look forward to by looking at us now. That is the same as what my father – artist, activist and historian Wenten Rubuntja AM – thought when he set up these town camps . He thought about the future and the people sitting down with nowhere to live. Getting water on our own Country out of [the late botanical illustrator and activist] Olive Pink's tap. All the Luritja people living through the Gap [Ntaripe (Heavitree)]. All the Arrernte people living this side and the Warlpiri on the other side. All mixed up. He really cared about the people. He only got a little tin shed on his own Country. That's all.
This Parliament House is for everyone. White, Aboriginal and any other colour. It belongs to the community. It does not just belong to those white men me and Milton always see talking on TV. People like my father and other old strong people weren't scared to talk. They talked for their people, for their Country. They talked because they really wanted things to be better for their people. Not just words, but feelings, too. I think I'm following in my father's footsteps and my brother, Mervyn, too. We [are] not ashamed to talk, not scared of those people in that Parliament House in Kamberri/Canberra. They better listen because we really have something to say: Really good, kind and strong for everyone and for Country.
Nanette Sharpe (Western Arrarnta people)
My Name is Nanette Sharpe. I am 27 years old. I work in the Yarrenyty Arltere art room with my family and my grandmother Trudy Inkamala.
Like Old Laddie taught Trudy all about the bush, well, Trudy did the same for me; she taught me everything.
Now you can see I'm a strong woman and proud. I like working. It makes me happy working, learning new things. I like waking up in the morning and knowing I have work to go to. Otherwise,
I think hard thoughts.
I love walking to the art centre in the morning and making tea. I love sewing now because Trudy keeps encouraging me and Dulcie [Sharpe, Nanette's great aunt] and it's fun in the art room. Now that I am an artist it has given me the confidence to do other jobs, too. I work also with little kids and after-school programs. To have this art room to come to every day has really helped me be so strong and Trudy did that too. I'm lucky Trudy brought me up, my grandmother.
I made this dancing girl for the Blak Parliament House because I think that is me, dancing, and it means something to me.
The Yarrenyty Arltere and Tangentyere artists collaboration includes:

Yarrenyty Arltere
Marlene Rubuntja, Western Arrarnta people
Trudy Inkamala, Western Arrarnta/Luritja peoples
Dulcie Sharpe, Luritja/Arrernte peoples
Rhonda Sharpe, Luritja people
Roxanne Petrick, Alyawarre people
Nanette Sharpe, Western Arrarnta people
Sheree Inkamala, Luritja/Pitjantjara/Western Arrarnta peoples
Rosabella Ryder, Arrernte people
Louise Robertson, Walpiri people
Cornelius Ebatarinja, Western Arrarnta/Arrernte peoples
Tangentyere
Betty Conway, Pitjantjatjara people
Nyinta Donald, Pitjantjatjara people
Sally M. Mulda, Pitjantjatjara/Luritja people
Majorie Williams, Western Arrarnta people
Lizzie Jako, Pitjantjatjara people
Grace Robinya, Western Arrarnta people