The Kenneth E. Tyler Collection
Frank Stella: Saving abstraction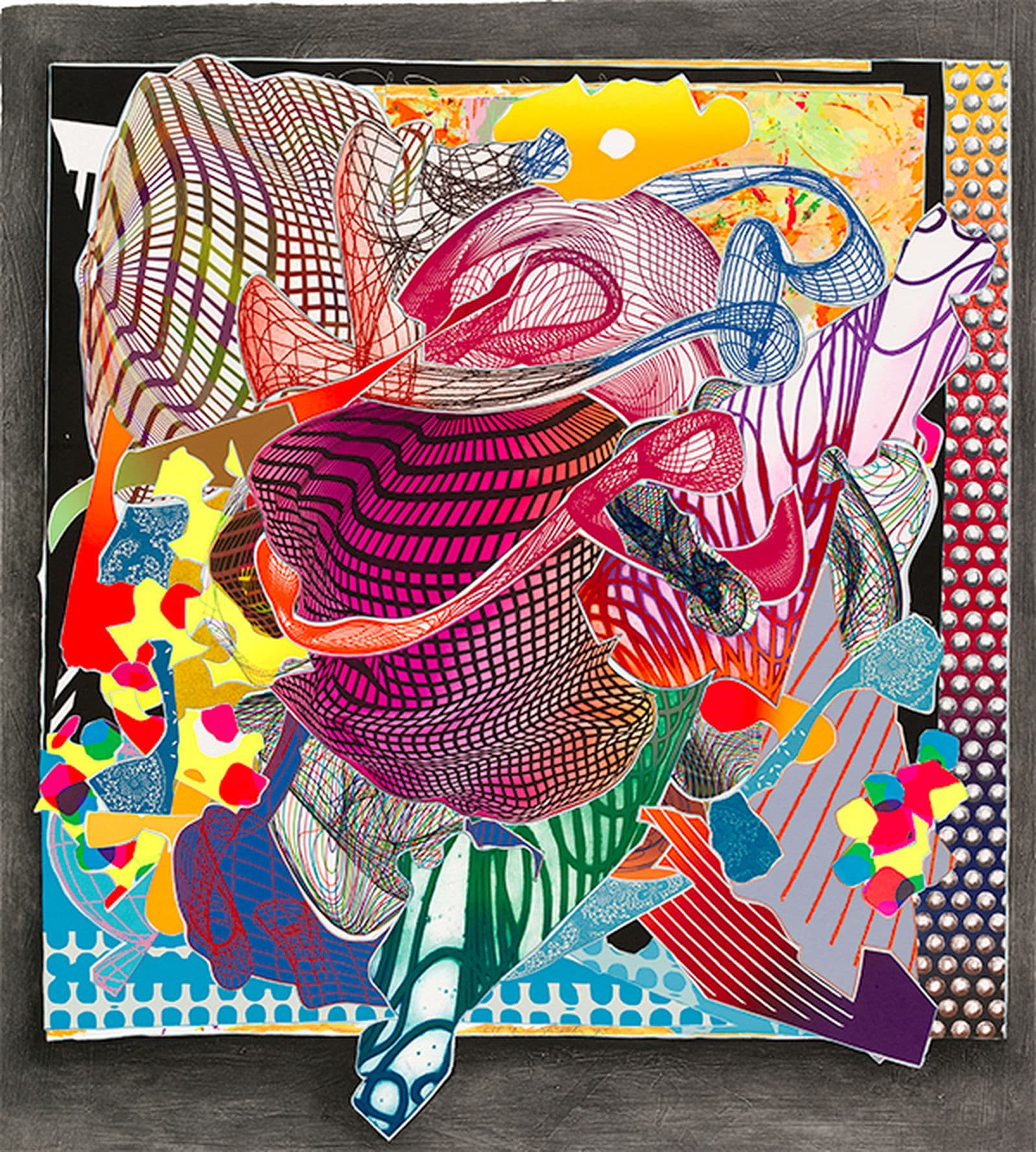 JANE KINSMAN, Senior Curator of International prints, discusses FRANK STELLA'S life in the pursuit of a new path for abstraction
Artist Frank Stella and master printer Kenneth Tyler played a significant role in the development of twentieth-century American printmaking. Throughout his career, Stella has been a constant adventurer and highwire act, an 'unstoppable risk-taker', as collaborator Tyler described him in April this year.
Stella was born in 1936 in Malden, outer suburban Boston. He graduated with a Bachelor of Arts in history from Princeton University in New Jersey in 1958, then moved to New York. 'I never really wanted to become an artist. But, I did want to make things', he confessed in a conversation with the Whitney Museum of American Art's Adam D Weinberg on 7 March 2014, and an interest in contemporary events followed. Like many young artists in immediate postwar America, he was initially smitten with artists associated with Abstract Expressionism. Unlike other young artists, though, he achieved almost instant notoriety soon after graduating when, in 1959, he astonished the art world with the sombre, pure forms of his Black paintings, heralding the arrival of minimalism. Stella's career, however, followed an unexpected trajectory in his search to validate and renew abstraction, finding new imagery that not only embraces shape, space and colour but also, to the surprise of many, decoration.
In a series of lectures at Harvard in the first half of the 1980s, Stella drew parallels between the 'tepid' Renaissance of Nicholas Poussin, which necessarily led to Baroque art, and the crisis of postwar abstraction, which he thought also needed to find a new impetus to retain its pre-eminence in the ever-changing world of modern art. The desire to avoid an art style he likened to a 'slug of lead', referring to the High Renaissance artist Poussin, and, instead, find a passion to 'fill the void', as Caravaggio had done, took Stella on a journey of remarkable invention. In his search for this new path for abstraction, he experimented with highly dramatic and almost narrative forms from the late 1950s onward.
The survival of abstraction in a viable form was important for Stella, but the divergent extremes of his evolving body of work left many of his early enthusiasts shaking their heads as he travelled from understated geometric forms to a fully blown Baroque style with a suggestive, dramatic expression and an enveloping sense of space. Early on, he had rebelled against the perception that he had been instrumental in introducing a minimalist language, and his career was characterised by a reaction against this unwanted mantle of purity.
Yet, there is consistency in Stella's work. An underlying 'spring-loaded' tension and dynamism has always characterised it, from the early Black paintings of his youth to the more off-the-wall extravaganzas of recent years. His art chronicles a lifetime of experimenting with abstraction, and it is this narrative that was the underlying current of his major retrospective at the Whitney Museum of Art in 2015.
But some critics still considered his later contributions a total lapse of taste. Ben Davis, in his review for artnet on 3 November 2015, agreed with critics who 'don't much like the swollen theatrics of Stella's late works'. These 'late monsters', for Davis, took up far too much space, were too adventurous and far too dramatic, although he also conceded that the casual art viewer might well find them more to their liking. Jason Farago, on the other hand, recognises Stella as an artist who continues to explore new ideas, untrammelled by his earlier success. In his review in the Guardian of 29 October 2015, he writes that it is Stella's 'boundless and commendable evolution, rather than some static mastery, that is the mark of Stella's seriousness'.
The criticism that Stella should have moved to parlour-sized works in a more conventional form failed to appreciate the bravura of an artist still intent on seeking new ways to give life to the art of abstraction. It's this exploration that the Frank Stella: The Kenneth Tyler print collection exhibition will present for audiences to discover.