The Kenneth E. Tyler Collection
Insiders: a printer's perspective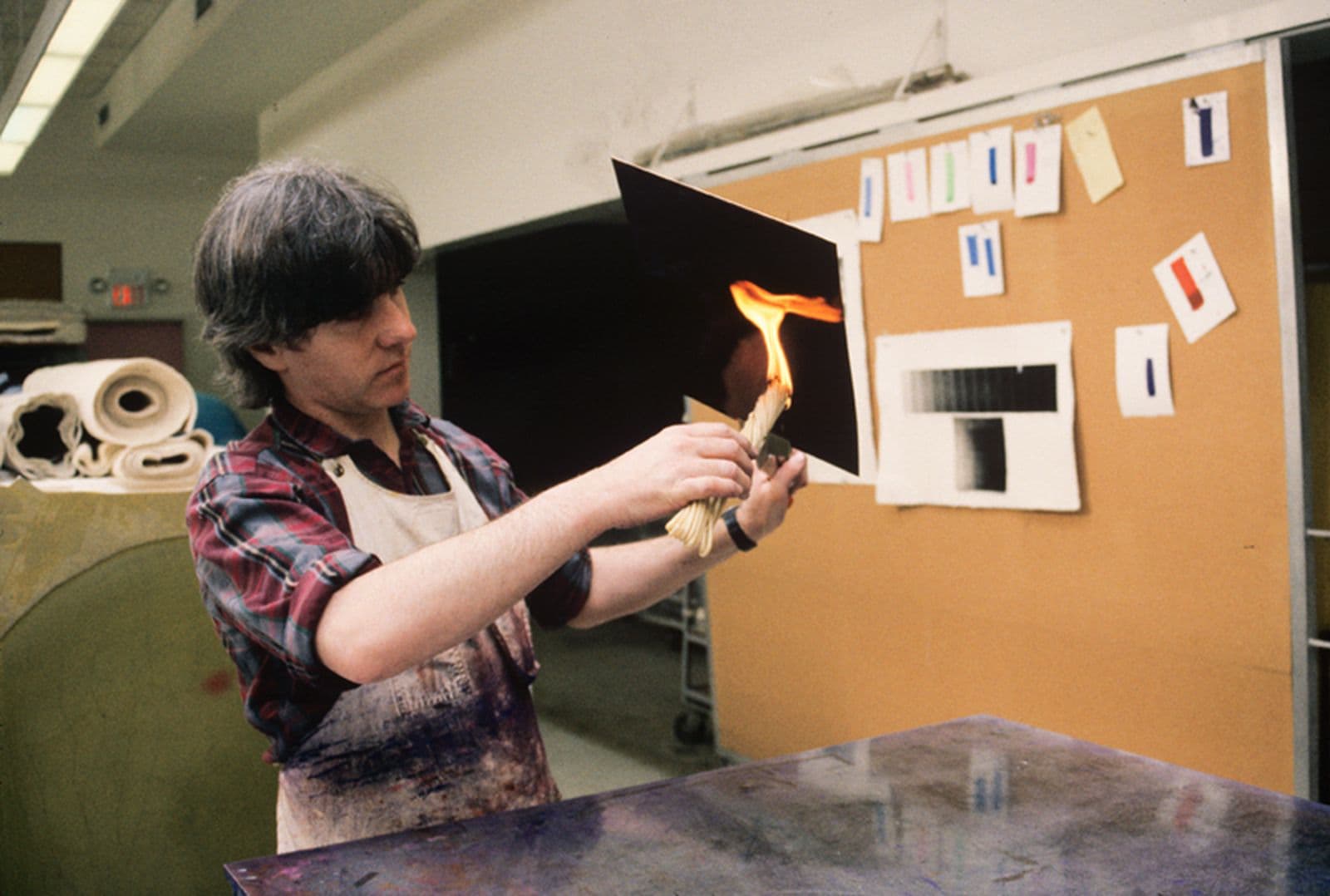 ANTHONY KIRK shares memories from his 20 year career as the head of the etching department at Tyler Graphics
Anthony Kirk was head of the etching department at Tyler Graphics from 1988 until 2000. During this time he worked on major projects by artists such as Frank Stella and Helen Frankenthaler. After the closure of TGL, Kirk's talent for printmaking led him to the Center for Contemporary Printmaking in Norwalk, Connecticut, where he was the Artistic Director and Master Printer for 13 years. Here, Kirk reflects on his experiences at TGL:
'I joined a team of three intaglio printers who had already begun editioning Frank Stella's La penna di hu which was the largest print that I had ever worked on. This print consisted of several large copper aquatinted plates that were inserted in to a large magnesium plate and printed simultaneously onto a large sheet of handmade paper. The printing was done on a large hydraulic press. Therefore in the first days of working at TGL I was learning several new concepts. First of all team work was essential and this became the hallmark of every project thereafter that included paper making, lithography, screen printing and intaglio. Each printer was assigned to ink and wipe the same plates to ensure consistency and to finish the task at the same time as the other printers to keep to the schedule of printing two impressions per day. Stella's visits to TGL to work in the artist's studio usually ended with heaps of cut up printed sheets on the floor everywhere but with brand new collaged maquettes hanging on the studio walls. Armed with only a staple gun and a pair of sharp scissors, Frank would create new images that would keep us busy for months.'
'One of my favourite projects was my collaboration with John Walker on his portfolio Passing bells. He could draw. His draftsmanship was among the finest of any artist that I had ever worked with. There was never any need for revision, scraping or burnishing. There were no mistakes with either under-etching or over-etching any of the aquatints. His brush marks of stop-out varnish combined with white ground are so well integrated with the original etched line drawing. One day I went into the artist's studio to pick up the next plate for etching and witnessed John's seven year old son Harry with a fine sable brush in hand loaded with varnish, carefully stopping out an area of a copper plate. I heard John caution his son to make sure and keep to the line.
I also have very good memories of working with Joan Mitchell on a series of sugar lift aquatints. Ken suggested that I introduce the carborundum aquatint technique to her. In presenting it to her in the way of samples with test plates and proofs, I mentioned that Juan Miró had done some great work with it. She acerbically replied, 'Oh did he now?' She did use it in her diptych print Trees V-A, combining this technique with traditional sugar lift.'
'My favourite memories of the workshop are the conviviality of the staff when it came to individual birthdays. This was a rare moment when the staff could put production schedules and deadlines aside for about twenty minutes. At 3 o'clock we would all congregate in the kitchen and sing happy birthday and enjoy cake, ice-cream and coffee. On one of my birthdays, Frank Stella was working in the studio and someone invited him back for ice-cream and cake. He appeared with a small card of collaged print elements on which he had written, "Happy Birthday, Tony, Frank Stella." It was very thoughtful of him.'
'[Since leaving the Center for Contemporary Printmaking in Norwalk] I have begun to focus my career solely as a master printer. I continue to give lectures and demonstrations and still enjoy invitations to teach. When I speak publicly about my life as a master printer I usually start a lecture by removing from my pocket a small copper plate covered with a hard ground wax coating and telling the audience that if Rembrandt, Goya, Piranesi or Dürer were to come alive before me now they would each recognise what I am holding, and then they would ask me for etching needles and acid. This ancient technology still holds currency for the contemporary artist and I have never lost my enthusiasm for sharing my passion for the medium.'
Read Anthony Kirk's full account of his time at Tyler Graphics Ltd.