The Kenneth E. Tyler Collection
Reflections on – The English still life series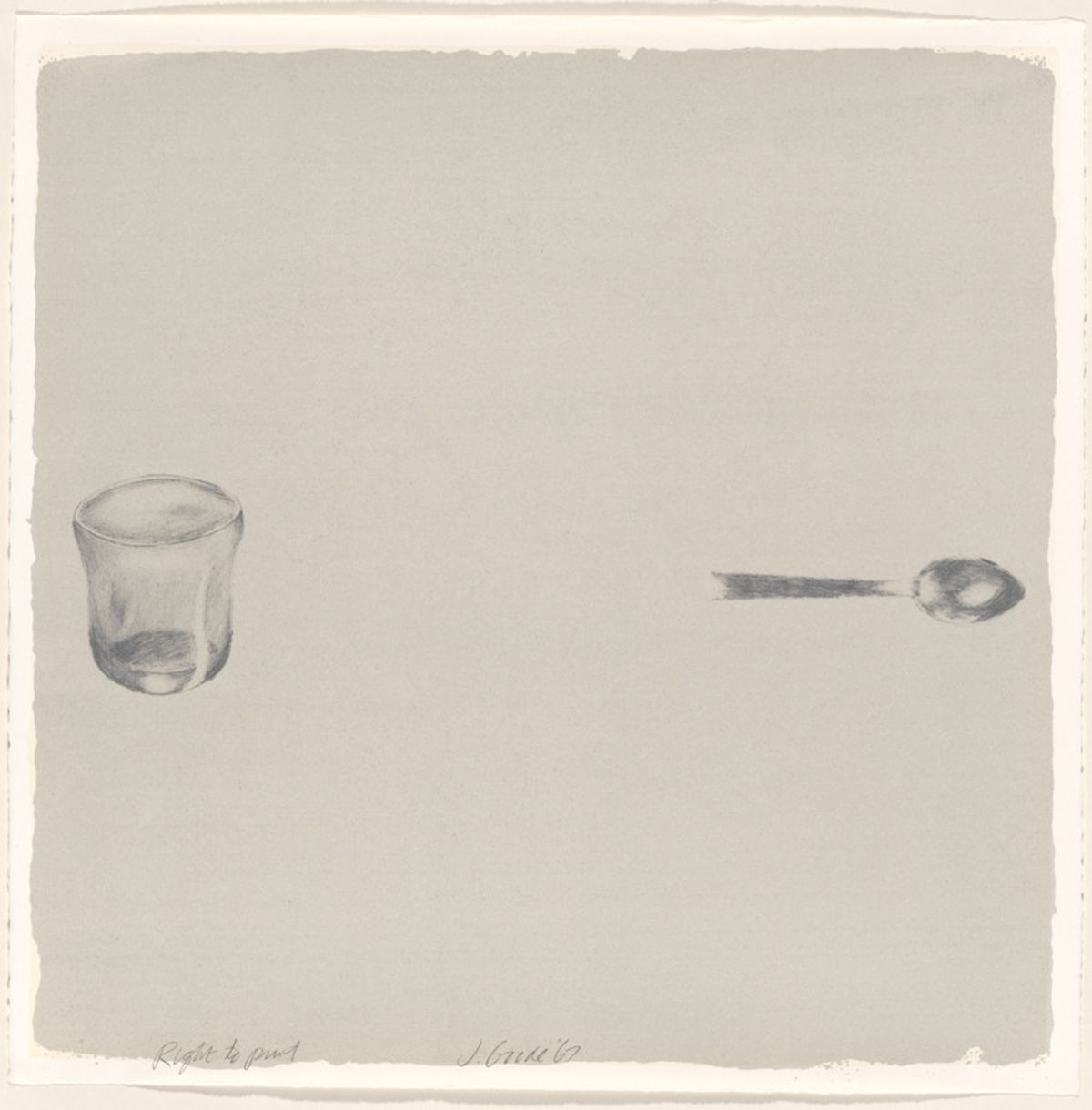 The six lithographs that comprise Joe Goode's The English still life series (1967) reflect the artist's preoccupation with domestic forms, the weightlessness of the moving objects unfixing what is familiar.
Goode's choice of subject matter is no surprise, given the continuous use of domestic icons such as the milk bottle throughout his oeuvre. Born in Oklahoma City in 1937, the artist grew up next door to close friend Ed Ruscha (whose work is also included in The Kenneth Tyler Collection), before moving to Los Angeles in 1959. It was here Goode worked alongside the artists who spearheaded American Pop, though he has remained adamant his own paintings and prints are not Pop art.1 Instead, it is important to consider the artist's practice through a lens heavily tinted by his newfound context of the Californian suburbs, a sprawling expanse between ocean and desert. Selected works by Goode, including several from The English still life series, will be included in the National Gallery of Australia's upcoming exhibition California Cool (6 October 2018 – February 2019), which investigates work from a young generation of artists in the 1960s and 1970s who were 'drawn to the promise of freedom and opportunity offered by the west coast's eternal sunshine, expansive space and shiny gleaming surfaces'.2
Ken Tyler first worked with Joe Goode on his 1965 Cloud prints at the Gemini Ltd print workshop, collaborating on two colour lithographs that depict the floating expanse of the Californian sky as viewed from the homes built beneath it. In 1967, with the artist encouraged by curator and gallerist Henry T. Hopkins, Tyler then invited Goode to work with him at the Gemini GEL workshop, which is where they created The English still life series.
These lithographs invite the viewer to contemplate glass and spoon individually, in relation to each other, and in relation to the space they inhabit on the page. This is encouraged by the images' intriguing sheen, the result of screenprinting layers of silver and translucent varnish onto the prints. Glass and spoon are habitually overlooked objects, objects taken for granted, objects only activated by the hand. Here, Goode reinstates a sense of autonomy to the familiar, the negative space that surrounds glass and spoon emphasising the forms themselves, as well as the visual impact of their shifting movements. Goode uses conventionally simple objects to suggest larger complexities – the visual representation of closeness and separation; the visual representation of presence and absence; the visual potency of an accidental composition on the kitchen bench. By focussing all attention to glass and spoon, this series emphasises the contemplative possibilities of quiet objects.
1. Alexandria Symonds and Ed Ruscha, Seven Decades: Joe Goode X Ed Ruscha, Interview Magazine [online], 2014.
2. National Gallery of Australia, California Cool: art and Los Angeles 1960s-70s.

To learn more visit the Kenneth E. Tyler Collection website or visit Joe Goode's artist page.
Featured
1937-1937
United States of America