Tony Albert
Broadsheet Studio Visit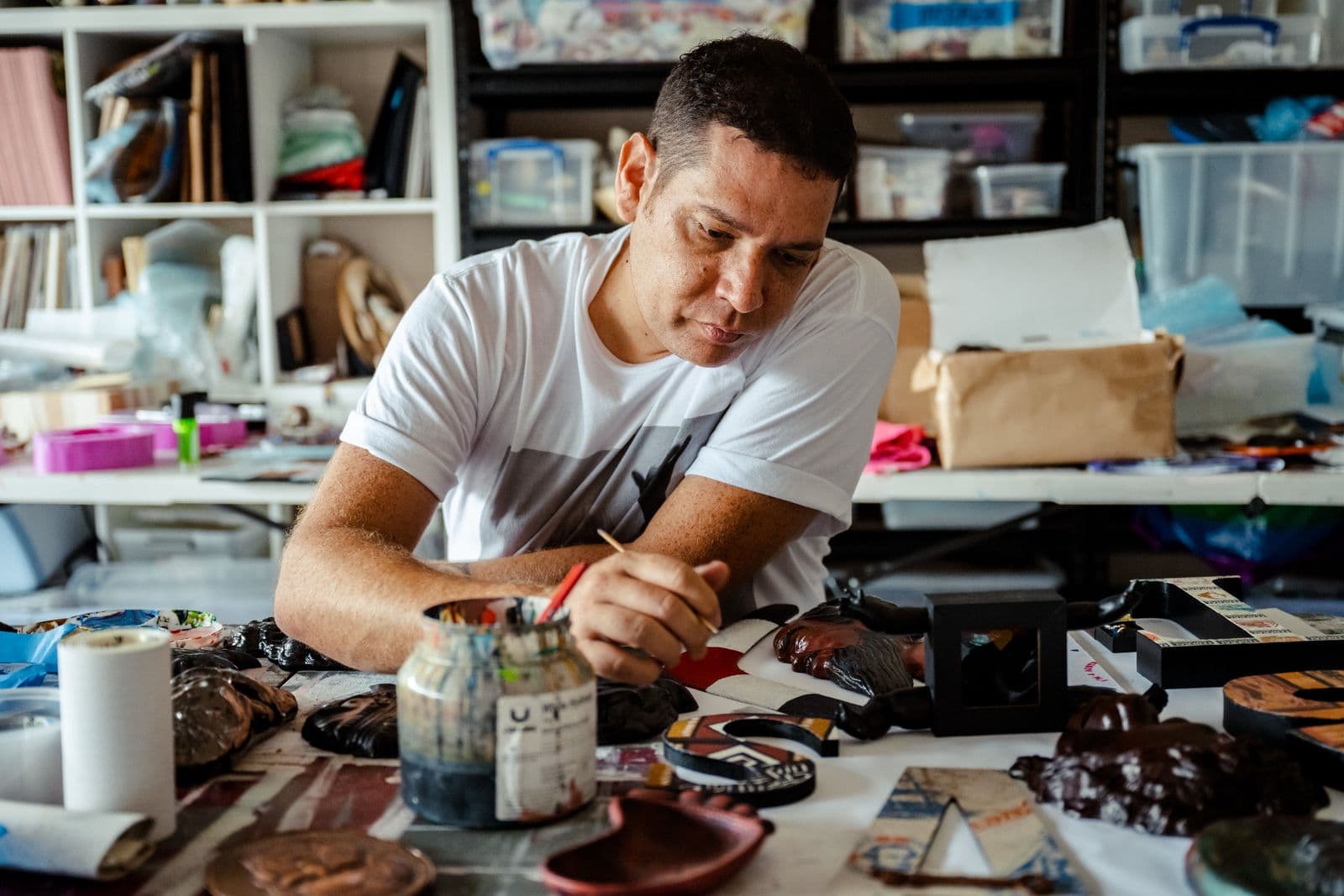 'It's like a tide – it comes in and out': celebrated artist TONY ALBERT continues to produce strident, confronting work out of his secluded studio in Brisbane's north-west. Still, he insists he's an optimist.
Tony Albert is busy experimenting with resin.
The celebrated Girramay, Yidinji and Kuku Yalanji artist shifts between a pair of trestle tables with a skewer and a jet lighter, various small pieces laid out in front of him: an Indigenous-themed book of matches here, some expended cigarette butts there. All are floating in their own pool of clear goop, many still hours away from setting.
Albert slips the skewer into the resin and precisely repositions a piece, before carefully squeezing the trigger of the lighter.
'That's how you get rid of the bubbles,' he says.
Resin is Albert's new obsession, a technique facilitated by his assistant Lyle Duncan, who he's working with through a program run by Gold Coast City Council. Previously, it was sandblasting ('I discovered sandblasting at [Canberra] Glassworks a few years ago, and now I seriously want to buy a sandblaster').
Albert is preparing the resin pieces for one of his larger collaged works – perhaps a giant chandelier, he says. Each represents a piece of 'Aboriginalia', a collective term for the vintage fabrics, kitsch objects and images featuring racist portrayals of Aboriginal people that Albert has accumulated since he was six years old, and which have come to fuel his work. Some are the items themselves, encased in resin; others – the profile of a face, say – have been recreated as a mould with another item inside. Just about everything will get used.
'There's something ethical about not only having a collection but using a collection,' he says. 'So the scraps of fabric after I've cut something out will still get utilised elsewhere. Ten years ago I wouldn't have thought about it so much, but in 2022, absolutely it's sustainable and a good thing to be doing.'
Albert's house and studio are in Cashmere, far out in Brisbane's bucolic north-west. It's one of those rambling, idyllic areas where speed-controlled roads keep splitting into smaller and smaller byways. Eventually, you arrive at an expansive modern house built in the approximate style of a Queenslander. It sits alone on a northern-facing ridge. There's a pool with a couple of giant toys to intimidate the local magpies, and what looks like a second house under construction at the far end of the property. This is in fact Albert's new studio, due to be finished at the end of the year, all going well; it will allow him to host other artists and compile large-scale artworks at home. For now, the magic happens in his garage, on these trestle tables.
'There's a significant undertone to everything I do, which really is about optimism in the face of adversity.'
Albert was born in 1981 in Townsville, Queensland. Later, he would go to school in Brisbane's western suburbs before studying a bachelor of art, majoring in contemporary Australian Indigenous art, at Griffith University's Queensland College of Art. Through the degree, Albert worked under the tutelage of artists such as Jennifer Herd and Vernon Ah Kee (Albert's cousin, with whom he later founded the proppaNOW collective alongside artist and activist Richard Bell).
'[The degree is] in parallel with a Westernised idea of a degree, but everything is changed slightly for cultural safety. All the lecturers are Aboriginal. The foundation of it is "origins", so you know that, as an Aboriginal person, if you're doing a traditional kind of art, it needs to come from where you come from. All that stuff provided an incredibly safe environment.'
The Aboriginalia remained little more than a personal curio for Albert until he'd accumulated so much of it that, by the mid-2000s, he needed space at his then studio for storage. There, it slowly started to slip into his work, initially as imagery and iconography inspired by the objects. The objects themselves first appeared in his breakthrough 2007 piece Headhunter. In Headhunter, the word 'Hunter' is spelled out in capital letters in a large wall installation, the letters populated by kitsch tourist souvenir-ware with 'portraits' of Aboriginal people.
Other major works would follow, such as Sorry (2008), commissioned by Brisbane's QAGOMA in 2008 for the exhibition Contemporary Australia: Optimism, which coincided with the federal government's apology to the Stolen Generations. The work was later presented in reverse by Albert as a reflection on words not backed up by real outcomes. The 2013 Brothers series experimented with photos of young Indigenous men with targets painted on their chests; it was a response to the 2012 shooting of two teenage boys by NSW Police. Yininmadyemi Thou didst let fall (2015) is a large-scale sculpture in Sydney's Hyde Park of four standing bullets and three spent bullet shells: a memorial to the First Nations men and women who have served in Australia's armed forces.
When Broadsheet visits Albert, he's just days away from the opening of Remark, his debut solo Melbourne exhibition, which will also mark the opening of a new gallery in Collingwood by Sullivan & Strumpf (which represents Albert). The show is a sequel of sorts to last year's well received Conversations With Margaret Preston, in which Albert grappled with famed non-Indigenous artist Preston's use of Aboriginal motifs in her work. Like Conversations, Remark will be based in textiles and incorporate fabric from his own extensive collection, but this time he's engaging with the imagery in his own right.
'It's a total evolution,' Albert says. 'Those works were replicas of the original work and it was important they told that story. Now that I've done that, [the works are] much more abstract and I've started to utilise the fabric in a way that I want to … it's a lot more out of my head, not hers.'
Albert sits in his garage in shorts, thongs and a Hermannsburg Potters T-shirt, surrounded by storage box upon storage box of his artefacts. In the corner there's a Bally Boomerang pinball machine that dates back to 1974. In the next room, he says, there's box upon box again. It's the first time since buying the house that his entire collection of Aboriginalia has been in one place, rather than scattered across different storage units.
The meaning of these objects has changed for Albert since he was a boy, when he looked on them as innocent curios. You wonder if he'll ever get tired of collecting and looking at them.
'It's like a tide – it comes in and out,' he says. 'It's not just cultural, it's a collector's mentality. But the difference between this and hoarding is that I have an outlet for the collection. So, the answer is no, it won't go away.'
Albert says his work is optimistic. To a layperson that might not seem obvious. Inspirational? Yes. Strident? Certainly. But optimistic?
'There's a significant undertone to everything I do, which really is about optimism in the face of adversity,' he says. 'When I did the photos of the boys with the targets for Brothers … it was healing, it was about the opportunity for them to engage. For young men at the time and young men now, that target is not going away, but it's how you choose to wear it. Yes, you are a victim by your birthright, but that doesn't have to dictate who you are.'
See Tony Albert's work in Single Channel on display at Geraldton Regional Art Gallery WA 11 Aug – 24 Sep 2023 and Ellenbrook Arts WA 4 Nov – 17 Dec 2023.
Broadsheet's Studio Visit series takes a peek inside the creative spaces of Australia's best artists, designers and makers. This article was first published on Broadsheet in November 2022.