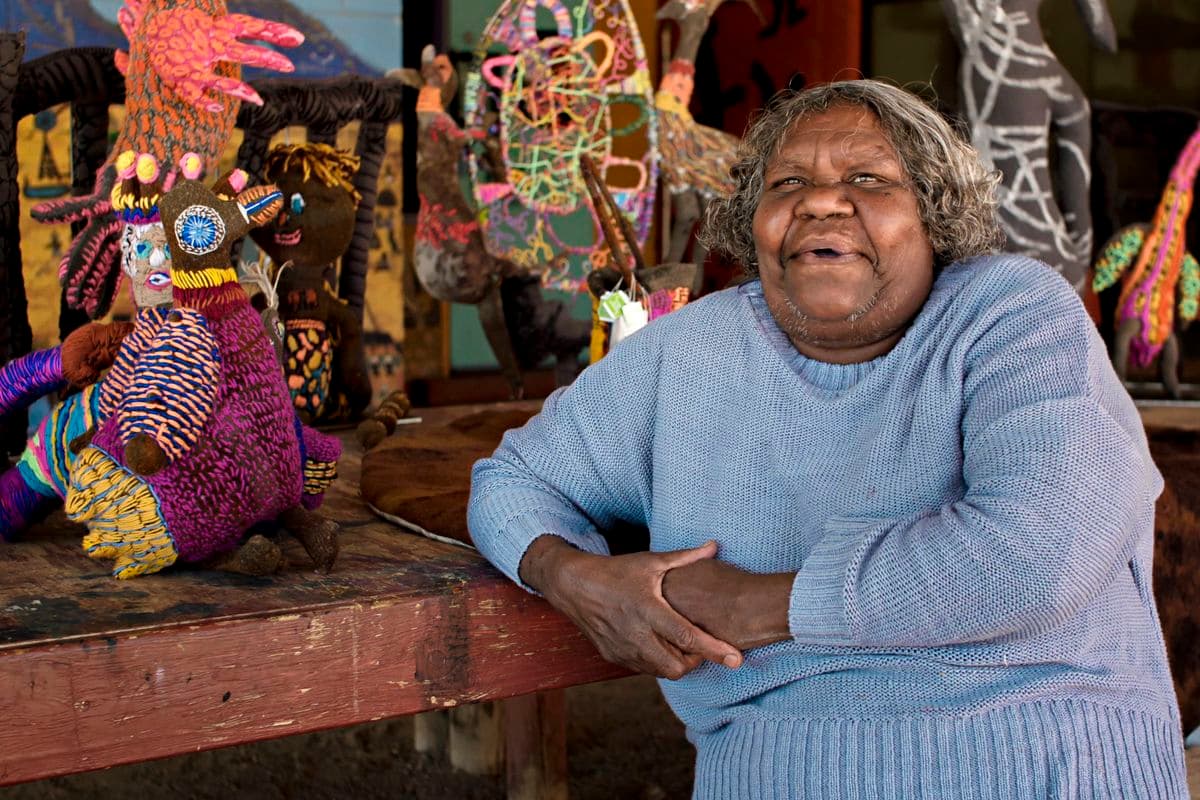 Wheelchair Accessible
Auslan Interpretation
Celebrate the opening of the 4th National Indigenous Art Triennial: Ceremony with a weekend of free performances, premieres, talks, workshops, and live music.
Weekend programs commence with a Welcome to Country ceremony by local Ngambri and Ngunnawal Custodians at the Gallery's Main Entry at 10am each day.
Bring your whole family to join in artmaking workshops and demonstrations led by exhibiting artists. Come along for live music by local First Nations musicians.
Join us in the James Fairfax Theatre for a series of panel discussions with Ceremony artists.
Can't make it to Kamberri/Canberra?
Join us for live stream Artist Panels on Sat 26 Mar 3.30pm AEDT and Sun 27 Mar 1pm AEDT.
Saturday 26 March
10am – 7pm
4th National Indigenous Art Triennial: Ceremony, Aboriginal and Torres Strait Islander galleries, Know My Name: Australian Women Artists 1900 to Now & Project 1: Sarah Lucas open until 7pm
Time
Activity
Venue
10am
WELCOME TO COUNTRY SMOKING CEREMONY
with Ngambri-Ngunnawal custodians
Dr Matilda House & Paul Girrawah House
outside Main Entry
10am – 5pm
ART-MAKING
Art Steps by Hayley Millar Baker
All ages. Materials provided.
Gallery 12, Level 1
11am
FILM PREMIERE*
Hayley Millar Baker introduces her film Nyctinasty (2021)
James Fairfax Theatre, Level 1
11am – 1pm
PERFORMANCE
SJ Norman Bone Library (2010/22)
Gallery 12, Level 1
11.30am – 1.30pm
SOFT SCULPTURE WORKSHOP*
Audio described with Yarrenyty Arltere Artists
Gallery 2, Level 1
11.30am – 1pm
LIVE MUSIC
Alinta Barlow
Belle Whyte
Jye Cole Hopkins
Stage, outside Main Entry
1pm
ARTIST PANEL: THE MOVING IMAGE*
with artists Hayley Millar Baker, Dylan River
& Gutiŋarra Yunupiŋu
James Fairfax Theatre, Level 1
2pm
PERFORMANCE
with dancer Joel Bray
Gallery 12, Level 1
2pm – 3pm
PERFORMANCE
SJ Norman Bone Library (2010-2022)
Gallery 12, Level 1
2.30pm – 3.30pm
CARVING ON COUNTRY WORKSHOP
with artist Andrew Snelgar
Lakeside Sculpture Garden
3pm – 3.40pm
LIVE MUSIC
efp (e fishpool)
Stage, outside Main Entry
3.30pm
ARTIST PANEL: POLITICS OF PERFORMANCE*
with artists Joel Bray, SJ Norman & Darrell Sibosado
James Fairfax Theatre, Level 1 & Livestream
4.30pm – 5.30pm
YARNING CIRCLE*
with artist Robert Fielding
Lakeside Sculpture Garden
Sunday 27 March
10am – 5pm
Time
Activity
Venue
10am
WELCOME TO COUNTRY SMOKING CEREMONY
with Ngunawal custodian Wally Bell
outside Main Entry
10am – 5pm
ART-MAKING
Art Steps by Hayley Millar Baker
All ages. Materials provided.
Gallery 12, Level 1
10.30am
ARTIST PANEL: WORKING WITH COUNTRY*
with Ceremony artists Dr Matilda House, Paul Girrawah House,
Robert Andrew, & Nicole Foreshew
James Fairfax Theatre, Level 1
11am – 1pm
PERFORMANCE
SJ Norman Bone Library (2010/22)
Gallery 12, Level 1
11am – 1pm
LIVE MUSIC
efp (e fishpool)
Jye Cole Hopkins
Belle Whyte
Stage, outside Main Entry
11.30am – 1.30pm
SOFT SCULPTURE WORKSHOP*
with Yarrenyty Arltere Artists
Gallery 2, Level 1
rescheduled
ARTIST PANEL: READING COUNTRY*
with artists Penny Evans, Joel Spring & James Tylor
James Fairfax Theatre, Level 1
& Livestream
2pm
PERFORMANCE
with artist Joel Bray
Gallery 12, Level 1
2pm – 3pm
PERFORMANCE
SJ Norman Bone Library (2010-2022)
Gallery 12, Level 1
2.30pm – 3.30pm
HEALING WORKSHOP*
with artist Nicole Foreshew
Fiona Hall's Fern Garden
access via Sculpture Garden, off Bowen Place
3.30pm – 4.30pm
TREE SCARRING*
with Ngambri-Ngunnawal custodians
Dr Matilda House & Paul Girrawah House
Australian Gardens