Cressida Campbell
Learning Resource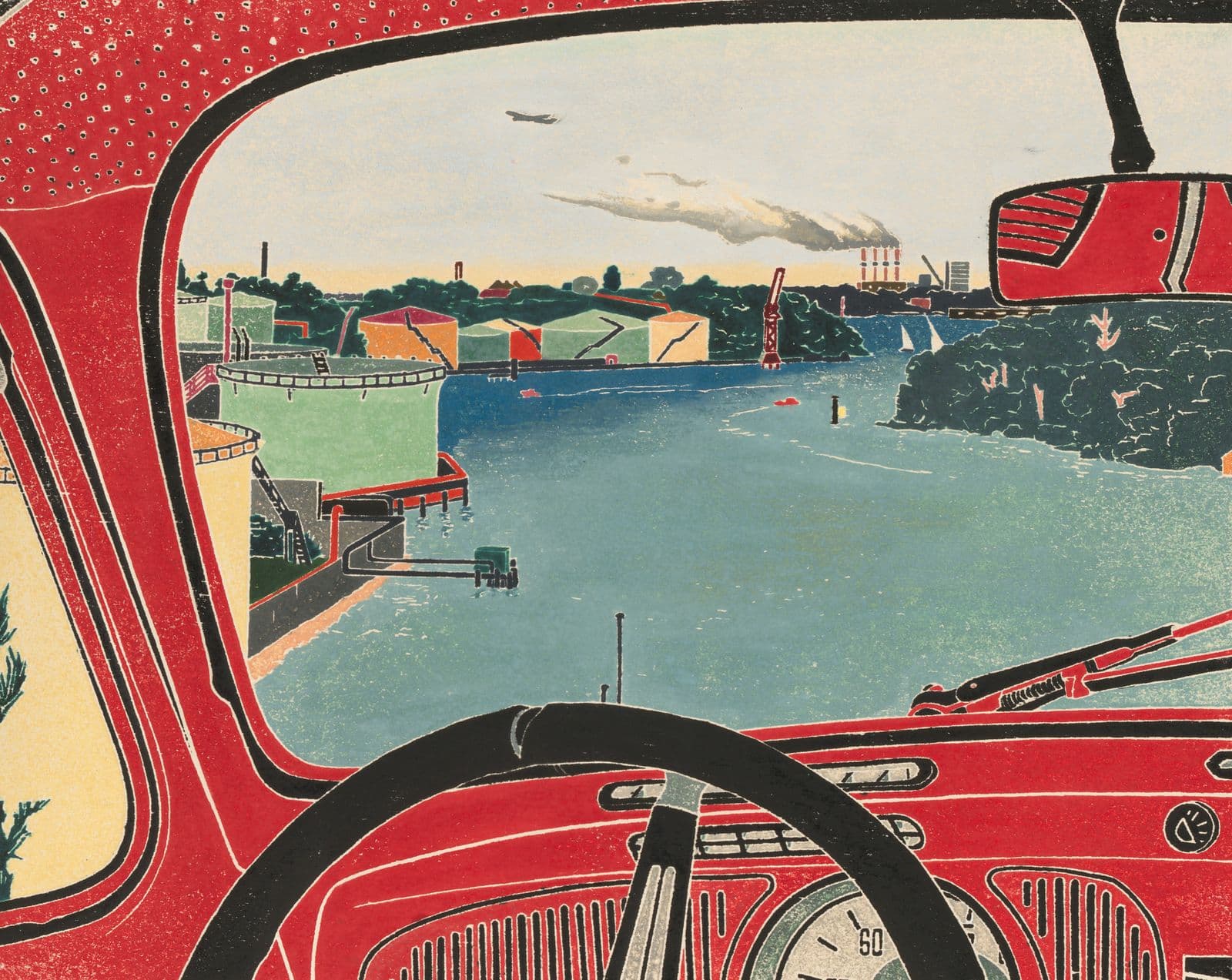 This Learning Resource provides context to understanding works of art by Cressida Campbell and supports learners to think deeply about the process of artmaking and artist inspiration as well as opportunities for reflecting on their own lived experiences.
'I try to convey the poetic beauty of nature as well as portraying everyday objects in a way that shows them as both aesthetic and sometimes comical, by placing them within subjects that people wouldn't expect… However, the composition and colour of each picture is always its most important element to me.'
Cressida Campbell is among Australia's most significant contemporary artists working with painting and printmaking. Directly inspired by her surroundings, for over 40 years the Gadigal/Sydney-based artist has transformed commonplace experiences from her life into single edition prints and painted woodblocks.
Combining keen observation with a delicacy of line, Campbell's woodblock paintings and prints capture the overlooked beauty of the everyday. Through her views of a working Sydney Harbour or burnt bushland, an arrangement of nasturtiums or a plate of ripening persimmons, the artist celebrates the transitory moments of life.
Still Life
LOOK
Slowly cast your eye across the whole panorama. What kinds of objects and shapes can you see? How would you describe the way they are arranged?
Look at Campbell's use of primary colours in this work of art. Try focusing on one colour at a time and map where they appear in the composition.
How has Campbell used colour and shape to highlight connections and contrasts?
Look at the size and format of the work and notice how Campbell has cropped shapes and objects at the edges of this long and narrow composition. Why do you think she chose to crop the scene in this way?
THINK
How do the objects in this work of art compare to your expectations of a kitchen shelf? Do you think the arrangement of objects looks casual or carefully composed, and why?
How does the composition of The kitchen shelf make you feel?
What does the work tell us about Campbell's interests and inspiration?
Do you collect anything and if so, why? What is a favourite memory you might have about a special item?
CREATE
Think about a place or space that is significant to you. How might you represent your chosen place in a panoramic format? Fold a piece of A3 paper in half lengthwise to create a long rectangle and connect multiple pieces of paper together to achieve your desired length.
Create a drawing that takes viewers on a visual journey through the objects and details that make your place special to you. Do you have repeated objects or repeated colours?





'Mum was absolutely wonderful. I adored her. She loved plants and taught me a lot about them. She was extremely skilful at doing small flower arrangements from the garden, mixing leaves with flowers, long before others were doing it.'
LOOK
Take a moment to look closely at Hydrangeas with magnolia leaves and Compost.
With a partner, take turns to describe the works of art to each other, focusing on the colours, composition, subject matter, and other interesting details you notice. How do these two works compare and what is different?
THINK
Consider the work Compost. What are the first words that come to mind when you think of compost?
Why do you think Campbell chose a compost container as her focus for this work of art?
How might Campbell's Compost challenge preconceptions about beauty and value?
What do you think we can learn from Campbell's way of seeing the world?
Read the quote below. What artistic elements did Campbell take notice of when first observing her mum's compost container?
'My mum had a little plastic ice-cream container for the compost heap, which was downstairs at the end of the garden. She always ate papaya or other fruit for breakfast and often asked me to take the container downstairs for her. When I was visiting for dinner, I thought it looked like a particularly beautiful composition of colour and shape and design, so I said, 'I'll come over tomorrow and draw it'.'
CREATE
What kinds of food waste or packaging can you find discarded around your home or school? Create a still life watercolour painting that allows discarded items to be seen in a new way.
Collect and arrange a selection of waste or packaging, paying attention to each item's colour, shape and texture. Consider how you might use perspective, cropping or lighting to show the items in a new way.
Journey around my house
'Around 2018 I started a series of circular works. I find the format of a circle interesting compositionally. Also a voyeuristic tension is created when you look through a circle at an interior, or any subject—it is different from looking through a square or rectangle. Interestingly the straight lines play a more important part than organic lines when they're cutting a circular shape.'
LOOK
What does the use of a circle remind you of?
Why do you think Campbell choose to frame this view of her bedroom within a circle?
In what ways does the artist suggest her presence without depicting herself?
THINK
If we could peek inside your bedroom, what could we learn about you? What does Campbell's collection of personal objects tell you about her identity and values?
Do you know any other artists who document or interpret personal spaces in their work? Why do artists create works of art about personal space?
Research other artists who document personal spaces, such as paintings by Gosia Wlodarczak, Brett Whiteley, Wendy Sharpe or Henri de Toulouse-Lautrec.
CREATE
Do you display images (photos, concert tickets, posters or works of art) in your bedroom? Maybe you share a bedroom and two or more people have to decide on the displays? What is displayed and why?
Experiment with the circular format to select and share a glimpse into your bedroom. Use a combination of collage materials and drawings to express your personality or provide insights into your passions and hobbies.
'My main inspiration comes from what is directly around me... I remember combinations of colours I see in houses, pictures, gardens, buildings or sculptures here and round the world.'
LOOK
When you look at Francis Street, East Sydney, what feature catches your eye first?
How has Campbell used colour and line to help your eye travel around the scene?
How would you describe the composition?
What can you see in the foreground, middle and background?
THINK
What do you think the artist wants to show us?
How do you think it would feel to be in this space?
What do you think it would be like to live here?
Compare the atmosphere of the interior, the balcony, and the street. Imagine the sounds of the street below, what can you hear?
CREATE
Take a walk around your home or classroom, paying attention to windows and how they can mark transitions from interior to exterior or private to public spaces. What can you see? Is there a foreground, middle and background?
On a large piece of paper and using a pencil, map out your foreground, middle and background objects. You don't need to include everything you can see, just inside the window or through the window. What are the objects you would like to use to develop your composition?
Use coloured paper to now create a papercut artwork. Cut the shape of each of your objects using a variety of different coloured papers and layer the shapes onto the large piece of paper. Think about what areas you will cut out and how much of the next layer the viewer will be able to see. What affect does this have? What personal touches will you add to your work of art which lets the viewer into your world?


Plants
I love many paintings by First Nations artists, from the very early barks to recent works by artists including Galuma Maymuru, Gunybi Ganambarr, Rover Thomas, Freddy Timms, Kitty Kantilla and Djirrirra Wunungmurra. I like the texture of the ochres and how some of the images are almost hieroglyphic. I love the sense of design and the way artists are not afraid of having vast expanses of very similar patterning—areas that are completely satisfying to the eye. I love the use of black and white together, as well as ochre, and how often the compositions aren't symmetrical. While there are profound stories behind the pictures that are unknown to me, I respond to the way the paintings are so powerful and delicate at the same time. Cressida Campbell
After finishing art school, I saw a comprehensive exhibition of Margaret Preston's work at the Art Gallery of New South Wales that included her brilliant coloured woodcuts, which at that time were a revelation to many people, including me. They were inspiring and definitely influenced my first woodcuts, in addition to the Japanese ukiyo-e woodcuts I was more familiar with. The Australian plants in Margaret Preston's images were also plants I loved, and it was exciting to see them depicted in such a dramatic way.
LOOK
Compare and contrast Bush remnants by Cressida Campbell with Margaret Preston's Spring magnolia and Djirrirra Wunungmurra's Yukuwa.
What visual elements do these works have in common and what sets them apart?
How has each artist used line, dark and light, and composition to reference the different features of their chosen plants?
THINK
What might Cressida Campbell, Margaret Preston and Djirrirra Wunungmurra's choice of plants tell us about their cultural influences and interests as artists?
What do you think each artist wanted to communicate about the plants they have depicted?
CREATE
Is there a plant that has personal or cultural significance for you? What does it mean to you?
Find out more about your chosen plant by researching its life cycle, uses, where it grows and its conservation status.
Create a monoprint inspired by your chosen plant. Start by drawing your plant, focus on one feature, such as its leaves, petals or seed pods. Think about the composition and colours you may use. Using acrylic paint, on a flat surface (clean desk, large sheet of perspex or glass), paint your image. Before the paint dries, place a piece of paper over the painting and rub across the entire surface. Lift the sheet off to reveal your monoprint.
Bushland
'At this time Peter and I were living in the Sydney suburb of Avalon at Stella James House, which we loved. Designed by Walter Burley Griffin, it was surrounded by bush and very atmospheric with a small fireplace in an enormous stone wall. The sea mist rose up through eucalypts into the house and we had the fire going throughout most of the year. This is where I drew and painted many of my bush subjects.'
LOOK
Look at the relationship between the foreground and background in Campbell's Eucalypt forest.
How would you describe the sense of space and depth in this work of art?
THINK
Can you describe the atmosphere the artist is attempting to present?
What season or time of day do you think it might be?
What aspects of the eucalypt forest has she emphasised?
Can you imagine what it would feel like to walk through Campbell's Eucalypt forest?
What eucalypt or other native plant species are part of your local environment?
CREATE
Take a short walk with a friend or classmate and document the variety of colours, textures and details that you notice in trunks of trees around your home or school. Consider how you can best document what you find, for example you could make photographs or take rubbings.
As an extension, you might like to use your found colours and textures to create a collage inspired by a tree or forest that you love or write a Haiku about your experiences being immersed in the natural environment.


Waterways
'Peter had a Volkswagen, which he drove from Adelaide to Sydney. I made it red. It was actually a rather horrible sort of mustard. Lots of the Sydney Harbour pictures I did were around the suburb of Greenwich, where I grew up, because Shell's giant gas cylinders in that area were very graphic, and there were lots of ships that came in and out—it was fabulous bush combined with industry setting. You could park at the end of a street called Vista Street, and there I drew the windscreen and, looking through that, the harbour and the tanks. It was a simple composition, but it was punchy. John Brack did a great painting of some people in a car, and I was inspired by that.'
LOOK
Describe the colours used in Through the windscreen? How have they been repeated? Can you also see the repetition in the shapes?
Can you describe where the repetition of shapes are? Can you describe how Campbell has used perspective in this work of art?
THINK
Why do you think the artist describes this composition as 'simple' and 'punchy'?
How has Cressida Campbell framed this work? What is the effect of this choice?
CREATE
What framing devices can you find in your everyday life? Artists often use shapes and lines of building, fences, trees or windows to 'frame' a focal point.
Make a series of photographs using creative framing and thoughtful composition to draw attention to aspects of your surroundings that include the natural world as well as the human construction.
Has the exploration of your surroundings made you see or consider the world around you differently or make you notice something new?
National Gallery Learning is supported by Education Patron Tim Fairfax AC in honour of Betty Churcher AO.