Bedroom Nocturne: When Intricacy Meets Intimacy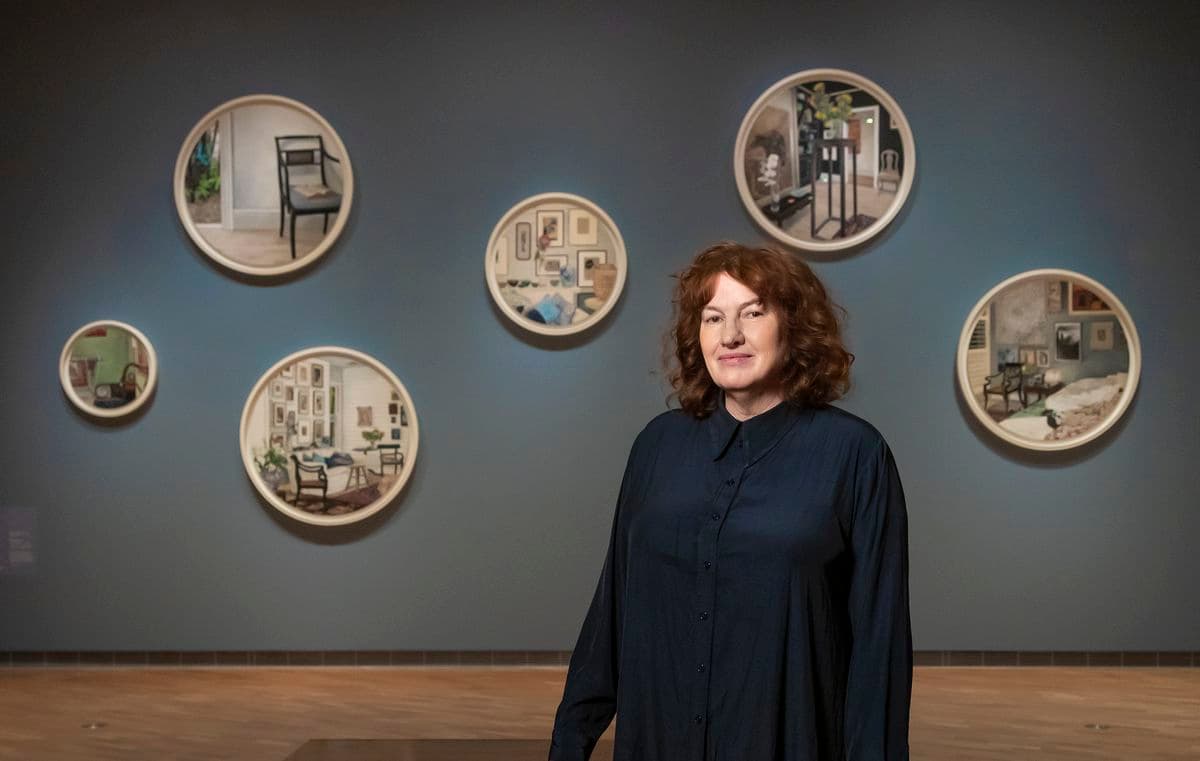 Acquired to mark the Gallery's 40th anniversary, Cressida Campbell's 2022 woodblock painting Bedroom nocturne is considered a breakthrough moment in the artist's four-decade long career. Created using a circular composition, Campbell offers an intimate night-time view of the bedroom she shares with her husband, Warren Macris, in intricate detail.

For over 40 years, Cressida Campbell has honed her idiosyncratic technique that is located uniquely between painting and printmaking. Her woodblock paintings and single-edition prints have documented the vicissitudes of her life — spontaneous still-life arrangements of food and flowers and introspective views within the rooms of her Sydney home that extend to local bushland and views around Sydney's working harbour.
The National Gallery has been collecting her work for close to four decades and on the eve of the major survey exhibition Cressida Campbell, the Gallery announced the acquisition of painted woodblock Bedroom nocturne 2022. Supported by the Marilyn Darling AC and the Gordon Darling Australia Pacific Print Fund, the purchase underscores not only the Gallery's support for one of Australia's most significant contemporary printmakers but also highlights its revised commitment to collecting and promoting the work of significant Australian women artists through the Know My Name initiative. Bedroom nocturne also locates Campbell's work within the lineage of Australian women printmakers who have engaged with Japanese techniques, including Margaret Preston and Thea Proctor.
Considered as a breakthrough moment in Campbell's practice, the exquisitely detailed Bedroom nocturne 2022 conveys the intimate mood of a private space, placed within a room of pictures. Behind her bedhead is a salon hang of paintings, prints and drawings by many of her favourite artists. This is a marked departure from the artist's more measured domestic vignettes. The large scale and round format of the work is a culmination of the artist's experimentation in recent years, placing organic spaces within a hard circular edge to embrace a centrifugal compositional energy.
The creation of the work began with a stylised drawing on a plywood circle. Campbell's process is to draw from life, carve the lines and then paint the block with watercolour from memory or colour notes. Campbell switched to solely hand-printing and since 1986 she has focused on making a single print from each painted woodblock, with both objects for exhibition.
For Bedroom nocturne, Campbell used a combination of recollection and photographic references to reconstruct a cropped view of her bedroom. From her close study of ukiyo-e printmaking, Campbell learned how to balance the relationship between the elements of picture. The emphasis on negative space in wood block prints by Keisai Eisen, Hokusai and Utamaro showed her how the space between objects is as important as the objects themselves. From the drawing, she simplified the bedroom's textural surfaces into stylised patterns, contrasting these intense areas of descriptive detail with the flattened shapes of the floorboards, bedroom wall and shuttered window.
'Everything has to be seen as a whole, you don't want your eyes to go straight to one thing. Very often I start off by putting too much in and then take things out – my mother used to call it 'murdering your darlings' because they are things that you think add a lot to the picture. In Bedroom nocturne I had two different pairs of shoes so I redrew them and made them into [one pair of] elegant Italian suede shoes, because your eyes just went straight to them – they dominated – no matter how much I tried to make them sit within the picture. You can't have something looking too self-conscious, as though it was put in there for effect.'
Using a small handheld Japanese engraving tool fitted with a fine dental drill-bit she carved the stylised drawing into the matrix. The graphite traces were erased before she hand-sanded the woodblock with fine sandpaper. The first layer is painted on quite thinly, beginning with objects of colour she feels confident about.
Then a thicker, second layer is used to make fine adjustments to colour and balance. Over weeks, the palette becomes encrusted, as zones of pigment begin to expand and overlap, organically spreading like lichen across a rock. Through constant edits Campbell rigorously designs each composition into its most balanced form, combining tension with harmony.
The single print that is created from the wood block will have its own unique identity. Placed side by side, the mirrored worlds of Bedroom nocturne are transformed by this process: the chalky printed image shows the grain from the plywood matrix while hand-printing has given a mottled, pointillist texture to the woodblock surface. Campbell spent further weeks at the easel to lightly repaint the woodblock. The artist will then touch up the print removing the white halos left unprinted by the engraved lines. For the artist, this final stage allows her to add deeper colours and detail into the print without losing the energy transferred through the process.
As Bedroom nocturne sits in the National Gallery's Temporary exhibition galleries in a salon style hang with five other Campbell tondos, its centrifugal energy pulls our attention into the centre near the brightness of the lamp and circulates our gaze clockwise. The painted highlights on folds of bedding spin the eye towards the chair, through the shutters and then upwards to the yam story by Dhalwanu/Narrkala artist Djirrirra Wununmurra. At the top, the curved Wanjina by Wunambal artist Lily Karadada leads to the rich ochres of Kimberley Country by Gija artist Queenie McKenzie. Below a dense charcoal sketch of smokestacks by Paul Ryan appears almost spot lit by that central halo of light. Campbell is fluent in the dynamics of looking and the design of her drawing subtly guides viewers through her night-time narrative.
Bedroom nocturne is the first woodblock painting by Campbell to be acquired by the National Gallery and joins a small collection of woodblock prints made by Campbell between 1986 and 2000. Bedroom nocturne extends the date range of these holdings to include contemporary works.
Bedroom nocturne is on display in Cressida Campbell until 19 February 2023. For more information visit Cressida Campbell.
This story has been published as part of the National Gallery's 40th Anniversary. For more visit 40 Years.