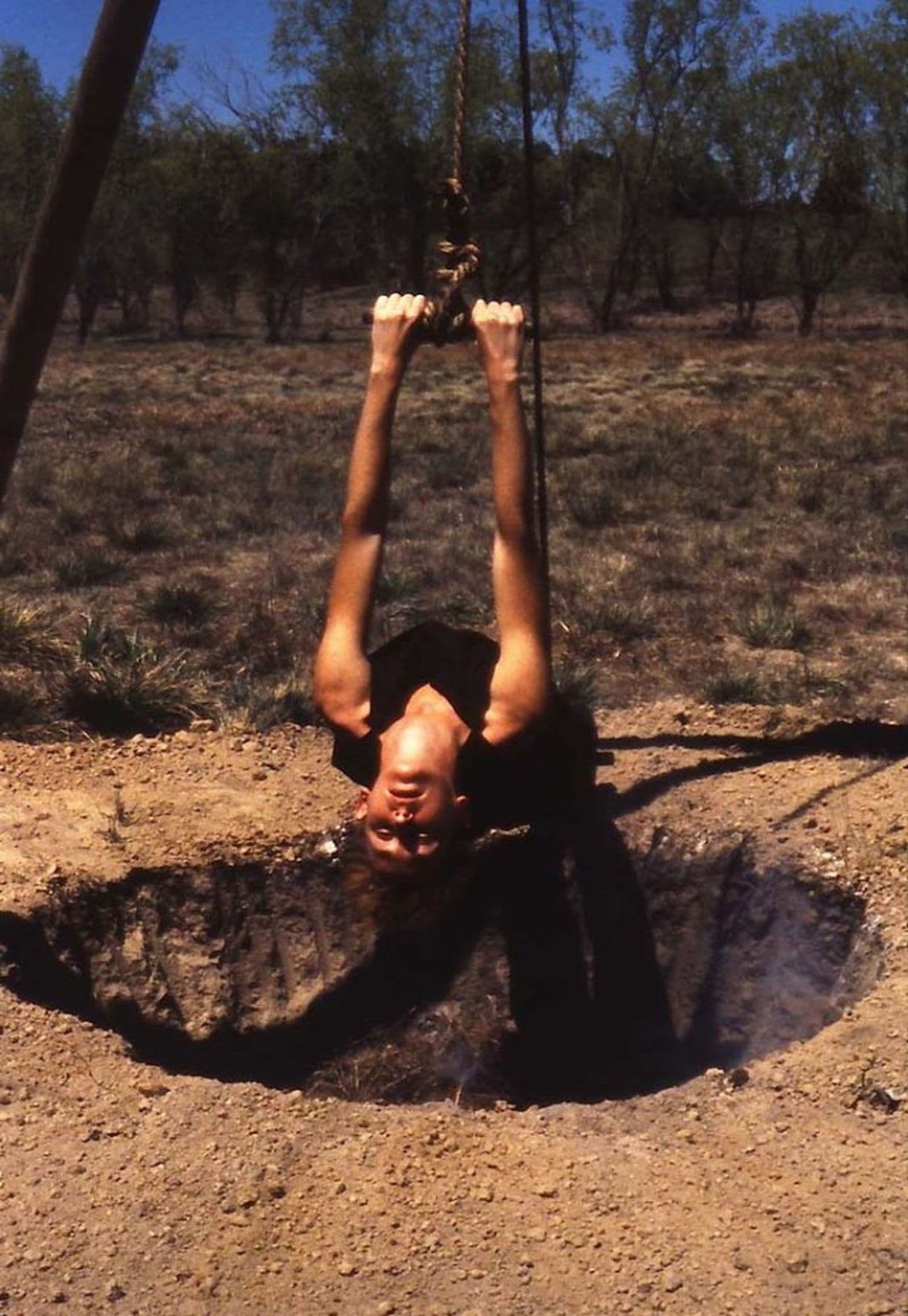 In light of the recent restaging of Victory over the Sun with Justene Williams and Sydney Chamber Opera, Senior Curator ELSPETH PITT explores the contemporary significance of ACT 3 and the National Gallery's broader approach to the collection and presentation of performance art.
Directed by the German‑born Australian artist and curator Ingo Kleinert, ACT was a biennial performance‑art programme held in Kamberri/Canberra between 1978 and 1982. The final iteration, titled ACT 3: Ten Australian Performance Artists, coincided with the preview opening for artists and industry of the National Gallery in October 1982. There was no formal link between these two events but there were overlaps.
The Gallery's Head of Australian Art, Daniel Thomas, appeared in Mike Parr's performance, Dream: the lights of Empedocles; Assistant Curator Mary Eagle — later Head of Australian Art — wrote for the ACT 3 catalogue about Lyndal Jones's Prediction pieces; and, in a letter dated 20 May 1982, Assistant Curator Michael Desmond, later Head of International Art, encouraged Kleinert to coincide his program with the opening of the gallery to attract a 'sympathetic crowd'.
Mostly, however, as Eagle told me in an interview earlier this year, these connections were not disclosed, since curatorial work outside the gallery was regarded by inaugural Director James Mollison as a 'conflict of interest'. In light of this, the actions of these curators seem like gentle subversions; a forthright recognition that, despite its remit, the National Gallery could never hold all the art of a nation.
Recalling these events some 40 years later, the artist Jill Orr described them to me as 'parallel universes'. Whereas the inaugural display of the National Gallery relied on the creation of a grand narrative, one defined by 'object‑ness' and the tracing of a material culture, the ACT 3 program had other qualities. The artists were all paid an equal amount for their participation. This non‑hierarchical approach was mirrored in the accompanying catalogue, which comprised unbound essays that could be placed in any order.
Rather than being held in a single space, ACT 3 played out throughout the city while its performances relied on fleeting modes of communication — telepathy, prediction, the charged but intangible relationship between artists and their audiences.
Nonetheless, it is through its material output that I first came to know of ACT 3, discovering planning documents, correspondence and performance photographs held between packing boxes and a rattling filing cabinet at the Canberra Museum and Art Gallery. I asked to take them for the National Gallery Research Library and Archives, where they could be looked after. They're there now: the papers housed, their staples removed; the contents placed in pale grey boxes; their uniformity imparting a sense of importance; their colour, an air of solemnity.
Discovering it via the archive, ACT seems visionary. I've held it in my mind for a curious amount of time, perhaps because it evokes so clearly a moment in time— one defined by experimentation, spontaneity, unconventionality. Among the first curated exhibitions of performance art held anywhere in the world, ACT 1, which took place in 1978, preceded The Art of Performance at Palazzo Grassi, Venice, which was staged over 1–10 August 1979 and is often cited as the first undertaking of its kind. Selected by Kleinert and a committee comprising artists and curators Karilyn Brown, Sylvia Kleinert and John Reid, the ten artists in ACT 3 — Aleks Danko (with Jude Walton), Graeme Davis, Bonita Ely, Dale Frank, Joan Grounds (with Peter Balmforth, Tim Harris and Kate Latta), Lyndal Jones (with Mary Sitarenos and Les Gilbert), Jill Orr, Mike Parr, Jill Scott, Stelarc and Ken Unsworth — are recognised as pioneers in the field of performance art. In 1982, some had recently returned from living and working in Europe and Asia. And, while performance had arguably gained relative acceptance as an art form by the 1980s, many of those who participated in ACT 3 had struggled to find a sympathetic audience on their return to Australia.
Alongside the pageantry of the National Gallery's formal opening on 12 October 1982, ACT 3 played out over three days; Orr told me that its more experimental practices were questioned by the police, who were monitoring unusual activity during the visit of the late Queen Elizabeth II. Frank's Development leading to evolution: Darwin's love for his younger brother? was among the first of the works presented at the Canberra School of Art Gallery on 8 October at 10pm. Of all the ACT 3 performances, Frank's lives most tenuously in the minds of those who attended. Recollections of audience members I interviewed, including Danko and the artist himself, ranged from Frank polishing a gun to Frank hiding in a tree to Frank being beaten by a group of burly men. Only one attendee I spoke to — the artist Barbara Campbell, who was 21 at the time — could recount the intent of the action: an effort to grow gills, with the artist's slight tremors alluding to the apparent manifestation of an evolutionary act. To most of the crowd, however — which was at first expectant, then irritable and finally outraged — Frank appeared only to sit slumped and unmoving in a chair. Campbell recalled to me that ACT 3 made her realise two things: that she wanted to be a performance artist, and that she didn't want her work to be like Frank's.
Whereas Frank's performance has shapeshifted in living memory, the work that remains most clearly in the minds of those who saw it was Stelarc's Event for obsolete body no. 6. Artists Ely, Jones and Orr all remember it as 'beautiful', which seems slightly counter to the work's central conceit: a man suspended in a tree from hooks threaded through his skin. Looking at documentary images, however, the beauty of the work is clear: the winding branches of the eucalypt, the outstretched limbs of the artist, the tree roots exposed, so Stelarc told me, to 'balance the image' and to create a 'circular tension'.
These are images as calculated as any painting; all aspects of their composition are considered. Stelarc still recalls his instruction for the audience to leave after several minutes, so that the last image they saw was a transcendent one as opposed to his inelegant descent, the fracture of that astonishing picture. Certainly, the obsolescence of the body referred to in the work's title was a delicate illusion to sustain, threatened at one point, according to Campbell's recollection, by the artist's 'visceral' shuddering and by an aftermath involving careful crosses of white cotton wool and plaster being placed, gently, along his back.
The beauty and salience of the work, however, was also evident in its ability to birth different readings, some more prescient than others. Orr, for example, feels that the performance was akin to an environmental premonition. Forty years later, the species of tree in which Stelarc was suspended, Eucalyptus blakelyi, is dying because of climate stress. 'It is no longer a beautiful tree,' Thomas told me, after I sent him a photograph of it. Now in his nineties, Thomas had insisted I find the tree before writing about Stelarc's work. This was no matter of literalism, but a need to locate the specifics of the performance to retain its clear impression. I spent an afternoon looking for the tree, working from a combination of hearsay and a hand‑drawn map included in the exhibition catalogue. Eventually, I found it at the western base of Black Mountain, much changed, diminished, barely identifiable but for its still‑exposed roots.
On that afternoon, surrounded by wind and cricket song, I imagined the artist there and, while not a memory, this passing down and palimpsest is surely one of the ways in which this kind of work endures.
Orr — whose performance, The digging in and the climbing out, followed Stelarc's in the ACT 3 program — spoke with me about memory. Her performances are conceived, like Stelarc's, with photographic documentation in mind, the threat of the transitory (that is, the complete loss of the image) always held slightly at bay. Unconvinced by the American performance historian Peggy Phelan's adage in Unmarked: the politics of performance (1993) that you have to be there to experience the work, Orr described to me the 'threads' that stand in for the performance after it is over: feelings and recollections, of the artist and others, forming a cumulative image in which 'the spaces between' allow imagination to flourish. The work — rather than remaining static or becoming lost — continues to evolve. Sometimes, it is in the aftermath that the image intensifies.
Originally presented in bushland beside Lake Burley Griffin at dawn on 9 October, Ely's A mother shows her daughter to the universe has continued to resonate over the years, accruing new audiences and cultural relevance. Preparations for the work included planting a low, circular mound of earth with wheat, which, by the day of the performance, had begun to shoot green tips. At 6am, the artist began walking within and around this wheat mandala with her newborn daughter, Marina, in her arms. In a series of slow gestures, Ely brought her daughter to the ground and then raised her to the sky, revealing her to the universe as the sun rose. Frank told me he apprehended at the time the significance of this ceremony — pagan in feeling; atheist and feminist in impulse — but was unsure if others had done so. Yet, snippets of the crowd that appear at the edges of performance documentation show the audience attentive and calm, cross‑legged in the surrounding scrub. While its feminist underpinnings, especially, have since propelled this documentation into a range of recent exhibitions — most recently, One Vast Library: A Diachronic Wind at MADA Gallery, Monash University — it is also the restraint and beauty of the actions that endure: the suspension of Marina in the air a kind of magic.
In the intervening years since ACT 3 was staged, performance artists have grappled endlessly with the ways in which the art form should be documented, collected and conserved. While the performance of the late 1960s and '70s was born, in part, from a refusal to entertain the art market by producing short‑lived and seemingly unsaleable work, the need for artists to make a living has understandably challenged this foundational impetus. As its practitioners grow older, the aspect of legacy has also gained increasing focus: how will the work be remembered if it cannot be fixed in some way, or held in collections around which so much of our art histories are composed? Historically, Jones, whose Prediction pieces 1–4 were included in ACT 3, has mostly refused to document her work. Having conceded to it on one occasion, she remarks how the resulting photographs have since come to stand in for so many performances. An eloquent self‑observer, she told me she is shocked by the way performances so meticulously choreographed now blend in memory. There is evident regret that more were not documented, but she maintains that the thrill of the charged relationship between artist and audience — an atmosphere that must be felt — is impossible to capture.
It is precisely this energy and its communicative potential that formed the crux of ACT 3, with several performances predicated on telepathy, prediction, and other non‑linguistic means of interaction. Parr's Dream (the lights of Empedocles) was the first time he consciously absented himself from his audience, seeking instead to communicate via telepathy, light and fire. A performance in three parts, one action involved setting fires on opposing shores of Lake Burley Griffin to suggest the poetic treatise of the pre‑Socratic philosopher Empedocles, who believed that material elements formed the body and the basis of visual perception, writing in his poem On Nature, c 450BCE: 'For with earth do we see earth, with water water, with air bright air, with fire consuming fire' Orr's The digging in and the climbing out, described to me by the artist as a 'performance meditation' in which she imagined travelling through the centre of the earth, also had a 'subtle thread' of telepathic contact running through it. Timed at the point of sunset in Canberra and sunrise in Amsterdam, the performance, Orr recounted, was like 'a sudden burst of joy ... the connection was felt'.
Having tired of what he described to me as the interminable durational performances of the 1970s, Danko produced an action with Walton that was clear and defined. Take the shadow for the substance, etc 486 relied on a choreographic sequence involving precision and trust: a large board passed rapidly between the two artists functioned variously as a bed, a screen, a weapon. Injury threatened by missteps was heightened by another plank installed above the audience: a shared imminent danger. The anticipatory quality of Danko and Walton's choreography echoed Jones's Prediction pieces 1–4, which segued backwards and forwards through time. Unsworth's Go and don't look back, described as 'hauntingly beautiful', was an installation in which sound alone was used to explore the idea and experience of death.
For a series of performances that surveyed, from myriad angles, the human capacity to communicate, there was little contemporaneous writing in which they were recounted or critiqued. The only extended piece appears to have been by the Canberra‑based critic Peter Haynes, who felt compelled to write about ACT 3 because it was 'overshadowed' by the opening of the National Gallery. Haynes's review has the feeling of someone carefully trying to make sense of what they've seen. While describing the program as significant and at times enthralling, his article is strewn with declarative statements: 'Performance, in my view, relates to a particular time and place'; 'Difficulty must be accompanied by aesthetic and conceptual integrity'; 'Much performance is introspective and obsessive.'
Brown, an organiser for ACT 3, who became a key advocate for Australian experimental art practices, felt that this lack of critical writing not only related to the exhibition's distance from Eastern seaboard centres, but also reflected the focuses of art publishing at the time. Having worked in Adelaide with Noel Sheridan, director of the Experimental Art Foundation (EAF), before her arrival in Kamberri/Canberra, she observed that EAF publications, and those of similar organisations, aimed to make art rather than reflect on it; artist books comprising performance instructions, concrete poetry and visual essays formed a significant part of their output.
But there are other ways to trace influence. Within the ACT archive is a manila folder full of letters from artists expressing disappointment that ACT 3 would be the last iteration; seeking advice as to where to present their work; decrying the perceived reluctance of institutions to support performance practices; offering to report on the program, retrospectively, on radio and in print. In one letter, the writer describes 'almost fainting' in the bookshop at the Art Gallery of New South Wales after seeing an advertisement for ACT 3 and realising it was taking place at that very moment. The late artist John Barbour, then a bright and eager student of performance art, wrote a letter to Kleinert seeking his guidance. As a curator, there is perhaps no greater feeling than knowing that your work has helped to shape an artist's career.
Despite my best efforts to do so, I was not able to speak with all the ACT 3 artists: some had passed on; others were unwilling to dwell on work made 40 years ago. Campbell describes ACT 3 as a transitional moment, after which many of the artists stopped performing. Parr, for example, turned for a decade to drawing; Frank to painting. But equally, there were beginnings. For Danko and Walton, it was the first of their collaborative works. For Ely, an intensification of feminist performance and its intersection with her burgeoning environmentalism followed.
There are some vestiges of ACT in the National Gallery collection. The documentary photographs of Stelarc's performance — made by Norman Ainsworth, Ian de Gruchy, Hanh Tran, and Willi Young — were eventually purchased. Thomas is gifting the gallery a transcript of his telepathic communication with Parr, prompted by the artist remotely turning on a blue light in Thomas's bedroom, at which point he would wake to record his dreams. The gallery's collection is full of other performance but mostly it is quietened, divorced from its context, its liveness long past. There are films and documentary images. There are costumes and props. There are instructions and manuals containing works still to be realised. But, even when held in a collection, performance so often resides at the fringes: miscatalogued, evading classification, unpindownable.
When I spoke to Kleinert, I described ACT 3 as visionary and he replied that he had always thought it would take 40 years for someone to recognise it. He agreed that ACT could never be staged again — the tangles of contemporary risk assessments too great. Only in retrospect has he considered the recriminations that could have occurred had something gone wrong. ACT 3 was forged on good will. Much was given in kind. 'We were innocent, then,' he recalled.
Elspeth Pitt is Senior Curator, Australian Art, at the National Gallery of Australia. Her recent performance‑based curatorial projects include Jo Lloyd's Archive the archive 2020/22 and Justene Williams's Victory over the Sun 2016/22.
This story was first published in The Annual 2023 and has been shared as part of the National Gallery's 40th Anniversary. For more visit 40 Years.