The Kenneth E. Tyler Collection
Evidence of an absence: Man Ray at Gemini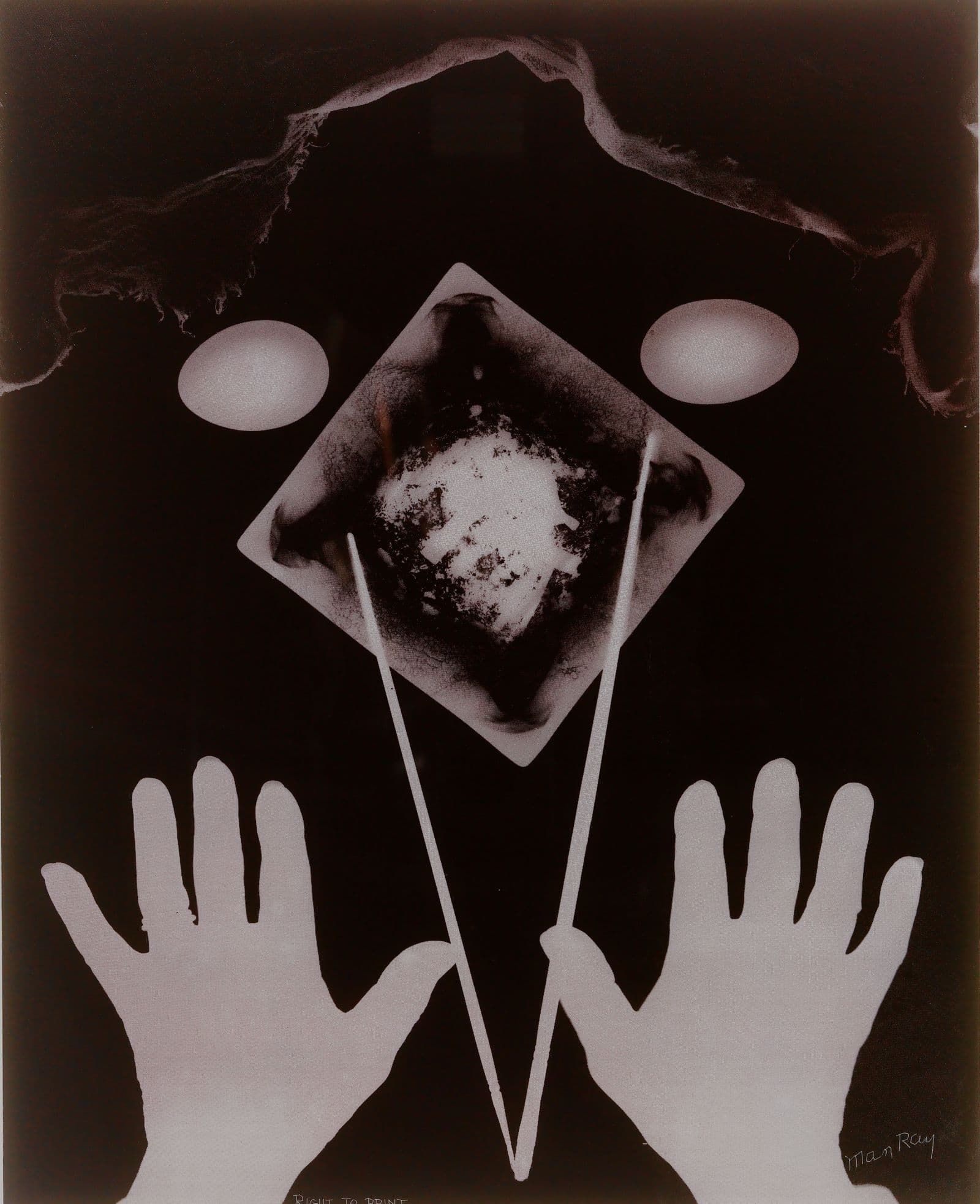 'When all that which is called art was well covered with rheumatism, the photographer turned on the thousand candle power of his lamp and by degrees the sensitive paper absorbed the black silhouetted by ordinary objects'
In 1966, the American artist Man Ray, who had spent much of the previous four decades living in Paris, visited Los Angeles for his first American retrospective, at the Los Angeles County Museum of Art. Surveying his work since 1908, this exhibition, curated by Jules Langsner, revealed Man Ray's ambivalent relationship to photography, which had been, in many of its iterations, the life blood of his artistic career.
The Museum's Council had arranged for Man Ray to stay at the house of one of its members, the art collector Stanley Grinstein. This accommodation was fortuitous, as Grinstein had recently established with master printer Kenneth Tyler a new print publication house, Gemini Graphic Editions Limited. Gemini was a young and ambitious lithography studio, looking to advance printmaking in the United States, but had not yet made its mark. The chance visit of Man Ray to the studio led to the creation of two works in November 1966. One hand and Hands 1966 were screenprints translated from photograms, a cameraless mode of photography that captures shadows cast across a photosensitive surface.
Man Ray was widely known for his photography. He contributed photographs to key Surrealist and Dadaist publications in Europe and North America, particularly in the 1920s and 30s. Using techniques such as close cropping, double exposure, mirrored distortions and solarisation, he helped to establish and define photography as a Surrealist art form. The techniques that Man Ray used in this practice often crossed over into his commercial photography, as the artist regularly worked for fashion designers and magazines. Despite his wide-ranging success as a photographer and the innovative creative outlet it provided for him, Man Ray was ambivalent about this part of his career, seeing himself as primarily a painter. As the writer Carl Belz noted in Artforum magazine, his retrospective provided 'a comprehensive sampling of virtually every kind of artistic activity with which he has ever been engaged' but 'due to the artist's wishes' his photographs were largely excluded.2 The omission of these photographs was Man Ray's attempt to demarcate his photography as 'something separate from his art, a means to an end rather than an end in itself' during the early years of his career.3 He abruptly described this to the curator Jules Langsner:
'I had to get money to paint. If I'd had the nerve, I'd have become a thief or a gangster, but since I didn't I became a photographer.'
But there was an exception: the exhibition included sixty-six photographs that were produced without a camera, what Man Ray called his 'Rayographs', more commonly known as photograms. Photograms are a process where objects are placed on a photosensitised surface and exposed to light, leaving behind an impression of their shadows. Poetic and abstracted with gentle modulations of light and dark, the photogram is directly derived from the objects used to cast shadows, but the result often is hard to comprehend.
Working with light
The process for making a photogram is not new. As early as 1725 it was known that light could darken the tone of silver nitrate, leading to experiments by inventor Thomas Wedgwood in 1802 to transfer a painting on glass to another surface by the action of light. While these early experiments achieved impressions, they were not permanent or 'fixed', quickly degrading with further exposure to light. In 1833, Henry Fox Talbot, the English co-inventor of photography (alongside his French counterparts Joseph Nicéphore Niépce and Louis Jacques Mandé Daguerre) fixed photograms using washes of silver nitrate and sodium chloride. While these photograms were not entirely permanent, Talbot was pleased with the results and deemed this process 'photogenic drawing'.5
When he was young, Man Ray was aware of the photogram, and recounted in his autobiography:
'I remembered when I was a boy, placing fern leaves in a printing frame with proof paper, exposing it to sunlight, and obtaining a white negative of the leaves.'
But it was not until 1921 that Man Ray realised the artistic potential of this cameraless photographic process. Having relocated to Paris, he found himself working for the French fashion designer Paul Poiret, taking photographs of his designs. One night while developing prints from a glass plate negative, an accident occurred. As Man Ray described:
'One sheet of photo paper got into the developing tray – a sheet unexposed that had been mixed with those already exposed under the negatives… regretting the waste of paper, I mechanically placed a small glass funnel, the [glass] graduate and the thermometer in the tray on the wetted paper. I turned on the light; before my eyes an image began to form, not quite a simple silhouette of the objects as in a straight photograph but distorted and refracted by the glass more or less in contact with the paper and standing out against the black background, the part directly exposed to the light.'7
The result was revelatory. Thinking that this was a novel method, he named them 'Rayographs' and exclaimed 'I have freed myself from the sticky medium of paint and am working directly with light itself'.8 The following morning he was visited by the Romanian artist and key figure in the Dada art movement Tristan Tzara, who deemed these photograms to be 'pure Dada creations', aligning with the Dadaist movement's desire to produce artwork, often using chance-based processes, that was absurd and irrational.9 Tzara had encountered similar photograms before, in the work of Christian Schad, who had been making abstract cameraless photographs since 1918. Tzara had even published an example of Schad's work in his Dadaphone magazine no.7 in 1920. Nonetheless, Tzara was animated by Man Ray's independent 'discovery' and shaped our understanding of these works.
Truth, traces and dreams
Man Ray's photograms are evidence of an absence: Their reversed shadows are created by objects in his studio, but these are often so abstracted that this trace cannot be linked back to its source. Man Ray first published his photograms in the album Les Champs Délicieux 1922 with works such as No title (Metal object with holes and circular object), which have plunging shadows with distinct shapes that, in the absence of the original object, are difficult to recognise: These photograms are an 'index', a type of mark or sign referring back to the thing that caused it, just as a fingerprint on a window pane might indicate a person's presence. Art theorist Rosalind Krauss noted that Man Ray's photograms are a 'subspecies of photograph which forces the issue of photography's existence as an index', making clear to the viewer that even a photograph made with a lens can be read as a trace, as all photographs are the 'the result of a physical imprint transferred by light'.10
Tristan Tzara was aware of the photogram's indexicality and compared Man Ray's photograms to a memory or dream in his 1934 poem When objects dream. For Tzara, the trace left by an object on a piece of photographic paper was like the trace of our experience we recollect in our dreams. He wrote: 'These are projections surprised in transparence, by the light of tenderness, of things that dream and talk in their sleep'.11 Man Ray would speak of them in similar terms, saying 'We no longer use our eyes for painting… so I have also suppressed the eye of my camera – its lens'.12 The photogram was an antiretinal form of photograph, created with a closed eye and remembering the past, that Man Ray saw as 'recalling the event more or less clearly, like the undisturbed ashes of an object consumed by flames'.13
The association of Man Ray's photograms to dreams was radical in breaking photography's association with accuracy and 'truth'. As the historian Naomi Rosenblum notes, the photograph's invention was 'the ultimate response to a social and cultural appetite for a more accurate and real representation of reality' through its ability to fix what the camera obscura had projected onto surfaces since the Renaissance.14 The photograph's verisimilitude became its distinguishing feature, capturing detail that surpassed casual observation. For example, an early account of the daguerreotype, a lens-based process that emerged alongside the cameraless photogram, led an observer to remark:
'Excepting the absence of colour, they are as perfect images of the objects they represent… The perfection and fidelity of the pictures are such that on examining them by microscopic power, details are discovered which are not perceivable to the naked eye in the original objects.'
These qualities led to the photograph's use as evidence, such as scientific identification or crime scene documentation, and for journalism, as 'objective' reportage. But the photogram's ambiguous and anti-retinal qualities broke with this characterisation, aligning photography with Dadaist and Surrealist ideas of irrationality, dreaming and the subconscious. The Surrealist writer and theorist André Breton championed Man Ray, saying that he had 'stripped [photography] of its positive nature, of forcing it to abandon its arrogant air and pretentious claims' of reflecting reality.16
Belonging to no-one
While they may evoke the world of dreams, Man Ray's photograms are still a direct imprint of the world. While the artist has a hand in composing objects, the final picture is created by light as it strikes the photosensitised surface. This led Tristan Tzara to write in his preface to Les Champs Delicieux:
'Just as the mirror reflects images effortlessly, just as an echo effortlessly sends back voices without asking us why, the beauty of [this] material belongs to no-one, because it is only a physio-chemical product.'
This idea, that the photogram is 'authorless' and only a product of a chemical reaction aligned with Tzara's belief in breaking down the structures of art. Throughout his writing and manifestos, Tzara called for unintelligible art, often created by chance, that relinquished ideas of originality, individuality and authorship. To 'dip your pen in black liquid with manifest intentions', Tzara wrote, 'it is only your autobiography' that you will encounter. The Dadaist, by comparison, could be 'infinitely original' simply by cutting up a newspaper article into individual words, mixing these up and placing them at random on a page.18 Man Ray wrote in 1957 that he preferred the 'inevitable' quality of works such as photographs that showed no evidence of the artist's hand: his photograms were a chemical process, and surrendered the role of the artist's hand in creating the artwork.19
A defining contribution
At the opening of his retrospective at the Los Angeles County Museum of Art in October 1966, Man Ray referred to his photography practice as a 'hobby', to justify its omission from the exhibition.20 Yet less than a month later, he was making photograms with Kenneth Tyler that were to be translated as editioned screenprints for the studio's subscribers and collectors. An integral part of Man Ray's choice of materials at Gemini reflects the act of reproducing a photogram: Most photographs are produced using negatives, those transparent plastic strips that allow a photographer to make multiple copies of a photographic image. Photograms, by contrast, are unique as they are made directly onto photosensitised paper. It is possible that Man Ray considered this difference in his decision to make both Hands and One hand resemble a photographic negative by screenprinting them on the reverse side of a clear sheet of acrylic plastic, achieving an effect similar to the glass plate negatives he often used while in Paris in the 1920s. The material language of print and photo are hybridised in this decision, particularly his choice to use a silver ink for the screenprint, the printed effect of which resembles the silver gelatin prints used for his photograms.
It is likely that Man Ray's retrospective at the Los Angeles County Museum of Art prompted deep reflection for the artist. The ability for a retrospective to shape and define an artist's legacy provoked Man Ray to reconsider the role that photography played in understanding his career. Choosing to largely exhibit only his paintings and assemblages, the photogram was chosen to define his photographic legacy, embodying as it did fundamental Dada and Surrealist ideas. It is likely that the artist was reflecting on Les Champs délicieux 1922 and Tristan Tzara's statements on his photograms, particularly that they 'belonged to no-one' and were a 'physio-chemical product'. In the month following the retrospective, these ideas came to be reflected in the photograms produced for Gemini One Hand and Hands 1966. These photograms appear to show the shadows of eggs, an ash tray, paint brushes and lace material, along with either one or both of the artist's hands. Here, it is significant that both prints focus on the presence of the artist's hand: In creating the original photograms, Man Ray would have placed his hands on the photo paper during the exposure process, and in doing so, suggest that his hands and brush are not a part of the work's creation. They are in the composition and not behind it. They are evidence of an absence: The absence of the author, confirming Tzara's statement that the photogram belonged to no-one.
Similarly, the forms found in these prints recall the shapes and objects that were used forty-seven years earlier in Les Champs délicieux. Hands are a stark intervention in this album in the photogram No title (Hands and sphere), while fabric and egg-shaped forms occur in No title (Cloth and cords) and No title (Metal object with holes and circular object). Perhaps the pipe in (Drinking glass, light bulb, pipe and circular metal object) can be read in relation to the ashtray in both Hands and One hand, as though Man Ray was transforming his motifs in the work he undertook at Gemini's print studio, reflecting on his legacy and leaving behind a trace that can be followed back through his life.
Opening large quote in bold: Tristan Tzara, preface to Les Champs Delicieux 1922 as translated in Jules Langsner, Man Ray [exhibition catalogue]. Los Angeles County Art Museum, 1966. p. 25.
Carl I. Belz, 'Man Ray retrospective in Los Angeles', Art Forum, vol 5, no 4, December 1966. p. 22-23.
Ibid. p. 23.
Second large quote in bold: Jules Langsner, Man Ray [exhibition catalogue]. Los Angeles County Art Museum, 1966. p. 14.
Naomi Rosenblum, A world history of photography (4th ed.). Abbeville Press, New York. 2007. p. 27.
Third large quote in bold: Man Ray, Self-portrait: Man Ray, Little, Brown & Co. Boston, 1963. p. 106.
Ibid. p. 106.
Weston Naef (ed.), In focus: Man Ray photographs from the J. Paul Getty Museum. Getty Museum, Los Angeles, 1998. p. 28.
Man Ray, Self-portrait: Man Ray, Little, Brown & Co. Boston, 1963. p. 106.
Rosalind Krauss. 'Notes on the index: Seventies art in America' in October 1977. vol 3. p. 75.
Janus (ed.), Man Ray: The photographic image, Gordon Fraser Gallery, London, 1980. p.183.
Man Ray quoted in Andrée Royon, 'Man Ray', L'Intransigeant, October 10, 1920. As reproduced in Janus (ed.), Man Ray: The photographic image, Gordon Fraser Gallery, London, 1980. p. 218.
Man Ray quoted in 'The photographic conditions of Surrealism' in Rosalind Krauss, The originality of the Avant-Garde and other Modernist Myths. 1985. MIT Press, Cambridge, Massachusetts. p. 102.
Naomi Rosenblum, A world history of photography (4th ed.). Abbeville Press, New York. 2007.
Fourth large quote in bold: Sir John Robinson in 1839 as quoted in David Campany, A handful of dust. Mack publishing, London. 2015. p.23.
Andre Breton, Surrealism and Painting. MacDonald and Co., London, 1965. p. 32.
Fifth large quote in bold: Tristan Tzara, preface to Les Champs Delicieux 1922, as reproduced in Janus (ed.), Man Ray: The photographic image, Gordon Fraser Gallery, London, 1980. p. 184.
See Tristan Tzara's 'manifesto on feeble love and bitter love' (n.d.) as reproduced in Robert Motherwell (ed.), The Dada painters and poets, Wittenborn, Schultz. Inc., New York, 1951. p. 92-93.
Man Ray, 'Is photography necessary?', Modern photograph 21, no. 11 (November 1957). pp. 82-87 and 122-131. As reproduced in Jennifer Mundy (ed.). Man Ray: Writings on Art. Getty Publications, Los Angeles. p. 395.
Neil Baldwin, 1988. Man Ray: American artist. Da Capo Press, New York. p. 333.