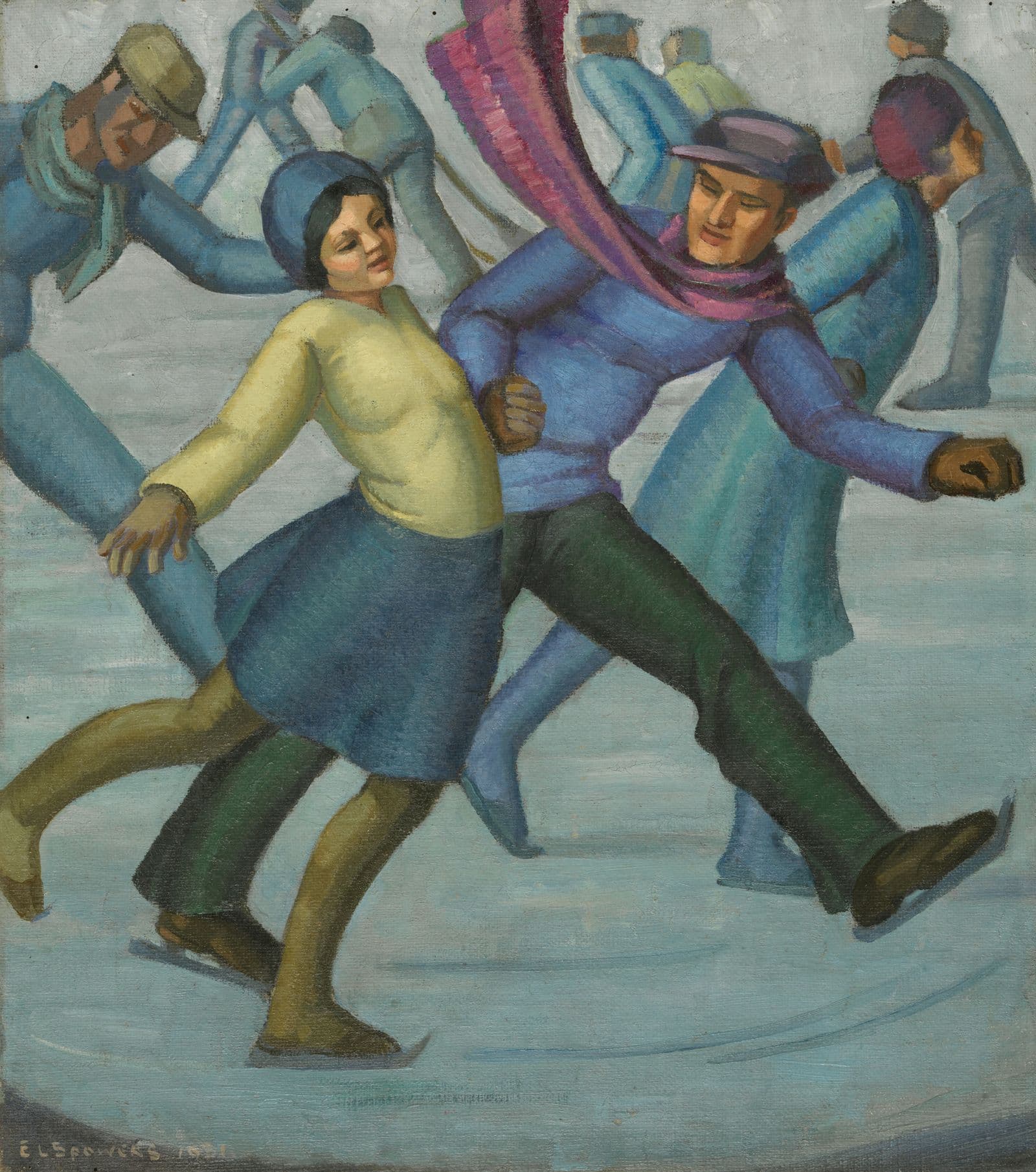 The stories of Modernist pioneers ETHEL SPOWERS and EVELINE SYME have emerged as an insistent alternative to the conservative status quo that existed in Australia at the time, writes SARINA NOORDHUIS-FAIRFAX.
In the London winter of 1929, students at the Grosvenor School of Modern Art are learning the art of the colour linocut. In a basement studio on the corner of Warwick Square in Pimlico, they use handmade barens, backs of spoons and the pressure of their hands to print an edition onto thin sheets of Japanese paper. Guiding their efforts is English artist Claude Flight, who teaches this class one afternoon a week. Regarded as one of the pioneers of the modern method, Flight's students include architecture lecturer Cyril Power and school secretary Sybil Andrews, the young Swiss artist Lill Tschudi, and Melbourne artists Ethel Spowers and Eveline Syme.
Syme's chance purchase of Flight's instructional handbook on linocuts had brought the childhood friends to England. After buying a copy from the Collins Street premises of the Arts & Crafts Society of Victoria in the winter of 1928, Syme's subsequent report for the Society's newsletter recalled that she 'had seen nothing more vital and essentially "modern" in the best sense of the word than the reproductions in this book'.1 Syme's emphasis on modernism was in response to the conservative establishments that controlled the art scene back in Australia. The state galleries, art academies and popular press were dominated by male artists vehemently resistant to the art movements that had emerged from England, Europe and North America during the early decades of the 20th century. Many were disturbed by the emergence of radically different approaches promoted abroad that focussed on colour and geometry, light and emotion. Unimpressed by Impressionist, Post-Impressionist and Fauvist experiments with the colour palette and picture-plane, one Australian critic called Cezanne 'a bourgeois soul who should have been a pork-butcher'.2 To Syme's eyes, the abstracted rhythmic energy of Flight's colour lino prints thrillingly brought together contemporary influences from British Vorticism and Italian Futurism alongside the geometry of Art Deco and Cubism, with an added emphasis on the handmade from the Arts and Crafts movement.
For emerging Australian artists, exciting details of European art movements and experimental techniques were usually obtained from black-and-white reproductions in imported publications or descriptions circulated by those fortunate enough to journey abroad and view exhibitions first-hand. Syme and Spowers both came from wealthy newspaper families that cultivated an appreciation and knowledge of arts and literature through their travels. Daughters of rival newspaper magnates, they were among the first generation of young women to enjoy the benefits of education and career opportunities fought for by the Suffrage movement. Yet while the emergence of women artists was supported through alliances formed within art and social groups in Melbourne, there was strong bias within the male-dominated cultural canon against the intrusion of women into the fine arts. The Toorak-based friends had previously studied together in Paris in 1922 and viewed European exhibitions of paintings, woodcuts and wood engravings. During the 1920s they joined other key Sydney and Melbourne artists who exhibited experiments with relief printmaking after learning the technique from a copy of F. Morley Fletcher's book on the Japanese woodcut. In 1923 Spowers made an early colour woodcut of a Paris landmark and then worked on a thematic series of colour prints she referred to as 'nursery pieces' based on her watercolour drawings. Based on the Ukiyo-e genre, Spowers' woodcuts and early linocuts were often static scenes composed using flattened coloured forms outlined with a darker key block. She printed these in her studio above the stables at her family home at Toorak House, using powdered water-based ink and rice paste on dampened Kozo paper.
While Fletcher's book dismissed linocut as a technique best suited for educating children about art, Flight saw exciting possibilities in a financially accessible medium that was virtually free from tradition. During the interwar years, the democratic appeal of using industrial offcuts offered the perfect complement to the burst of technological and social developments that followed the brutality of the First World War (1914-18) and the devastating influenza pandemic (1918-19). Flight was convinced that art needed to reflect its own time. He was fascinated with vitality and emphasised finding the 'particular significant rhythm' in everyday events such as 'a bus coming down the street, waves breaking on the shore or carrying a ship on the seas, dancing, or the movement in a crowd, swings, or the eddies of wind or rain'.3 During the Machine Age, the mechanisation of industry began to replace traditional farming methods and to disrupt age-old rhythms of harvest and community. In urban centres this was manifested through an emphasis on speed and movement. Flight's students represented the relentless energy and pulse of city life with images of workmen fixing telegraph lines and anonymous crowds of commuters descending into underground stations. Their printed images reflected the rise of leisure activities through synchronised scenes of skiing, skating and cycling through to the dizzying simultaneity of fairground rides and swing jazz concerts. These subjects capture the oscillation between anxiety and optimism that characterised the period—the paradoxical contrast between urban views and rural vignettes providing an artistic equivalent of physicist Albert Einstein's recent theory about the expansion and contraction of the universe.
Flight taught his students to begin with drawing. A scene could be quickly sketched on the spot or redrawn from memory to be worked into a design composed of shapes, lines, curves and masses. Spowers and Syme planned each preparatory drawing using the geometry of classical proportions based on the golden section and dynamic symmetry. To capture the spirit of the idea, they looked for the basic curve which would initiate action. The extension of these arcs and angles beyond the confines of the picture plane gave a stronger sense of on-going movement. Exaggeration and distortion were used to emphasise emotion or physicality. Flight advised his students to use no more than five matrices, and to overprint translucent inks to create a broad range of tones. He also abandoned the use of the key block, relying on careful design to eliminate unnecessary detail so that the arrangement of line and mass within each carved matrix would build up 'block by block to a perfect whole'.4
'I should like to ask all lovers of art to be tolerant to new ideas, and not to condemn without understanding.'
Commencing classes at the end of 1928, Spowers immediately connected with Flight's teachings. Her first print at the Grosvenor School, The Plough, bursts with movement created by the flight of gulls following a farmer and his horse as they till a field. Printed in colour from three blocks, she uses the cool tones of mauve, green and blue to produce seven colours leaving the white space of the unprinted paper to create the forms of squalling birds. Arriving via Paris in the new year, Syme's first attempt was a simple silhouetted view of a narrow suspension bridge only a short walk from Pimlico, which connected Chelsea to Battersea across the Thames. Her second print, Skating, reflects the unexpectedly icy winter of 1928-29 that saw the freezing over of lakes and rivers across England and Europe. Syme's two-block composition captures the independent rhythms of skaters in orange and cobalt ink with their overprinted combination forming a rich brown tone. Students used oil paints and oil-based printing ink, occasionally thinned with turpentine and applied to the carved linoleum matrix with a small gelatin brayer. Flight favoured thin sheets of translucent Gampi paper or opaque India paper which allowed light to pass through the printed colours.
During these pivotal months of study abroad, Spowers and Syme were learning to see. Through Flight's generous teachings and firsthand experience of European art, they began to break away from the conventions of the historic past. Surrounded by galleries and artistic peers and working with a medium whose potential had only recently become recognised by innovative European artists, both women were poised on the edge of a quiet revolution. After Spowers returned to Melbourne, Syme travelled to Paris for painting studies with Cubist Andre Lhote that expanded her knowledge of stylised geometric abstraction and colour harmony. During the 1930s Syme and Spowers would use the teachings of Flight and Lhote to reinvigorate familiar genres through the hopeful outlook of their lino prints. Syme's landscapes became attuned to the patterns of earth and sky, from the rippling waters of harbour views to rows of vineyards in valleys and undulating hillsides that shaped currents of air. Back in her studio, Spowers choreographed ceramic animals into an elegant dance of reflection and shadow and translated the joyous schoolyard antics of children into dynamic diagonals.
By the time Spowers and Syme returned to Melbourne in 1930, the gap between critics and progressive artists had continued to widen. In his April column for The Australasian, watercolourist Harold Herbert's views on modern art summarised the attitude of conservative audiences: 'It seems a far better thing at the moment for Australians to be accused of stodginess than to attempt to impress an over-tired world with an art which is but second hand, and so often the product of ill-equipped extremists.'5 Fresh from her artistic adventure, Spowers published a confident rejoinder that compared the changing times to the development of the Italian Renaissance from the beauty and realism of ancient Greek and Roman art. Tellingly, she concluded: 'I should like to ask all lovers of art to be tolerant to new ideas, and not to condemn without understanding.'6
Two days later, Eveline Syme returned from her Parisian studies. The friends busied themselves with promoting printmaking in their home town. Syme gave a radio talk on wood-engraving and several lectures on Lhote's teachings. Both women exhibited in the annual exhibition of the Arts & Crafts Society in October, where Syme demonstrated how to print a four-block composition. Together they helped arrange the inaugural exhibition of linocuts in Australia held at Dora de Beer's Everyman's Lending Library in December, which included their London prints alongside examples by Dorrit Black, Nutter Buzacott, Eric Thake and James Flett. Reviews were mixed. In The Argus, Arthur Streeton was underwhelmed by the medium yet George Bell's review for the Sun News Pictorial saw the possibilities of the new technique.
The following year the situation in the city became heated. In a state of frustration, the owner of Leonardo's bookstore in Collins Street, Gino Nibbi, published a damning review of the annual exhibition of the Australian Art Association in which he described the local art scene as 'stilted and half dead'.7 Gallery directors and conservative critics in Sydney and Melbourne levelled accusations at modern art that ranged from 'a tendency to paint the grotesque and ugly' to the 'dregs of perversionism'.8 Meanwhile, artists began to band together to form exhibiting groups committed to radical art and ideas. In 1931 Spowers and Syme cofounded the Contemporary Art Group with friends including George Bell, Edith Alsop, Daryl Lindsay and Arnold Shore. The same year, Dorrit Black established the Modern Art Centre in Sydney. A former student of Flight, she aimed to exhibit 'good Modern work' by artists who realised that realistic art was a 'blind alley'.9 Spowers and Syme exhibited linocuts at the inaugural exhibition in March 1932, one month after Bell and Shore opened their alternative art school in Bourke Street. At the heart of these groups of progressive artists was an enacted refusal to follow the traditional path any further. Many of them had studied abroad and viewed exhibitions that had convinced them of the value to be found in the art that was forming in Europe and America. They shared this renewal of vision through solo and group exhibitions that bravely attempted to emancipate the public from the stale state of Australian art. Many of the critics were converted, with Streeton commending a group linocut exhibition in 1932 as 'new art of the best'.10 Through the grace and force of the art of Spowers and Syme, we can now appreciate how their careers emerged as an insistent alternative to the conservative status quo in Australia. It is through their combined efforts that Australian art slowly came of age.
Know My Name: Making it Modern is on display from 5 August to 8 October 2023.
Spowers & Syme is a National Gallery Touring Exhibition supported by Major Patron David Thomas AM, Visions of Australia, and the Gordon Darling Foundation. Spowers & Syme is a Know My Name project.
This essay was first published in IMPRINT magazine (Autumn 2022 Vol. 57 No. 01) and is reproduced courtesy of the Print Council of Australia.
Syme, E.W., 'Claude Flight and His Teaching', The Recorder (Melbourne), September 1929, 3,
Ashton, Howard, 'Soul or Drawing? The Modern "Eye-wash"', The Sun (Sydney), 16 April 1925,15.
Flight, Claude, Lino-cuts: A Hand-Book of Linoleum-cut Colour Printing (London: The Bodley Head Limited, 1927), 17.
Flight, Claude, The Art and Craft of Lino-cutting and Printing, (London: B.T. Batsford, 1934), 20.
Herbert, Harold, 'A Thought on Modern Art', The Australasian (Melbourne, 19 April 1930), 17.
Spowers, E.L., 'Modern Art', The Australasian (Melbourne, 26 April 1930), 17
Nibbi, Gino, 'Is Australian Art Failing?', The Herald (Melbourne, 7 November 1931), 25.
Herbert, 17; Hall, L. Bernard, 'Art and Life' lectures (1919 and 1931) as quoted in Weston, Neville Edward, 'The Professional Training of Artists in Australia, 1861-1963' (PhD thesis, University of Adelaide, 1991), 334.
'Miss Black's Speech at the Opening of the Modern Group', 16 March 1932, in Lock-Weir, Tracey, Dorrit Black: Unseen Forces (Adelaide: Art Gallery of South Australia, 2014), 220.
Streeton, Arthur, 'Display of Lino-cuts', The Argus (Melbourne, 5 April 1932), 9.