The Kenneth E. Tyler Collection
Public art, private lives: Rauschenberg & Johns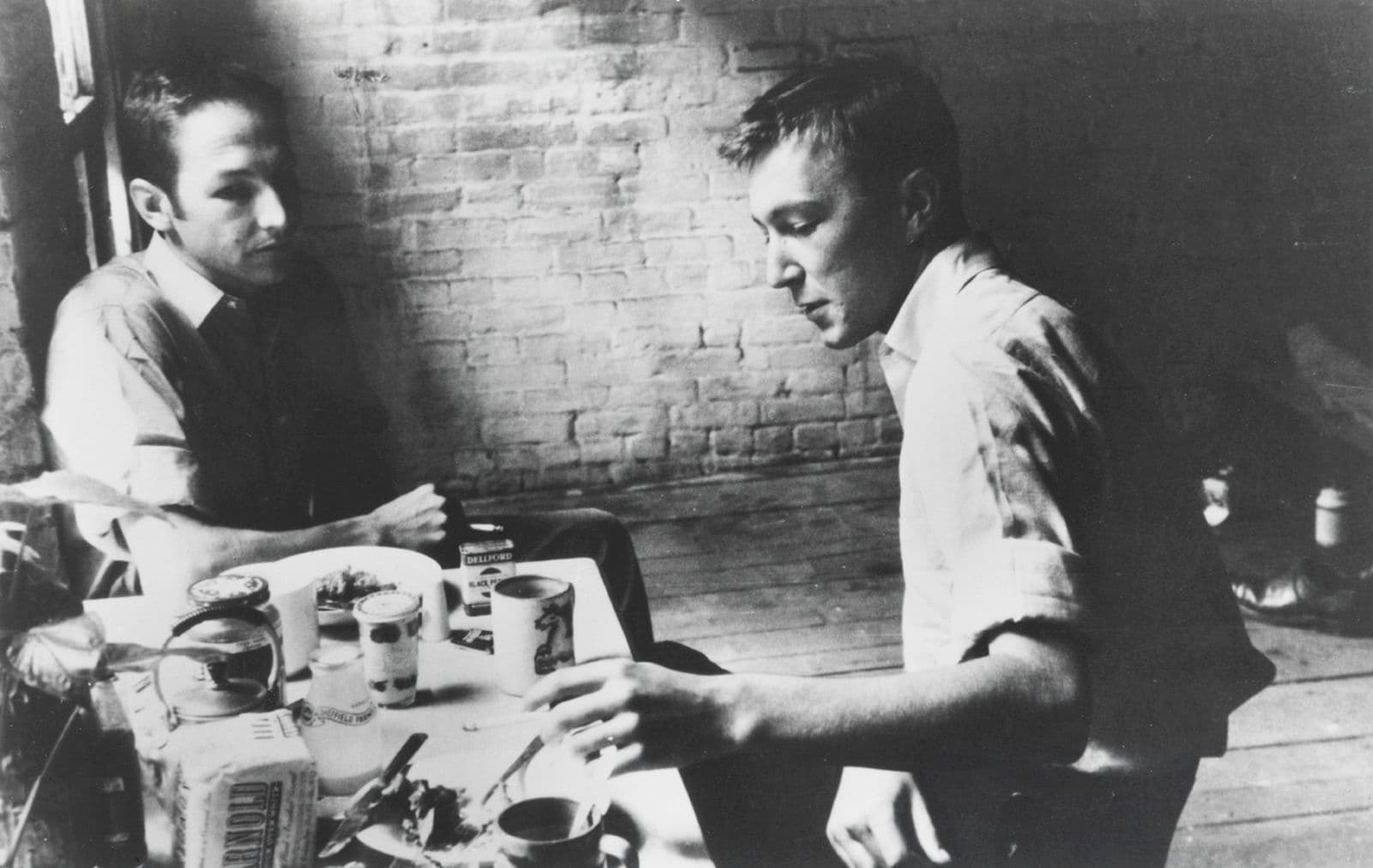 A chance meeting made a profound impact on the lives and art of ROBERT RAUSCHENBERG and JASPER JOHNS, writes DAVID GREENHALGH.
On the corner of a New York City street in late Autumn 1953, the artist and writer Suzi Gablik introduced Jasper Johns to Robert Rauschenberg. Both men were aspiring young artists living through a moment of despair: Johns had recently left art school after a bout of illness and had resigned himself to only painting on Sundays over a bottle of wine, while Rauschenberg had endured a series of negative reviews for his exhibition at Stable Gallery, where he only sold a single work. But this chance meeting would change their lives, as they fell in love. It would also change the trajectory of American art in the 20th century.
Rauschenberg and Johns were in a same-sex relationship during a time when it was illegal in the United States. This meant they had to navigate a homophobic society that prohibited the public expression of their sexuality. Their relationship was immensely private. At the time, New York's artistic culture was focused on Abstract Expressionism, an art movement often framed as heroic and an exposure of the self and subconscious. As young gay artists on the periphery of this movement, they quickly came to realise that the Abstract Expressionists were publicly performing a type of identity, what Rauschenberg referred to as an 'exaggerated emotionalism.' Aware of their personal circumstances, Johns and Rauschenberg could not participate in an art movement fixated upon ideas of self-revelation. Or as Johns would say, 'I didn't want my work to be an exposure of my feelings. Abstract Expressionism was so lively – personal identity and painting were more or less the same.' Instead of participating in this art movement, they colluded:
'Jasper and I used to start each day by having to move out from Abstract Expressionism. We were the only people who were not intoxicated with [them].'
The pair moved into adjacent New York studios in September 1955; Rauschenberg encouraged Johns to quit his job and start taking himself seriously as an artist. This was the beginning of their private artistic dialogue, where they would see each other every day for a period of about five years, exchanging ideas, materials and even completing each other's work.
'For a number of years we were each other's main audience, [working] on a daily basis to the exclusion of most other society.'
Together they explored the idea of developing art that was not self-expressive, what Johns would describe as 'making a picture which somehow has a public life [but] not making a picture of oneself to have a public life.' Influenced by the work of the Dadaist Marcel Duchamp, their exchanges began to develop a new 'indifferent' visual style based on collage, everyday materials and physical processes closely associated with printmaking, such as stamping and stencilling. What they created and discovered together became the crucible for their lifelong practices and soon their work would influence a new generation of artists working in the emerging style of Pop Art.
Rauschenberg and Johns would surface from their cloistered creative dialogue in 1958 and began to publicly exhibit their work again. It is no coincidence that their relationship would end a couple of years later, due to the sudden increase in public attention and art criticism they received. 'What had been tender and sensitive became gossip' for both artists and according to Rauschenberg they split over the 'embarrassment about being well known.' Their personal split was irreconcilable, but their artistic lives continued to develop parallel to each another.
Both Rauschenberg and Johns became key artists in the American revival of fine-art lithography in the 1960s, where they would push at the boundaries of what was possible in the medium while also surreptitiously encoding small snippets of biography into their prints. Working closely with master printer Kenneth Tyler, Rauschenberg would create what was then the world's largest hand-pulled lithograph, Booster, a self-portrait that conceals information about his personal life during a time of crisis.
Similarly, Johns would produce experimental 'prints' made of embossed lead, such as The Critic Smiles, which poked fun at the published criticism that he and Rauschenberg received in the early '60s in camouflaged terms that only those close to him would understand.
Ideas from their early creative dialogue would surface throughout their lithographic experiments, such as their conviction that despite our cultural assumptions, 'there's no such thing as "better" material' for making art. This led to Rauschenberg's provocative Cardbird series in 1971, where fine art lithography processes were used to recreate the worn surfaces of junk cardboard boxes.
In the same year, Johns would produce a series of lithographs called Fragments – According to What that used precision drawing, ready-made stencils, newspaper clippings and cast shadows to create the work and avoid expressive mark making. He would even cross out his own signature on the work Hinged Canvas as if to deny his authorship.
The 'indifferent' and anti-expressionist styles of Rauschenberg and Johns were born out of the tension between an artwork's visibility and their need for personal invisibility during their relationship. By making an audience of each other, it allowed them to reconcile this. Later, when Rauschenberg was asked what the most important thing he got from Johns was during this time, he simply answered: 'Courage. Persisting upstream.'
Art & Artists
Featured
Referenced