Ever Present: First Peoples Art of Australia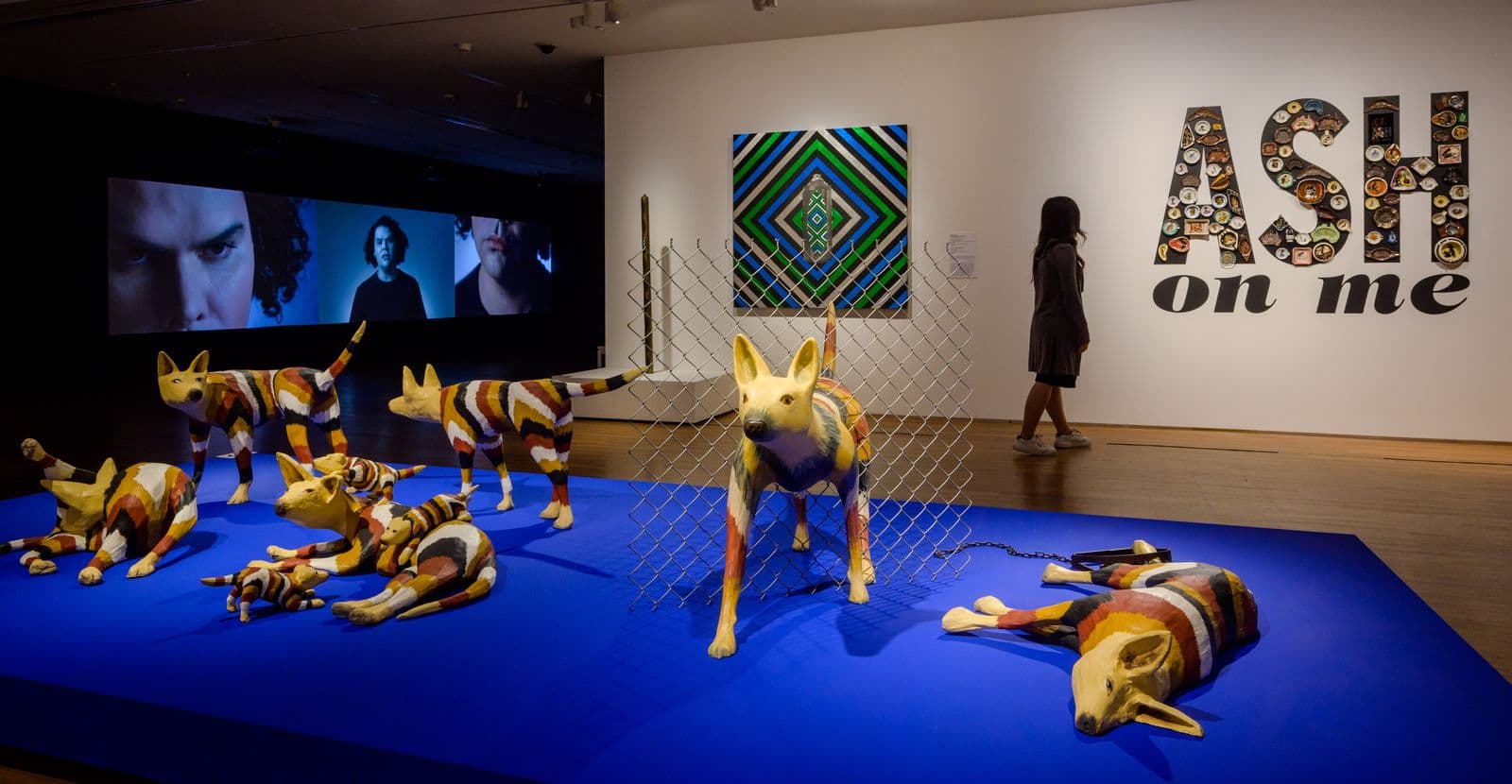 The National Gallery is home to the largest collection of Aboriginal and Torres Strait Islander in the world and in our 40th year, works by over 170 First Nations artists toured to Singapore for Ever Present: First Peoples Art of Australia. Reflecting on the touring exhibition, Aboriginal and Torres Strait Islander Curator TINA BAUM shares the histories and realities of the world's oldest continuous living culture.
ever/everywhen

adverb

1. at all times; always.

2. continuously.

3. at any time.

present

adjective

1. being, existing or occurring at this time or now; current.

2. at this time; at hand; immediate.
Aboriginal and Torres Strait Islander people are the world's oldest continuous living culture.1 We believe we came from this place, now known as Australia, not from over land or sea. Our oral histories, stories, art and performance tell of the time before time, before light, before life. We tell of how our Ancestors and immortal creation beings formed all living things, as well as Country, culture, lore and beliefs, the stars, the seasons, animals, plants, landscapes and waterways – all intertwined and coexisting through cultural knowledge and presence.2
Our Ancestors laid down the foundations for who we are, creating an enduring identity and establishing our families, Communities, complex kinship systems and ways of behaving and interacting with each other. It is this continuity through time, space and place that connects and informs Aboriginal and Torres Strait Islander people today. Artistic expression in all its forms – art, dance, song, film or writing – conveys and reinforces our identity, which evolves over time through collective experience and individual innovation.
Ever Present: First Peoples Art of Australia is a survey of historical and contemporary works by Aboriginal and Torres Strait Islander artists from different cultural groups across Australia. Drawn from the collection of the National Gallery of Australia and from Wesfarmers Collection of Australian Art, the works bridge people and place and are interconnected through story and experience. They are testament to our identity, resilience, pride, diversity and strength and our ongoing links to Country, family, Community, culture and history.
The artworks by more than 150 artists featured in the exhibition are a small sample of the richness and diversity of cultural and artistic expression by the First Peoples of Australia. Works are arranged into six overarching and interlinked themes: Ancestors & Creators; Country & Constellations; Community & Family; Culture & Ceremony; Trade & Influence; and Resistance & Colonisation. The concepts of Innovation + Identity underlie and connect all of the works in the exhibition. The exhibition opens with G'ua G'ua/Erub/Mer artist Destiny Deacon's video Forced into images 2001, featuring footage of her Community and family, followed by Kudjla/Gangalu/Kuku Yalanji/Jagara/ Wangerriburra/Bandjalung artist Daniel Boyd's cultural mapping of language groups in his work Treasure Island 2005. These works are a visual and cultural representation of the Ancestral connections of the First Peoples of Australia and simultaneously comment on their colonisation.
Ancestors & Creators
Ancestors & Creators considers the time-immemorial connection between First Nations people and their Ancestors and creation beings. Ancestors and creation beings continue to govern our lives and our role in caring for our traditional familial homelands, known as Country, and for each other and for cultural practice.
The epic Tjukurpa (Dreaming) tale of the Seven Sisters is another widely depicted story about the importance of protecting each other and family. In this story, seven sisters reject the advances of an old man who pursues them across Country. The sisters eventually escape into the heavens where they form the Pleiades constellation and, followed by the old man transformed into Orion, travel across the night sky forevermore. Pitjantjatjara sisters Tjungkara Ken, Sandra Ken, Yaritji Young, Freda Brady and Maringka Tunkin depict their view of the story in their large collaborative painting Seven Sisters 2018.
Country & Constellations
The works in Country & Constellations focus on artists' relationship to Country and the importance of and connection to the night sky. For First Nations people – whether living on or off Country or connected to it through generational ties – knowing where our Ancestors come from is integral to our identity.
For example Western Arrarnta senior artist Albert Namatjira is one of Australia's most celebrated and recognised Aboriginal artists and the first acknowledged as such by mainstream society. His natural talent using the introduced European watercolour technique launched an unprecedented awareness of Aboriginal art from the 1930s to the 1950s. His painting Quarta Tooma – Ormiston Gorge 1939 depicts key areas in his surrounding landscape of the MacDonnell Ranges, Central Australia. His vision and masterly skill in watercolour influenced later generations of his family, many of whom are now accomplished artists.
Community & Family
Community & Family features works that convey artists' family and Community connections and give a voice to Aboriginal and Torres Strait Islander people past and present.
Art that responds to traumatic and life-changing experiences is often a form of healing as part of truth telling. Minang/Wardandi/Ballardong/Nyoongar artist Sandra Hill, for example, a third generation Aboriginal woman removed from her family, reflects on Aboriginal identity and how Aboriginal people and all nationalities are judged by the colour of their skin in her lightbox work sKIN Deep 2015.
Culture & Ceremony
Culture & Ceremony includes nineteenth-century artists whose works are a crucial record of time and place and of cultural practices that have disappeared or are awaiting revival.
In his work Cyclone Tracy 1991 senior Kukatja/Wangkajunga artist Rover Thomas [Joolama] highlights the power of Ancestors and nature and the consequences of not practising culture and ceremony. In 1975 Thomas was visited in a dream by his recently deceased aunt who told him that she had witnessed the Rainbow Serpent – a key creation being represented by many Aboriginal artists across Australia – destroying Garramilla/Darwin in the form of a cyclone because people there were not practising culture.3
Trade & Influence
Trade & Influence considers artists and Communities whose works reflect traditional trade routes and influences throughout the continent and the international influences of outsiders.
The trading influence of China and Indonesia over centuries through Macassan/Makassan fishermen in the northern part of Australia is evident in Arnhem and Tiwi Aboriginal Communities. This relationship was documented by artists with the imagery of praus or boats painted on bark, as in Anindilyakwa artist Nandabitta Maminyamandja's work Macassan prau and trepang curing c 1974.
Resistance & Colonisation
The works in Resistance & Colonisation reclaim, reveal, retell, contest and rewrite the colonial history and nation-building narrative of Australia.
For example, Bidjara photographer Michael Cook recasts the colonisation of Australia through an Aboriginal lens. In his works Broken Dreams #3 2010 and Undiscovered #4 2010 Aboriginal people are the discovers, not the colonists.
Aboriginal and Torres Strait Islander art and culture is old, rich, dynamic, diverse and engaging in all its facets and different forms of expression. It reflects the individual and the societies they associate and identify with and embodies the strength, resilience and pride of artists and their Communities. It powerfully reinforces that despite colonisation we are the oldest living continuous culture in the world and we still have many stories to tell. Our art reflects these intertwined historical and contemporary narratives and our experiences in Australia today.
Ever Present is a celebration of Aboriginal and Torres StraitIslander art and does not shy away from Australia's complex histories. The works can be positioned in one, many or all of the exhibition's themes and reflect cultural interconnections. They challenge stereotypes about First Nations people and what and who defines our art. The artists contest populist views of Australian history, using art as a tool of resistance. They replace physical weaponry with wit, satire and juxtaposition to confrontviewers, disrupt narratives and encourage conversations thatare essential for dispelling outdated myths and ideologies.
Just as our Ancestors forged paths for future generations to express our culture and stories confidently and creatively through art, these artists will also leave a legacy for all. To understand the richness, diversity and depth of Aboriginal and Torres Strait Islander art and culture would take many generations, manylifetimes, but to appreciate it only takes a moment. Together the artists and their works powerfully reinforce that we have always been and always will be ever present.
yan bani/always here
Ever Present: First Peoples Art of Australia was presented by National Gallery, Singapore in partnership with National Gallery of Australia and Wesfarmers Arts.
This story is an excerpt from an essay by Tina Baum Gulumirrgin/Larrakia/Wardaman/Karajarri peoples, featured in the Ever Present: First Peoples Art of Australia catalogue and has been published as part of the National Gallery's 40th Anniversary. For more visit 40 Years.
Aboriginal and Torres Strait Islander people are also referred to as First Nations peoples and First Peoples. These terms are interchangeable.
Lore refers to the traditional customs and governance that inform and regulate Aboriginal and Torres Strait Islander people's lives that was created and given to them by their Ancestors since time immemorial. Law refers to the introduced British system since colonisation. Country refers specifically to the traditional familial homelands of Aboriginal and Torres Strait Islander people.
Cyclone Tracy hit Garramilla/Darwin on 24 December 1974, causing widespread destruction. Sixty-five deaths were officially recorded (forty-nine in Garramilla/Darwin and sixteen at sea) with an unaccounted number of transient Aboriginal people dying too. See Suzannah Lyons, 'Tropical Cyclone Tracy', ABC News, https://www.abc.net.au/news/emergency/2014-12-24/cyclone-tracy/5981404 (accessed February 2022).