Know My Name: A new chapter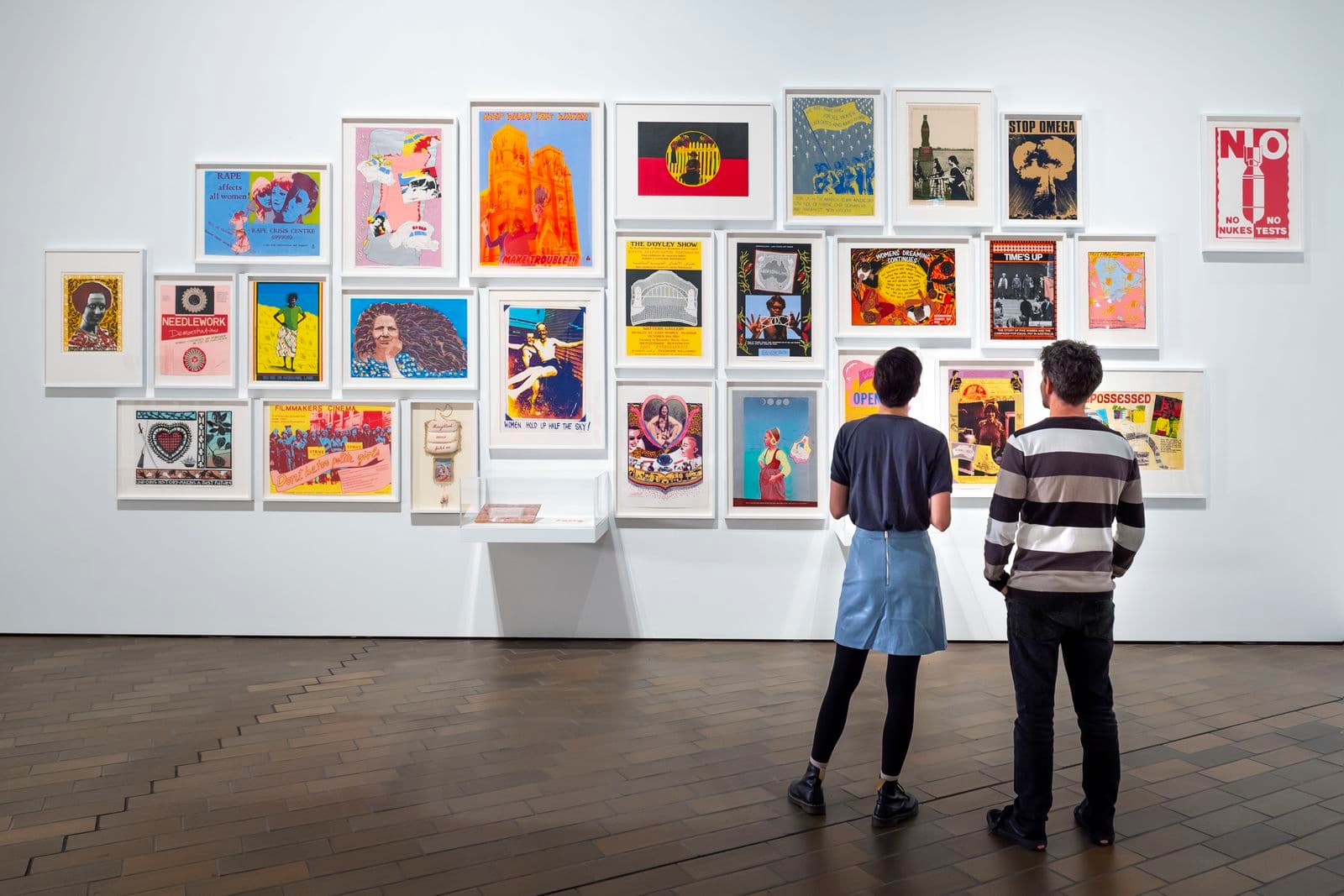 With its landmark promise of gender parity with the launch of Know My Name in 2019, the National Gallery celebrates radical, revelatory, diverse and overlooked art by women — in the past, present and future. Writer and curator JULIE EWINGTON argues it's a timely reset that goes to the heart of the institution and asks, what happens when you open doors and minds?
As Australia cautiously emerged from the Covid-induced lockdown of 2020, Sydney's Belvoir St Theatre reopened in September with Virginia Woolf's feminist manifesto A room of one's own, written in 1928. Anita Hegh's electrifying performance brought Woolf into that darkened room — clear-eyed, reasoned, determined, passionate. The audience was enthralled. For Woolf's wisdom about women's creativity continues to illuminate this moment, nearly 100 years later and a world away from 1920s England. Her argument was that women had talent, drive and ambition in abundance but were thwarted by the lack of opportunity. The problem was never our genes or our talent or even our will, but the way women's lives were traditionally arranged and, too often, constrained.
Since Woolf wrote her celebrated essay, women's lives have changed enormously, especially in recent decades. Opportunity for artists is closer to hand than ever before in Australia. Recognising that just 25 per cent of its Australian art collection is by women, the National Gallery of Australia joins this ongoing social and cultural transformation with its Know My Name initiative, which focuses on women artists, and its commitment to gender parity across its collection, exhibitions, programs, staffing and entire organisation. This is a watershed moment: the Gallery is the first art museum in Australia to take such an uncompromising position. The consequences for this country's culture will be profound, and the international implications are potentially enormous.
So, what's in this initial expression of Know My Name? An extensive suite of exhibitions across the entire Gallery — the largest museum presentation of work by women to date in Australia. It centres on Know My Name: Australian Women Artists 1990 to Now, a grand summary of works by more than 170 artists delivered in two parts over the course of the year accompanied by a major publication; it comprises collaborative projects that include showing images of national collection works by women on billboards and signage across the country, an international conference and extensive public programs throughout 2021. Know My Name is plural rather than singular — 'and hers, and hers too …' — and it embraces artists as different as the Tjanpi Desert Weavers, an Aboriginal collective from the remote Ngaanyatjarra Pitjantjatjara Yankunytjatjara Lands of the central and western deserts, to Melbourne-based Patricia Piccinini with her hot-air balloons, Skywhale and Skywhalepapa.
This focus at the National Gallery in Canberra is backed by ongoing collaborations with other arts organisations working towards greater opportunity for women artists. These include a brace of university partners supporting feminist research; the Sheila Foundation, in Perth and Sydney, whose mission is 'to write women back into our art history … ensuring equality for today's women artists'; and the #5WomenArtists campaign by the National Museum of Women in the Arts, in Washington, DC. A key partner is the energetic Countess Report led by artist Elvis Richardson with Amy Prcevich and Miranda Samuels. Simultaneously a show of strength and an advocacy project, Know My Name attacks gender disparity by demonstrating the brilliant achievements of Australian women artists from the past and the present, and by working out ways to support artists into the future.
Almost a century after Virginia Woolf's clarion call, nearly 50 years since Australian feminist artists began meeting and working together in the early 1970s, this long voyage of discovery has barely begun. We are now familiar with many names from the past 100 years: in the 1920s Margaret Preston and Grace Cossington Smith were the country's leading modern painters, and Jessie Traill was by far its greatest printmaker; in the 1940s Nora Heysen was the first woman appointed an official Australian war artist and Brisbane sculptor Daphne Mayo was at the height of her career; in 1968 Janet Dawson, Wendy Paramor and Normana Wight were included—three women out of 40 artists, a statistic that is now notorious — in the National Gallery of Victoria's landmark exhibition The field.
Since then art historians have rediscovered the work of many more women artists—answering the infamous question 'Why have there been no great women artists?' posed in 1971 by American art historian Linda Nochlin—including photographer Olive Cotton, Adelaide painter Dorrit Black and Perth's Elise Blumann. Behind these better-known names were thousands of others whose work has been brought to light by curators and researchers, to the delight of museum visitors. (Some works were hidden in plain sight in art museum collections for many years.) To cite just a few key projects: in 1977 Adelaide's Women's Art Movement mounted a national unselected exhibition with more than 400 women participating; in 1982 the Women & arts festival in New South Wales focused attention on women's creative work across many art forms; and in 1984 the Australia Council published Women in the arts: a strategy for action, the first comprehensive study of its kind in the country. Since that time a strong commitment by Australian arts bureaucracies to gender equity has developed; this has not been without its fits and starts, but eventually this resulted in a broad position that accords with the best principles of Australian egalitarianism, that deep-running current that gave women in South Australia the vote in 1894, putting them among the first women in the world to exercise this democratic right.
Yet while the principle of equal opportunity was gradually becoming accepted in recent years through the public arts policies that sustained artistic practice and in employment across art colleges, the fundamental beliefs about gender and artistic achievement that were enshrined in art museums, let alone the art market, were far slower to shift. Only in the past 20 years have significant projects begun to dislodge old gender-based certainties. These include elles@centrepompidou in Paris in 2009, with collection displays of the nation's modern art museum at the Centre Pompidou given over to works by women; two important exhibitions in the US two years earlier, WACK!: art and the feminist revolution at MOCA in Los Angeles and Global feminisms at the Brooklyn Museum; and, closer to home, the national survey exhibition Contemporary Australia: women at Brisbane's Gallery of Modern Art in 2012. This movement is gathering momentum in innumerable fascinating and improbably diverse manifestations. In a sense, with Know My Name the National Gallery is recognising the strength of women artists around the globe, whether in their own studios, working collectively with traditional media or making leaps in the digital arena. This story is huge.
Know My Name shows not only how far the National Gallery has come in its 39 years, but also how the role of the art museum has shifted in the past half-century.
One hundred years ago art museums were seen as sanctified spaces for art from the past; repositories of recognised greatness. That recognition was almost entirely gender-specific: the great artists of the past were male—or so went conventional wisdom. Today those certainties have been swept away; society has changed profoundly in the past 50 years and women have been claiming their place in every area of cultural life.
At the same time, art museums have become recognised as public arenas for cultural action, and their important role in collecting, exhibiting and commissioning art from the present day, as well as from the past, is now acknowledged. With that active role comes responsibility: if museums are making memories for the future, it follows they have a crucial stake in understanding and interpreting the present.
All museums rely on regular revision if they are to renew their mission, to continue to be relevant. Which is why this particular taking-stock, which implies investigation of the participation of women in the nation's flagship art institution, is not only timely, but also essential. Know My Name engages with such fundamental questions as what forms art may take; whether the Gallery's collection can encompass traditional and customary forms, domestic and collaborative arts, and emerging digital arts, and whether it is ready to recognise overlooked and underappreciated practices. Know My Name begs the crucial question, what are the many reasons art is made? And this radical revision extends to the past: what art practices have been previously overlooked as 'women's work', as lesser forms of practice, or swept aside by the bright glamour of another form of contemporary work, or even an artist's celebrated male partner?
This is not the first time Australian art museums have experienced a profound cultural realignment that resulted in a rethink of their priorities. The post-World War Two emergence of innovative forms of contemporary Aboriginal and Torres Strait Islander arts, an important expression of the increasing political and cultural assertiveness of Indigenous communities, provoked just such a shift from the late 1950s and into the 1960s; it was marked in 1973 with the opening of a dedicated space for Aboriginal and Pacific arts at the Art Gallery of New South Wales, and increasingly through the 1980s by the development of holdings of Aboriginal art including, importantly, at the National Gallery. The brilliance and energy of Aboriginal painting posed an irresistible challenge to previous cultural certainties and shortly afterwards the emergence of Aboriginal weaving and Torres Strait Islander printmaking (among other emerging art forms) complicated an Australian cultural landscape previously dominated by painting and sculpture.
Since then great artists such as the weavers Yvonne Koolmatrie, from South Australia's Coorong wetlands, and Lena Yarinkura, from Arnhem Land, and the great Pakana (Tasmanian Aboriginal people) makers of the maireener shell necklaces such as Lola Greeno have introduced new forms of art into the canon. Perhaps most astonishing is the commanding work of senior Aboriginal women, whose cultural authority permits them to become great innovators in their maturity: think of the late Emily Kame Kngwarreye, Kitty Kantilla, Gulumbu Yunupingu and Sally Gabori, and today Noŋgirrŋa Marawili. Like Walter Benjamin's Angel of History, these exceptional artists have swept into the future with their gaze firmly on the past.
Know My Name opens up a similar Pandora's box of unforeseen issues for Australian culture: it provokes a multitude of questions about other points of view on life and art; it gives fresh ideas room to flourish; and it welcomes previously overlooked stories and experiences. For this is one of the fundamental revelations of feminist art and scholarship over the past half-century: that women have different life experiences, different stories to tell, and engage with media and practices that are deeply embedded within female experience. Just one instance from one of Australia's numerous cultural communities: the painter Savanhdary Vongpoothorn draws on wisdom she has inherited from both her parents, but since Lao culture passes through the female line she owes a particular debt to her mother.
Not very long ago some of women's experiences and expressions were guarded, even coded: I'm thinking here of Janet Cumbrae Stewart and other lesbians of her generation, of her tender sensual celebrations of the female body, but also of many other manifestations of women's sexual desires (both queer and straight) that are only gradually being recognised as potent, authentic accounts of life—themes explored in the Know My Name exhibition The Body Electric, which brought together work based in photography from the 1960s onwards. In every artistic medium, in fact, feminist experiment unleashed a world of playful, sexy, desiring images: just look at Queen of spades (1975) by the late Frances (Budden) Phoenix, with its demure pale pink crochet vulva. This small work carries a huge message: as scholar Elizabeth Emery notes in the Know My Name publication, Queen of spades is 'at once an object of activism as much as it is an object of art; a wholly politicised tribute to the work, bodies and histories of women'.
Around the same time Phoenix was subverting expectations with her doily, in the mid-1970s the artist Elizabeth Gower recorded this exchange: 'After my first show, a critic warned me that my work looked "feminine". I was horrified at this description and felt very vulnerable and angry at myself for not hiding my "femaleness" better, but I was also incredibly relieved that now the secret was out I wouldn't have to pretend any more.' There you have it: the awful truth—the artist is a woman.
So where are we right now? Australian women are working as artists 'in numbers too big to ignore', as Helen Reddy sang in 1971 at the very beginning of the decade when feminists began (once again) to explore the role of women artists in Australia. The numbers of artists practising professionally has grown exponentially since then as women have trained and have held on to their working lives with increasing determination. Pre-Covid, before the pandemic brought its daunting challenges for women's employment, things were looking as bright as they ever had for women artists. A gross marker: in 1971 very few women held lecturing positions in the country's art colleges, never mind leadership positions. Now they do in great numbers, and by the stellar example of their own work, through teaching subsequent generations, and through persistent and intelligent questioning of art's gender prejudices, they have profoundly affected the women (and men) who have succeeded them. More notable markers: the Archibald Prize for portraiture, once a bastion of male artists and conservative styles, has been won four times in the past decade by women: Del Kathryn Barton (2013), Fiona Lowry (2014), Louise Hearman (2016) and Yvette Coppersmith (2018); the four artists to most recently represent Australia at the prestigious Venice Biennale have been women—Simryn Gill (2013), Fiona Hall (2015), Tracey Moffatt (2017) and Angelica Mesiti (2019); and women regularly win major public art commissions, from Emily Floyd's gigantic blackbird (2006) beside Melbourne's EastLink freeway to Lindy Lee's The garden of cloud and stone in Sydney's Chinatown (2015–20).
Seeing women working as artists is now more or less normal. But only more or less. We still use the telltale qualification 'woman' to describe any number of great artists, as if the artist being male were still the norm. When will this no longer be the case? This normalisation of women's work as artists is part of a very long social and cultural shift; it has already taken decades, and it will take many years more to fully to play out. But it is inexorable.
Does the National Gallery know what the consequences of its bold commitment will be? Not exactly. And that's the best part. This initiative will ripple out across the decades. The point of opportunity is that it opens doors and minds to creativity, unlocks ideas and narratives (and budgets), suggests innovative collaborations and fosters unexpected possibilities. Know My Name will inspire young people both in Australia and around the globe—artists, craftspeople and designers now unborn, but whose names we will come to know—to redouble their efforts and rise to the challenge of their talent. Bring it on.
To find out more about the Know My Name initiative visit knowmyname.nga.gov.au.
This story has been published as part of the National Gallery's 40th Anniversary. For more visit 40 Years.