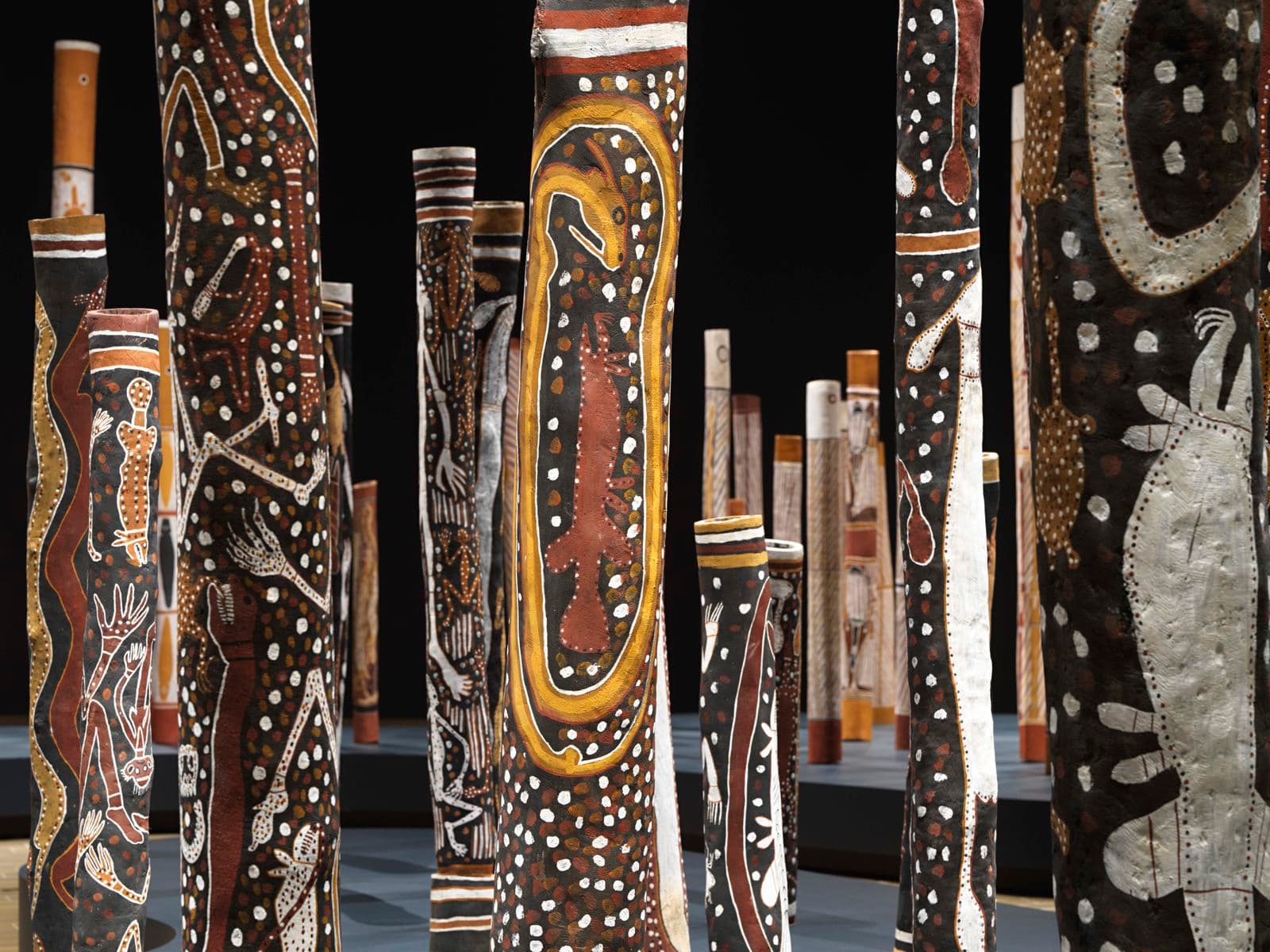 Garrawurra artist FRANCES RRIKILI, who created one of the poles for The Aboriginal Memorial, reflects on the importance of the installation.
Ŋäthil bamandja napurr gan ŋayathaŋal rom napurruŋ yolŋuw mala, nhakun rakuny yolŋu ŋuli dhiŋganha bala ŋuli galkana ŋaraka dupunlilha bala ganarrthanhan Wäŋaŋurnha napurruŋgiyingalnha.
Dupunbuy dhäwu napurruŋ barrkuwatj wiripu‑wiripuw bäparruw mala, Ŋunhi nhattjan napurr dhuganhina napurru Ŋgal dhäwuy ga romdhu.
Balanaya nhakun ŋarrakal guyaŋanharay, napurr dhu ga ŋayatham, bili napurr Yolŋu mala. Ga mel_lukara, ŋuli ga Yol napurr?
Ga wanhaŋuwuy wäŋapuy napurr barrkuwatj.
Dhuwal rom napurr dhu ga nhina ga ŋayatham. Ŋunhi walal ganarrthaŋal ga rulwaŋdhurr napurruŋgal bäpurruy barrkuwatjku mala. Ŋunhi napurruŋ miny'tji, buŋgul ga wäŋ wanhaŋuwuy napurr.
Romdja dhuwal napurruŋ ŋorra yan ga ŋayay\tham napurr ga, marr ga napurr dhu ga nhina dhiyaŋ lukuy napurru ŋgal.
A long time ago we used these for our funerals. Yolŋu people put the bones into these and they are left on Country. These all have different stories from different clan families, they have ancient stories on them about traditional ways of life.
For me, this installation keeps what we have, it is our identity in these hollow logs. They show who we are, we are from and what our ancestors did. This has been passed down to us, and it is still going.
Our culture is alive.
Translated from Yolŋu Matha by Daphne Banyawarra.
This story was first published in The Annual 2022.
Art & Artists
Featured
The Aboriginal Memorial
1987-88