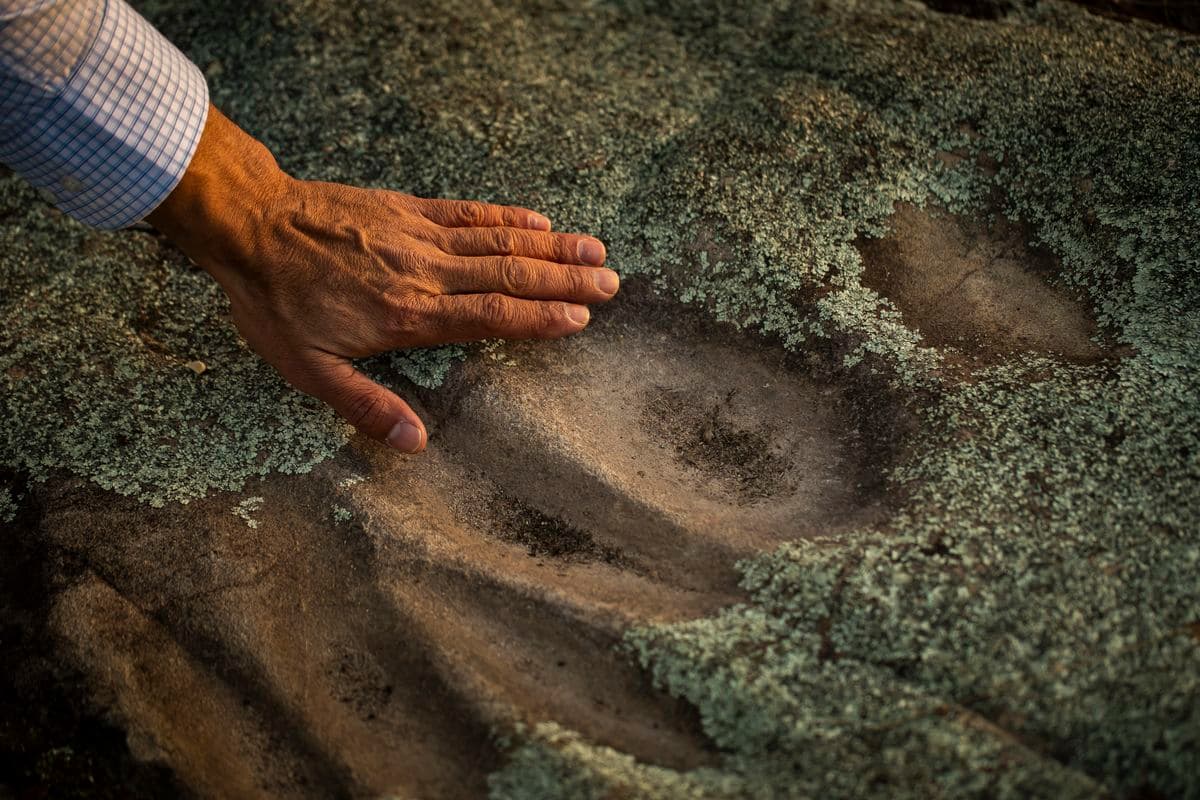 As we celebrate the 40th year of the National Gallery's physical existence, we acknowledge the foundational importance of place to this celebration.
A building is nothing without strong foundations,
and ours are rooted deeply in Ngunnawal Country. We acknowledge all Traditional Custodians who have a connection to this place, including those who identify or name themselves differently, including the Ngambri, with whom the National Gallery has also had a strong relationship over many years. We also recognise that our place is part of a rich and connected cultural landscape and, therefore, we acknowledge the Gundangara to the north-east, the Wiradjuri and Walgalu to the west, the Ngarigo to the south and the Yuin to the east as neighbours in this cultural region. The pathways through the landscape that these groups travelled, traded and connected are among the oldest surviving and continuing networks in existence, and are a constant reminder that this place has always been a part of connecting to and sharing with a much wider world.
Of course, the National Gallery, like all Australian institutions, was not established with any meaningful connections to its local First Nations community or with any understanding of or reverence for the Country upon which it was built. Indeed, many institutions are heavily implicated in the policies and practices that excluded and marginalised First Nations people and culture.
As a young institution, we could easily convince ourselves that we have little linking us to earlier colonial processes. However, locally we must realise that almost every family was removed from the region to make way for colonial settlement and to create a national capital; that their cultures and languages were all but decimated by the genocidal ambitions of colonial and government policy, leaving communities today a legacy of violence and trauma through which they must navigate in order to mend and rebuild; and that many of their sites of significance were flooded or flattened to make way for new national monuments like the National Gallery.
We acknowledge our place in this history and commit ourselves to working with First Nations communities across our region and our nation to ensure First Nations communities and culture have a chance to build, grow and flourish as the very heart of our national cultural landscape, because we know that art allows us to speak truth and to heal. Art has and will change our world
In celebrating our 40th anniversary, we also recognise that our presence in and on this place is minute. 40 years of 40,000, 60,000, more. The quantum of time First Nations people havespent in this place is unimaginable to any other human, and today connection to Country is understood as the compound experiences of tens of thousands of generations of existence on this land.
Once, the Gallery saw itself as a balloon, floating above its geographical locale, viewing itself as entirely 'national' and bypassing the 'local'. As we take on the responsibility of mending and strengthening the connections that First Nations families and communities have with our space and our collections, we begin to see ourselves as a tree: our roots firmly established right here in Ngunnawal Country, our building is our body, the core of our being, while our business reaches every corner of this continent, stretching far and wide like branches.
As a nation, we have always revered the National Gallery as an institution and its building as a masterpiece of Australian brutalist architecture and a great storehouse for Australian cultures. But only recently have we begun to truly acknowledge, embrace and love our place in the world in equal measure.
This essay is an excerpt from the National Gallery publication Visions. Available October 2022.
This story has been published as part of the National Gallery's 40th Anniversary. For more visit 40 Years.